---
Source: Comiclist.com

When I was a younger man things were a lot different than were now. Not all of it was for the better, as depressing as the internet can be it does make it easier for everyone's dirty little secrets to come to light. I don't miss that part, so much. But what I do miss is the way comics used to be priced. Back in the day, I could scrounge some change out of my Gran's couch cushions and take it to a local recycled bookstore that was renovated out of an opera house my family used to own. I would swagger through the front entrance tipping a derby at the doorman, and flashing a glint of silver between my fingers. The cashier nodded, and pressed a button under the register. A bookcase slid across the floor revealing an iron wrought staircase, and I descended it into what I always imagined was what used to be the orchestra pit under the theater. That is where I found what I desired: Rows and rows of white boxes filled with every comic book imaginable, illuminated by soft white light that somehow filled the entire room. A subtle series of bells sounded from an unseen source, and a single poster board said the words I would never forget "All comics $.25." It was a magical time, but unfortunately one that would not last.
Then quickly things changed, and comics were no longer $1.25. Suddenly they were $2.50 and came with a bullshit trading card I already had. Put a crappy Wolverine Hologram on the cover, and now they are $3.00. Make that cover two pages and it's 3.25. Make the Hologram 3d, and now the book is $3.50. The whole pricing point just kept getting worse and worse. At one point a comic book fan and affluent banker looked at me condescendingly though a monocle and said "Outrageous prices, you say? Perhaps if you would stop being so lazy and get a second job you could afford comics". Then he cackled like the Penguin and drove off in a Ford Escort trailing exhaust and laughter as he went. Comic book fans all over cried out for a Champion. We needed a man so large in stature and girth the truth could not escape the pull of the gravity of his conclusions.
We needed Jude Terror. For a time, things were good. Jude's Legendary 5 Comics for Under $5 Dollars articles were a big hit. At the height of their power, they did something that no one thought was possible. Jude's article caused DC Comics to reduce their entire line below the $5-dollar pricing point. Maybe it had to do with something else, maybe not. But something inescapable changed in Jude. Someone offered him money, and suddenly he could afford $5 comics. The internet cried out for help again.
I answered that desperate call. Rising from the Ashes of the success of Judas Terror, I give you the phoenix reborn! Welcome to ALL NEW ALL DIFFERENT SAY NO TO $5 COMICS NOW!
Valiant Entertainment - Britannia - $3.99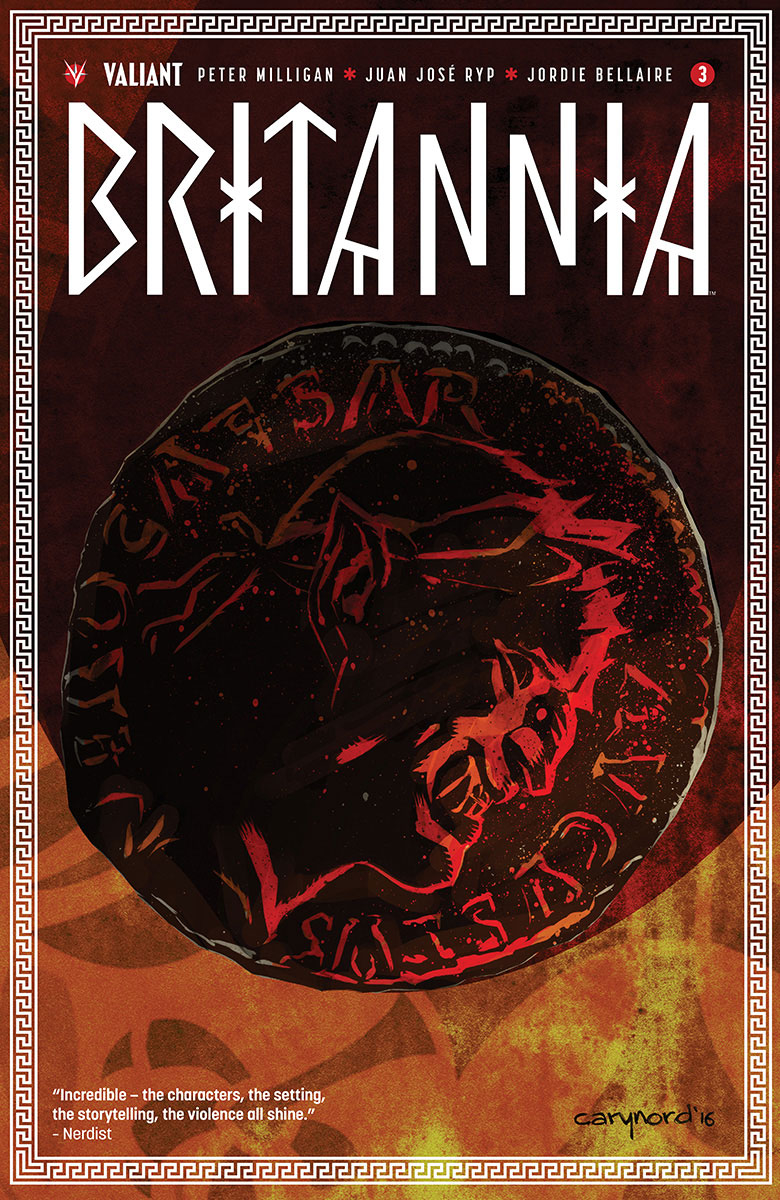 By Peter Milligan and Juan Jose Ryp
My first pick of the week is Britannia #3, and it looks like quite the treat. Britannia is a genre bending tale of an ancient detective tasked by Emperor Nero to find out who, or what has been killing his legionnaires on the frontier. Blending history and the elements of the supernatural, the roman soldiers begin to whisper that it may be the work of the devil. Can Antonius Axia find this killer before the last roman soldier falls? Who doesn't love a good mystery?
Here's the Solicit:
On the fringes of civilization, the world's first detective is about to make an unholy discovery...

Ruled by the Fates. Manipulated by the Gods. Commanded by Caesar. In the year 65 A.D., one's destiny was not his own. At the height of Nero's reign, a veteran of Rome's imperial war machine has been dispatched to the farthest reaches of the colonies to investigate unnatural happenings... In the remote outpost of Britannia, Antonius Axia – the First Detective – will become Rome's only hope to reassert control over the empire's most barbaric frontier...and keep the monsters that bridge the line between myth and mystery at bay...
Image - Moonshine #2 - $2.99
By Brian Azzarello and Eduardo Risso
Looking for a good old fashioned mob crime story? Then I may have a treat for you. Set during the tumultuous period of the Prohibition, Gangster Lou Pirlo has come to Spine Ridge West Virginia on a mission for the mob. The stoThe Supernatural elements are just the icing on the cake for me. I'm willing to bet if you liked 100 Bullets, you'll find this right up your alley.
Here's the Solicit:
Gangster Lou Pirlo thought he was stepping up in the NYC mob when he got sent to Appalachia to broker a big moonshine deal. Instead, he stepped right in the middle of a good ol' fashioned family feud...and when one of the family might be a werewolf, things get bloody right quick. Continuing the new series from the legendary creators of 100 Bullets!

Chapterhouse Comics - All New Classic Captain Canuck #3 - $3.99
By Ed Brisson and George Freeman
Looking for a solid superhero book with an old school feel? Then take a look at Captain Canuck. Originally Published in 1976, All new Classic Canuck attempts to pick up right where the original series left off. ANC Captain Canuck at the end of the day remains a fun team book. If that sounds like something you may be into, Don't hesitate to thumb through it at your LCS if they have it. If not, there's always Comixology.
Here's the Solicit:
Chapterhouse Comics is proud to present an all-new monthly series! All-New Classic Canuck began as 6-page back stories in the first arc of Chapterhouse's original Captain Canuck series. These stories picked up where the original Captain Canuck left off in the 1980's and sees him time-hopping from adventure to adventure. Now, writer Ed Brisson teams up with Canuck alumni George Freeman to bring you "All-New Classic Captain Canuck"! This 64-page issue collects the 6-page back stories from issues #0-6 of the original Canuck series, features the variant cover gallery, and includes sneak peeks of what's to come!

Dark Horse - Ether #1 - $3.99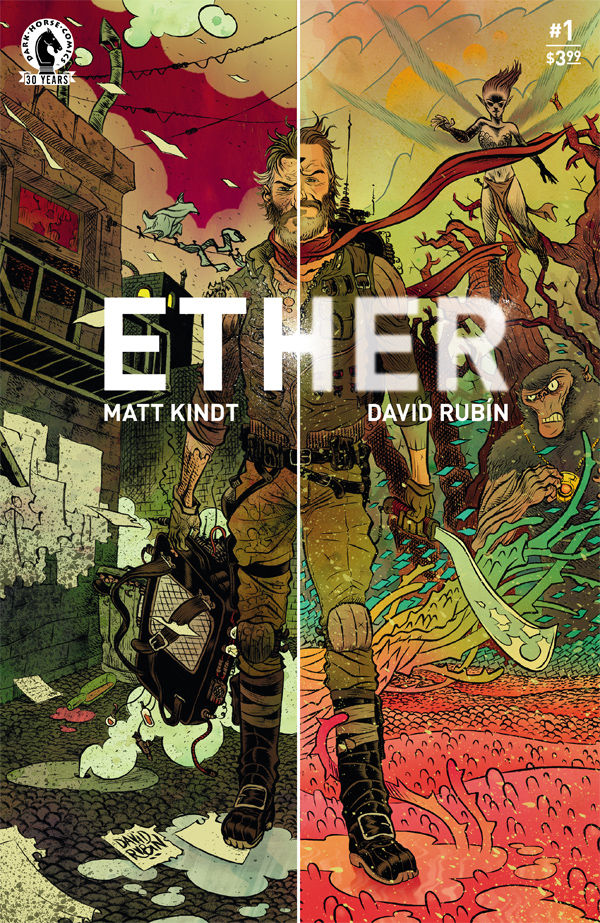 By Matt Kindt and David Rubin
Ether is hot off the printing press with a #1 and already this looks like it's going to be a very interesting read. The story follows explorer Boone Dias as he journeys through a mystical land of Agartha, a psychedelic world that seems to operate by it's own set of rules. I actually found this one to be a lot of fun, and always enjoyed the usage of Agartha and other worlds that people believed in once upon a time.
Here's The Solicit:
Can science solve murder by magic?

A science-minded adventurer gets mixed up in the mysteries of a fantasy world in this charming new adventure from an award-winning creative team. Boone Dias is an interdimensional explorer, a scientist from Earth who has stumbled into great responsibility. He's got an explanation for everything, so of course the Ether's magical residents turn to him to solve their toughest crimes. But maybe keeping the real and the abstract separate is too big a job for just one man.

Pick of the Week: Image - Kong Of Skull Island #5 - $3.99
By James Asmus and Carlos Magno.
Last and certainly not least I give you the biggest star to ever grace the column, King Kong himself! With all the hope Kong fans are resting on Kong: Skull Island and the release date just four months down the road, I think this is sure to be a hit in coming months. Who know they could pack so many giant apes into one comic? I think the really attraction to this comic is the way it expands on the original move and how well the two tribes contrast each other. This may be one of those reads that's best begun from the first issue, but if you're willing to take hat chance I think you will be well rewarded. The year of the lizard is done. Now, it's the year of the monkey!
Here's the Solicit:
King Kong, world-famous and original gargantuan gorilla, is the progenitor of an entire genre, spawning sequels, remakes, and countless other interpretations. You know Kong. You love Kong! ' An original prequel story that takes place before the events of the 1933 film. ' Two fractured and warring gorilla tribes are forced to band together to battle the horrors of Skull Island! ' The two tribes make their way with the Kong into the heart of Skull Island, being picked off along the way by the horrors that live there. From All-New Inhumans writer James Asmus and Planet of the Apes artist Carlos Magno.
Got any suggestions for Comics under $5 that you want to see mentioned? Post them in the comments below. Keep fighting the good fight, and I will see you next week!


---