Despite popular myth, many comic book readers can and do manage to have a healthy social life, even going so far as attracting members of the opposite sex. Many of our legion are in fact women, but this column is aimed mostly at the fellas, so ladies, please don't feel left out, I'm [...]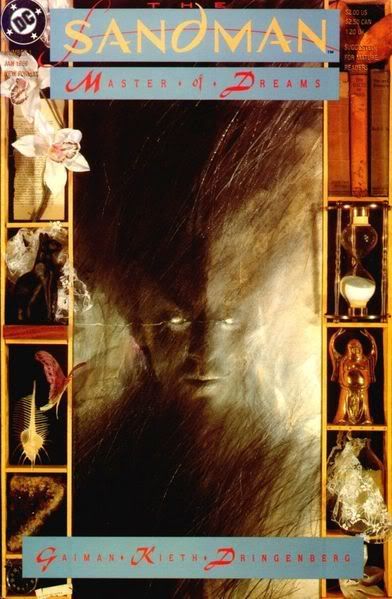 I'm just feelin' for some of my fellow geeks out there who've had to cut back on their comics lifestyle or withdraw from collecting completely due to a lack of understanding with their significant other. This column is not meant to be misogynistic or chauvinistic, simply an expression of compassion for my boys. For this column, I'm hoping to help my fellow fanboys survive in an ongoing relationship without losing any of your favorite hobbies and keep on buying those comics every week, and hopefully introduce several non-comics readers into a richer world of entertainment.
Due to several circumstances beyond my control, lately I've been buying my comics in bulk every three months. I'd prefer to collect them every Wednesday, since that might mask from my wife just how much I spend on my comics. This is off-set slightly by the fact that I used to work at the shop I buy my books from and still have a decent discount, but when I leave with an over-flowing box and a receipt that could put a down payment on an Escalade the deal I'm getting loses its resonance. Part of what allows me to get away with this is that my wife is now reading my comics, too.
How is this possible, you ask? Did she start off reading comics? No. Nor did I hypnotize her or threaten her or blackmail her. She's reading them of her own free will, and enjoying them immensely. So how do you, my fellow social fanboy, get your significant other (or anyone for that matter,) to stop judging and labeling you for your hobby. More importantly, how do you get them reading comics themselves? It's easy, but it's not going to happen over-night. You need a bit of patience, a bit of planning, and you too just might make it happen.
1. Pay Attention.
Your lady has her own tastes, and not all of them are bad. She may have a few quirks like buying US Magazine or obsessively watching TLC, but she may surprise you with her own likes and dislikes. If you're in a serious relationship, her tastes have to border along your own at some point. This is the common ground upon which we begin building.
You like serialized action with great characters, beautiful women, and a fantastical setting or premise. She likes sappy drama with good story. If you're reading this, most likely you've at least heard of Buffy the Vampire Slayer, which combines all of these elements into one brilliant package. Even if you've personally shunned this great television series for whatever insane prejudices you've developed, now is the time to let them go if you want a little bit more freedom when it comes to your comics.
If you're lucky, she's already a fan of Buffy, but if she isn't, this is something you can both enjoy and share together. While not quite a comic book, creator Joss Whedon has brought enough comic action, serial structure, and fantasy to the small screen that makes Buffy the perfect gateway drug to comics. That and Sarah Michelle Geller ain't too hard on the eyes. It also helps that Whedon is also a brilliant comics writer, which makes introducing her to Astonishing X-Men further down the road that much easier. The completed series of Buffy, all seven seasons is available at most DVD retailers, or even at most intelligent video rental stores. But don't rush her, let her take them in at her own pace. You don't want to spook her too early. Most likely by the second disc of season two she'll be watching them on her own whether you're there or not.
From Buffy you can segue into easy into film. The popularity of comics films makes this easier, especially with the quality of these films shifting from Roger Corman to Bryan Singer. Love it or hate it, Superman Returns has a great chick flick quality to it that makes a great date movie. Other movies like Batman Begins or Spider-Man 2 just might perk her interest enough to want to compare the films to the books, since both films are highly character-driven and rooted heavily in reality, despite their supernatural premises. If you can manage to discuss the comics in a knowledgeable, intelligent, but non-obsessive way, you just may have set the hook.
Also, show her other films that she may not have suspected first printed in four color. Road to Perdition is a brilliant film about a gangster and his son, starring Tom Hanks, who you may have heard of. The director, Sam Mendes, directed American Beauty and Jarhead. Another film, Ghost World, starring Thora Birch and Christina Ricci is about two teenage girls coming of age. Chances are she'll love both films, and within a few months you can hand her the trade paperbacks and show her just how deep the rabbit hole will go. Just don't shove them down her throat. Just mention casually, if she liked the movie, that it was originally a comic.
2. Think in Terms of What She'd Like
When finally introducing her to comics, steer away from handing her crap like Youngblood, which may simply scare her away because of its poor quality, or hardcore materials like Preacher, which is of the highest quality, may simply put her off comics entirely due to its graphic nature. I've found the best place to begin is Sandman.
Sandman is perfect. It's deep, intellectual, and filled with enough fairy tale fantasy to grab any woman's attention. That, and the main character of Morpheus has that dark, haunted personality that women seem to find attractive. Again, if you haven't read Sandman yourself, you're missing out. Neil Gaiman's masterpiece is a great read that you can both share and discuss. Presented in its trade paperback format without ads, or the monthly wait, she will be introduced perfectly to the world of comics, and positioned to be exposed to a much broader form of literature than she'd ever suspected.
If you're smart, before you hand her the first Sandman trade, you'll hand her a couple Gaiman novels first, especially if she likes to read. Give her American Gods and its sequel Anansi Boys, then close out with Stardust. Once she's devoured these, she'll dive right into Sandman.
3. Be Sure to Include Her
One of the biggest mistake most geeks make is simple snobbery. We are obsessive by nature and tend to feel superior toward anyone "not in the Know," or any other geek we feel doesn't share the same high sensibilities when it comes to our entertainment, which just may be everyone else. If you want to continue collecting comics while in a relationship, make sure not to emit that same pungent air as you introduce her to something new. Be sure to let her know that you are including her in something you love, and that comics are something dear to you that you wish to share with something else you love: her. By doing so, you will bringing the two of you closer together. You can tell her all of this and not even have to lie about it, because it should be true.
Take her to a comic convention without fear. Avoid the smaller cons held in small venues like a V.F.W. hall or a conference center, because these shows tend to be of a poor quality, and is mostly just merchants. Instead, take her to one of the big Wizard Magazine shows, held annually in Chicago, Philadelphia, New York, Dallas, and Los Angeles. When she sees just how many people show up to these shows she'll be blown away. Last year the Chicago convention was host to over 50,000 fans. Once inside, she'll start seeing the toys and the t-shirts featuring She-Ra and Rainbow Brite, her best friends when she was a kid, and then, just then, it just may click. Comics culture is more than a refusal to grow up. It's a refusal to let the delight you had as a child die out in a world that all too often tries to crush out joy.
When I took my wife to the Wizard World Con in Chicago a few years ago, I was delighted by how much fun she was had. Despite not knowing who any of the artists and writers I was trying to meet, she began dragging me around to see William Shatner and giggle at LeVar "Reading Rainbow" Burton. She ended up buying a t-shirt, a couple Buffy action figures, and spent more on a single comic than I've ever personally spent in my life.
4. Feel No Shame
You like what you like, and there's no shame in it. Everyone's a geek in their own way about something, be it cars, shoes, comics, movies, sports, or porn. Everyone obsesses about one thing or another. Once she figures this out, you're home free, and she just might be "the one" after all.
Believe me, I've tried everything I've discussed in this column personally, and they work. They're not meant to be a scam, and they aren't tricks to get away with something. You really are building a bond between the two of you and pulling her into a much broader community.
My wife and I built a relationship on a foundation of Buffy. From Buffy it was easy enough to take her into Firefly, and the next thing you know, she's reading Astonishing X-Men. I bought the entire Sandman collection for her to read, and before you know it, I have a Brian Bolland Death poster hanging on my wall that she put on display. The figures she bought at the con remain in box to this day, and have since multiplied to form a collection that's entirely hers. Whenever I bring home Wizard she snatches it out of my hand and checks the current price listing on the comic she bought. The comic, by the way, was NYX #3, the first appearance of Wolverine's daughter.
She reads the articles in Wizard now, even going so far as to add books to my pull sheet at the comic shop. When I bring home my books, she'll read them too. She's now current on everything from Wolverine to Infinite Crisis and 52. She even gets it now when I make an obscure references like, "pre or post-Crisis DCU." She's read V for Vendetta, and The Watchmen. Just recently she finished Preacher, and I believed she liked it even if it did make her gag a few times. She definitely laughed.
The point is that my wife and I can talk about this stuff. It's something that we can communicate with on more than the surface level. We can talk about how Wolverine is kind of a jerk and how it is exactly he's a good guy, or simply discuss how Power Girl's breasts manage to stay contained in her costume. We can be serious about it, or we can laugh. And that's the important thing. Just don't expect her to be playing Dungeons & Dragons any time soon. That's a lesson for another day.
When Geeks are in trouble, there is only one may who can help. He is the Geek Whisperer.
Posted originally: 2006-11-05 13:41:39