When news hits in the geek world opinions go from one extreme to the other. See what fans are saying about the latest from New York Comic Con.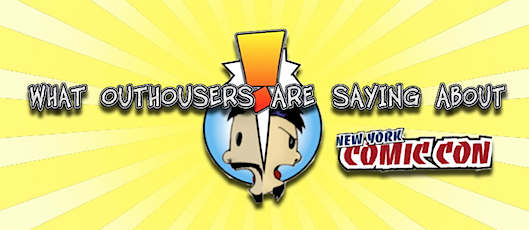 Geoff Johns and Gary Frank on Curse of Shazam
"This actually had me excited till I read the words 'back up'." -
guitarsmashley
"I don't like that title, as it brings up a rather negative connotation that makes me think they are going to be going a darker route than I'd prefer with the characters." -
rdrsfn82
"Young Justice animated shows how to really deal with the character unlike DC Comics." -
Cat-Scratch
"Theres nothing I want less then a Johns SHAZAM book." -
avengingtitan
"Gary Frank is definitely a plus, but nothing in the past has ever suggested to me that Johns gets Shazam, man-crush on Black Adam notwithstanding." -
nietoperz
"At least it'll look good, I love Gary Frank's art." -
Punchy
"My only real hope is that it retcons all that ridiculous Trials of Shazam crap." -
habitual


---
---
Avengers Assemble by Bendis and Bagley
"A third Avengers book Bendis? Really?" -
GLX
"a terrible writer and a bland artist whose biggest selling point is his reliability." -
LobsterJ
"I like Bendis, but damn, the world doesn't need a third Bendis-written Avengers book." -
Apache Chef
"I can't wait for Hulk "Bendis-speak"." -
MistaT
"I'm buying this!" -
Dragavon
(shakes head) -
Amoebas
"Bagley is a boring artist. Bendis on Avengers is a boring writer. I'm guessing this will be a boring book." -
mrorangesoda
"This will rule. Just like his other books." -
48THRILLS
"I actually like Bendis' Avengers stuff, and still think this is completely unnecessary." -
Holland Oats
"This book is a totally unnecessary cash-grab by a writer I'm very tired of giving my money to." -
chap22
"You could spend $12 or more a month just on BendisAvengers, you'd be lucky to spend less than $20 monthly to follow the entire Avengers line not counting any other minis, Ultimates, tie-ins, etc." -
Mike Mercury
"Somebody needs to crowbar Bendis away from the Avengers." -
spidertour02
"Including events, specials and annuals i have written 197 issues of Avengers! Boom!" -
Bendis


---
---
Extreme Image Announcement
"I'd rather hear a new Extreme song than read an Extreme comic." -
GOSD
""Brendon Graham"? Do you mean Brandon Graham of "King City" fame? If so, that's a must-buy." -
Gavin
"I think this is great news! I can't wait to buy these comics!" -
TimPro
"hahahahahahhahaha." -
LobsterJ
---
---
Rick Remender on Secret Avengers
"I saw Remender's name and this was immediately dropped. Then I saw Hawkeye, Capt. Britain, MoE, and Adaptoids...and now I'm conflicted again. Dammit, Marvel!" -
chap22
"Very interesting news, but as long as the book remains $4 for 20 pages I won't be buying it." -
Mike Mercury
"Cool news, Remender's X-Force is probably the best team-book Marvel have at the moment, so I expect this will be good." -
Punchy
"Hawkeye?... Dropped." -
BRBKanoosh
"Maybe Remender can turn it around, but I am not holding out hope" -
GHERU
"This would be better if Bendis wrote it." -
48THRILLS
"I like Remender and the cast so I'm in." -
sdsichero
"I love the idea of Rick on this but I wish they wouldn't change Clint's costume again." -
Starlord
"This is fantastic news! Remender is an absolute perfect fit for this." -
Flynn the Pirate
"Remender seems to have a great handle on Hawkeye and Captain Britain, so this sounds pretty solid." -
Stalzer2002
---
---
Storm joins the Avengers
"I always thought she would be a good avenger." -
LobsterJ
"Neat idea and all, but soon enough every single character in the universe will have joined the Avengers." -
syxxpakk
"Storm joining is a pretty decent idea as well, but only if Black Panther is also rejoining as I think that would be a fun dynamic." -
redrsfn82
"Always thought she'd be a good fit... As long as Thor isn't around." -
KingPagla
"Sweet. Can Logan leave now? Honestly I'm more excited to see Vision. " -
Pecs
"That's good. Now if only we can get Wolverine to leave, this team would be great." -
Dragavon
"Damn it, I'm going to have to pick up an Avengers book again." -
ThatGuyRoman
"I gave up on Avengers titles during Secret Invasion, but this news has me tempted to pick it up again." -
Strict31
"I'm all for Storm joining the Avengers, I'm just sick of so many people being on more than one team." -
SuperginraiX
"I remember when the Avengers used to be a book more about the 'team' than the 'team-up'." -
Amoebas
"Meh, Storm is a boring character." -
Mike Mercury
---
---
Brubaker/Phillips on "Fatale"
"I'm sure this is gonna be awesome, like everything those two do together" -
eltopo
"This doesn't bode well for Icon." -
BlueStreak
"I'm not a horror fan, but I'll buy anything the Brubaker/Phillips team does." -
Stalzer2002
"Looks awesome. I'm buying and I'll buy it in trade form too. Also, I'm hoping Bru has a letter page in there just like Incognito and Criminal." -
john lewis hawk
---
---
Christos Gage takes over X-Men Legacy
"Because of Gage, I'm going to be picking this up. Now if only Rogue wasn't in this title." -
Dragavon
"What's Frenzy going to teach? Anger Management?" -
MistaT
"What the hell is it about Rachel that she gets stuck with such horrible looks all the time?" -
Holland Oats
"Rachel Summers? Where? If she's in that picture then she's unrecognizable." -
covalesky
"Because of Gage and the concept, I'll keep buying." -
ThatGuyRoman
---
---
Age of Apocalypse Ongoing series
"hmm" -
BRBKanoosh
"Holy fuck. YES!!" -
Holland Oats
"No."
- Dragavon
"AoA is a great universe that is best visited every once in a while. It doen't need an ongoing" -
GHERU
"I am curious to see if this won't be a title for more AoA refugees in the 616 universe." -
Sakie
"And I'm out. No interest in an AoA book." -
avengingtitan
"Schweet." -
ThatGuyRoman
---
---
Check out our
NYCC Coverage
and add your own thoughts to the discussions.
Written or Contributed by: Jeremy Shane