Alright, ladies, gentlemen, and monkeys, the Outhouse got an interview with artist Courtney Huddleston and writer Scott Zirkel who collaborated on A Bit Haywire from Viper Comics, an original graphic novel on a kid who's name is Owen Bryce and he discovers he has superpowers, so let's listen in. Okay, no more coffee for me [...]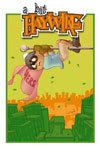 Alright, ladies, gentlemen, and monkeys, the Outhouse got an interview with artist Courtney Huddleston and writer Scott Zirkel who collaborated on A Bit Haywire from Viper Comics, an original graphic novel on a kid who's name is Owen Bryce and he discovers he has superpowers, so let's listen in. Okay, no more coffee for me in the afternoon:
Outhouse: Just so you know, I'm jealous of your Jeep, Scott. And no big words please, Scott. That's not in my contract (if I had one…).
Scott Zirkel: Thanks, I'm a big fan of my Jeep as well. Without it, I'd be walking in four-wheel drive… and, man, wouldn't that look weird? I'm currently rebuilding a 1971 Jeepster Commando with my brother and my dad. It's tons of fun and I get to wear a shirt that says "I Go Commando".
No big words, got it.
Outhouse: Okay, since you're both relatively new to the world of comic book creator-iness, let's start with the basics. Why did you decide to go into comics? How did you get started in comics? And can I have twenty bucks?
Courtney Huddleston: I've always been a huge fan of comic books and animation. I was trying to get into both industries at the same time, and figured I'd focus on whichever one gave me my first break. After literally 500 rejection letters, I lucked out and got job offers from both. Since the comic book offer was local, I decided to stick with comics. And, the rest is history.
As for the $20, Scott Zirkel still owes me some money. I'll just have him wire it to you instead.
Zirkel: You can have twenty dollars, but only Canadian… so good luck with that.
Early on I had picked my dream career and a backup. I didn't quite cut it as an accountant, so I went with my back up; comics.
I actually got started in comics with a phone call. I had been hanging out on the now defunct message board of the Astonish Factory, Mike Kunkel's site. I'm a huge Herobear and the Kid fan and having a place where you could interact with a creator was a new amazing thing for me. When he did a cross over with Courtney Huddleston's Decoy, Court started hanging out on the boards. He saw some of my sketches and called me to do a pinup for a Decoy trade he had coming out. My first published drawing was in the Decoy: Storm of the Century trade.
It was kinda surreal for me because I was in a pinup gallery alongside artists like Tom Bancroft, Tim Kane, Jake Parker. Court and I became friends after that I did one more pinup for Decoy and another for his Li'l Red Stitch. I showed him a story I had been working on and he was far more impressed with the writing than with the art, he told me I should pursue the writing instead of the drawing. You see, I draw at the pace of a geriatric snail, so I'd be doing like a panel a week whereas the stories I'd write sometimes in one sitting. When he told me about his Decoy anthology and all the big names he had contributing (Phil Hester, Ty Templeton, Azad Injejikian, Ryan Woodward, Joshua Dysart…) I thought it would be funny to write a story and send it to him as if he had asked me. I even had a mutual friend to draw it. He 'got busy with real life' and backed out, but I sent it anyways. I think I sent it with a note saying "Here is the story you asked for, can't wait to see what the artist does with it." He called me later that day and told me that they were going to use the story. I was blown away, I wrote it as a joke. I even make fun of him in there (one of my favorite past times). But the artwork by Ben Roman is really the highlight of the story. Since then, I've had more people tell me that my Decoy story was their favorite in the book. I still don't believe them. From there, we've been working on Haywire and a few other projects.
Outhouse: How did the idea for A Bit Haywire come up?
Huddleston: My daughter was somewhat of a sickly kid for the first year of her life. She looked healthy on the outside, but on the inside things were complicated. Years later I figured that concept with a super hero twist would make for a cool idea…which is what Haywire has become. It's about a kid who is normal by most standards, but on his inside lay dormant superpowers that don't work the way they are supposed to.
Outhouse: Why did you decide on having Scott write A Bit Haywire instead of you?
Huddleston: I'm nowhere as close to a writer, and my artwork isn't much better. But, if I had to choose which one I'm better at, it would definitely be the doodles. So that leaves us with Scott. I met him years ago on a forum, and we kind of hit it off from there. A few years into the relationship I also learned he was a good writer. That combined with his endless sarcasm made for some pretty good Haywire stories.
Outhouse: Is Owen Bryce based on someone in your life?And Scott, when writing Owen, did you base him on anyone?
Huddleston: The concept is based on my once sickly daughter. But the character himself is pretty much based on Scott and myself pulling scenarios from our own childhood and imaginations.
Zirkel: I based him on this kid I knew in elementary school that had powers. I changed his name (it was Bryce Owen) but other than that, it's pretty factual.
Actually, I didn't really have anyone in mind when I wrote him. I'm sure there's some of me in there, but mostly I just wrote for little Owen. I knew his character so well, I'd write dialog that wasn't really planned, just because I knew that's what Owen said. It's kinda creepy, having the voice of a ten year-old in my head. I have constant urges to pull my wife's pony tails…
I did throw in a bunch of names of friends. The town Kensville was named as I was IM'ing my friend Ken asking him what it should be called. Three bullies in the first chapter, Brad, Eric and Curt are named after my brother, my cousin and their friend. The three were thick as thieves in high school. The teacher, Mr. Bridges, is my friend Barry and the scientist is Dr. Cotham, which is my father's middle name.
Outhouse: What are the plans for A Bit Haywire?
Zirkel: I'm going to promote and sell it, you're going to read it. I'm hoping this plan works out with a great number of people.
We do have plans floating around for other Haywire stories, and if Viper wants to, we'll be happy to tell them.
Huddleston: Aside from world domination, I'm hoping it finds an audience…especially in young readers. And if the demand is great enough to warrant another series, Scott and I have come up with plenty of fun ideas.
Outhouse: Now for our weird question, straight or electric razor?
Huddleston: Electric razor.
Zirkel: I have one of those disposable razors with the battery in it, so…yes. Oh, and if you ever happen to see a Shave Man at Wal-Mart for like four bucks, buy it. It's the best electric razor I've ever used. I can't find them any more, should have stock piled when I had the chance.
Outhouse: Courtney, after looking at your site (HAWK: You can find a link to it at the bottom of this interview), I noticed that you have two distinctive art styles, one is cartoonier (such as what's in A Bit Haywire) and another is more realistic. Which do you like to use more of?
Huddleston: I much more prefer the cartoony look. It's just natural for me. The more realistic stuff I tend to appreciate more though because it's such an effort on my part.
Outhouse: If you could work with any one creator on any type of project, who would it be, what's the project, and why?
Zirkel: You know, I'd love to do a Spidey story. I know everyone says that, but I would. Or a Superman. Possibly a Batman, but under no circumstances would I do a Green Lantern. I think we all know why.
As far as who I'd like to work with, I'd still love to do something with my bud Mike Kunkel. I did his website, so I guess that kinda counts, but perhaps something in book form. Like a coffee table book on Macadamia nuts that resemble famous people. That would rock.
Huddleston: Well, my dream project is Spiderman. I don't need a series or anything. I just want to do at least one single issue before I grow too old to draw…or worse. And my creator of choice would be (the late) Will Eisner.
Outhouse: What's next after this project for you?
Huddleston: Geez, I'm not really sure. Like so many in the comics industry, I have a plethora of ideas floating around in my head at all times. So it's just a matter of time before I tackle one of them. And when it happens, you'll be the second one to know about it…because I'll obviously be the first.
Zirkel: I've dusted off that original story that Court liked so much and I'm hoping to get that launched soon. The artist I have for that is an undiscovered gold mine, so I need to get him working before someone snatches him up and actually pays him… in money.
Outhouse: Finish this statement if you would please: People at the Outhouse should buy A Bit Haywire because…
Zirkel: We are printing it on two-ply extra soft paper, just for the Outhouserites.
Huddleston: …It's a limited time offer that you'll get a hearty "Thanks" for with each purchase. Oh, and it's a fun all-ages book with a great twist, solid writing, and awesome coloring that overshadows my penciling efforts…but really works. Did I mention you get a hearty "Thanks"?
Outhouse: Anything else you want to add?
Huddleston: I'd like to truly thank Jessie and Jim for taking a chance on this little project, and for realizing it's too late to turn back now.
Zirkel: Yes, I hope I never get pneumonoultramicroscopicsilicovolcanocon iosis. Sorry if that breaks your long word rule, but I just had to get that off my chest. Also, I like to swim with the humuhumunukunukuapua'a.
And don't forget, you owe me twenty bucks… American.
Damn big words…. Okay, link time:
For more information about A Bit Haywire: http://abithaywire.com/
For Courtney Huddleston's web site: http://courtneyhuddleston.com/
For Scott Zirkel's web site and to check out his Jeep: http://scottzirkel.com/
And for a five page preview of A Bit Haywire, go here.
To discuss, go here.
Posted originally: 2006-10-05 03:15:06