The Outhouse brings you a new feature looking at November's comics.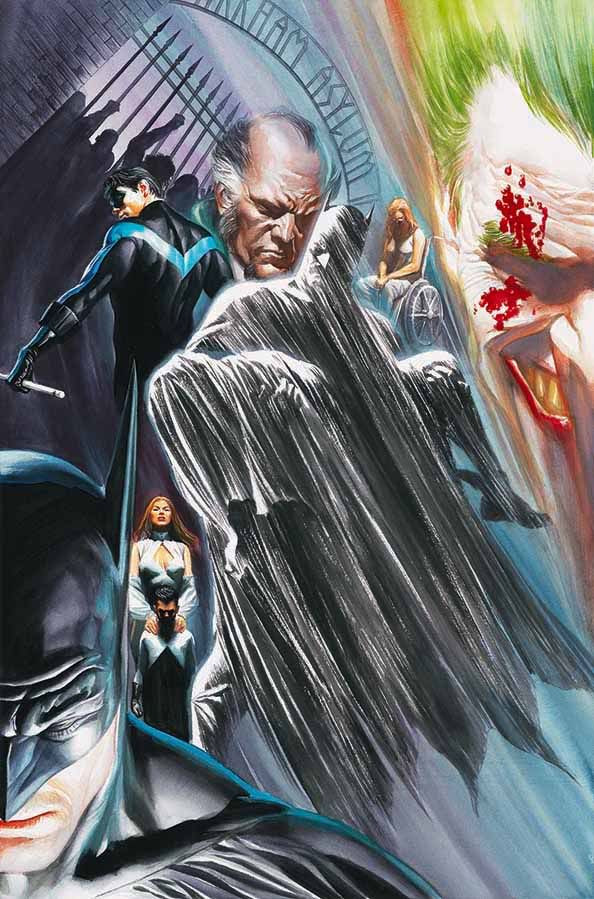 Batman #682/#683
GLX: Morrison's run on Batman has been trippy. I'm curious to see how things work out in these two issues before the fill in issues.
Detective Comics #850
GLX: Dini and Nguyen have on fire with this story. Everything just seems to fit into place. Keep your eye on it.
misac: And it's double sized! It's also the conclusion of Dini's Hush storyline.
Final Crisis #6
GLX: I feel weird on this series. It's got some good moments and some bad moments. The worst part is that the art isn't as consistent as it could've been (a lot of artistic shuffling is to blame). Still, I'm curious to what happens.
Sandman: Dream Hunters #1
misac: My introduction to Sandman was the Dream Hunters book so I want to see it as a comic. And P. Craig Russell on art is a huge plus.
 
 Amazing Spiderman #576,#578
GLX: #576 should be interesting. Joe Kelly's prologue to his Hammerhead two-parter was entertaining. Hopefully, he can maintain the quality. Oh, and Chris Bachalo is drawing it. Choice. #578 features Mark Waid and Marcos Martin. Should be fun.
Astonishing X-Men: Ghost Boxes #2
GLX: If Ellis' writing on this comic was a bit better, this would've been the pick of the month. It features art by Oliver Coipel and Kaare Andrews.
Daredevil & Captain America: Dead on Arrival
misac: DD and Cap seems like such an odd combination to me. It's by two of Europe's top creators so that is what really has me buying this book. I'm curious to see how they handle these characters.
Fantastic Four #563
GLX: I know that some people have been disappointed in this comic, but I'm having a good time. The art is solid and the writing is fun.
Invincible Iron Man #7
GLX: Fraction + Larroca + Spidey + Iron Man = Win. For further proof that is a winning formula, go read Spectacular Spiderman Annual #1.
Mythos HC
GLX: Even though I'm not getting this, since I've got all of the issues. Still, if you passed it up before, you need to get it. For some reason, Paul Jenkins seems to be amazing when Paolo Rivera is painting his stories.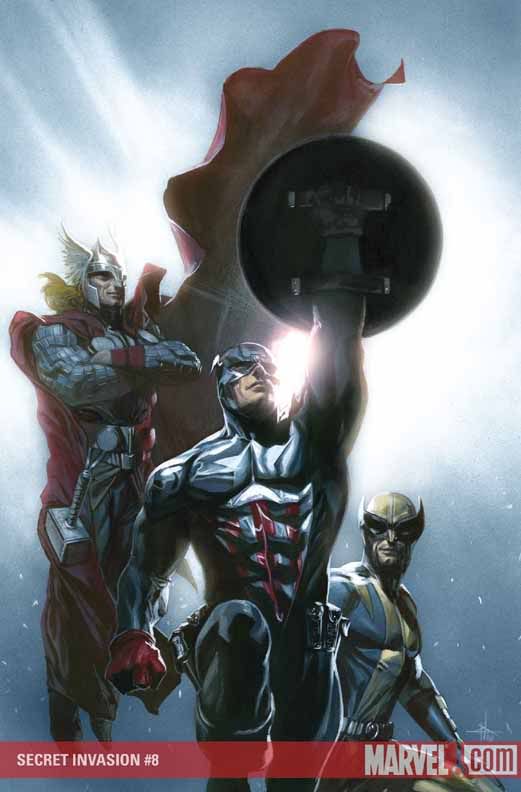 Secret Invasion #8
GLX: Great mini series. Sad to see it go. Nonetheless, this has been my favorite major Marvel crossover, in a while.
Secret Invasion: X-Men #4
GLX: Mike Carey and Cary Nord are great together. Fun little mini.
Thor: Man of War
GLX: Fraction has been kicking ass with these Thor one shots. I don't think I've seen Thor being this badass.
X-Men Legacy #218/Wolverine:Origins #30
GLX: Came off to a decent start. Don't have high hopes for it, though.
X-Men: Pixies and Demons Director's Cut
GLX: I'm a sucker for buying this. Yes, this was released as a free comic, months ago. Still, This is the version that I'd prefer to have in my long box.
misac: I missed the freebie so I'm in. Plus, I'd like to know a little more about Pixie.
Liquid City
GLX: This has potential. It's a new anthology that's headed by Sonny Liew. Worth a look.
misac: Mike Carey's name alone almost had me, but it being an anthology scared me off. They're very unreliable.
My Name is Bruce One Shot
misac: Don't know when the movie is coming out so this will hold me over until then.

Picks of the Month
Amazing Spiderman #577
GLX: Zeb Wells. Paolo Rivera. 'Nuff said.
The New Brighton Archeological Society OGN
misac: One of my favorites from Popgun volume 1. The orphans get their one graphic novel!
Enjoy this article? Consider supporting The Outhouse, a fan-run site, on Patreon. Click here for more info.
Comment without an Outhouse Account using Facebook
We get it. You don't feel like signing up for an Outhouse account, even though it's FREE and EASY! That's okay. You can comment with your Facebook account below and we'll take care of adding it to the stream above. But you really should consider getting a full Outhouse account, which will allow you to quote posts, choose an avatar and sig, and comment on our forums too. If that sounds good to you, sign up for an Outhouse account by
clicking here.
Note: while you are welcome to speak your mind freely on any topic, we do ask that you keep discussion civil between each other. Nasty personal attacks against other commenters is strongly discouraged. Thanks!