Eric Powell, creator of hit comic The Goon, was able to give us a few minutes of his time during a busy convention to answer a few questions.
Our reporter on the scene at SDCC, Angela Jones, sat down with Eric Powell for a few moments after signings to ask a few questions.
Angela Jones: The Goon
#39 was a pretty vicious takedown of comics culture at Marvel and DC.  What kind of a reaction did you get from other comic professionals about that issue?
Eric Powell:
  From other comic creators, no.  But I'm not stalking anyone on twitter either.  Most of the reaction I got was positive, pats-on-the back and even the few people that complained still admitted it they found it funny.  I think... well I hope... most everyone understands that it's satire.  I can't go into it censoring myself and worrying about what everyone will think.
AJ:
  Now that
The Goon
is monthly, has that put more stress on you and your work process?
EP:
  (laughs) Yes.  Initially it did not though, because I was very excited for it and prepared.  But the last month I've had more life issues to deal with and then the pressure began to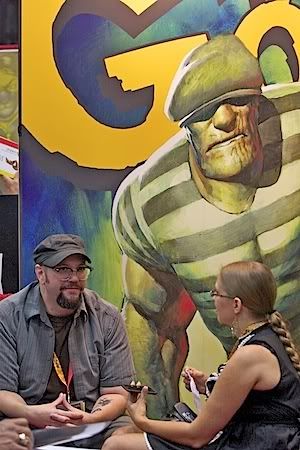 hit.  I'm still the only one doing the book, there was no one to hand things off to.  It was a bit weird that this happened right when I was taking the book monthly, but I told myself 'this is what you jumped into, this is what you commited yourself to, so you have to get it done'.
AJ:
Have you thought about bringing others in on it?
EP:
Well, to lighten the load at some points, Art Buckingham is doing some back-up stories for the book.  Like this week, where I'll be gone for the convention the entire time, he'll be doing a story for the issue I'm working on this month.  We'll be doing little things like that to make sure the book stays on schedule.  But we've done it before with a monthly book and it came out fine, so I'm committed to it.  Throwing my hat over the wall and going after it.
AJ:
Dark Horse just anounced that there will be more
Billy the Kid's Old-Timey Oddities
stories from yourself and Kyle Hotz.  Tell us what you get out of those books creatively.
EP:
Well, Kyle Hotz is illustrating it, so it's not as labor intensive for me as
The Goon
is where I do all that myself.  We just want to finish up this trilogy, and we actually wanted it out quicker,  but Kyle has to take other work because doing creator-owned work doesn't make as much money.  We're really excited for it though; it's a weird, quirky take on things.  We tried to make each of the villains in the series kind of a classic monster, but with a weird spin on it.
AJ:
Anything else you want to tell us about?... tidbits... movie news... (laughs)
EP:
(laughs) Well... everyone does keep asking about the movie and if it's still on the way.  We're still pushing through. Everyone is committed: David Fincher, Dark Horse Entertainment. We're all committed to it, but we're just trying to find the right people that are willing to invest in the project in order to make this thing happen.  We're taking some steps to get people off the fence about it and should have some news about it soon.
AJ:
Do you have a pesonal wishlist of actors for any of the roles?
EP:
I've already had my wishes fullfilled there, actually.  We have Paul Giamatti and Clancy Brown, and they are perfect in my mind.
Written or Contributed by: Angela Jones & Jeremy Shane