The Outhouse was honored to get to sit down for Usagi Yojimbo creator and comic legend: Stan Sakai at San Diego Comic Con to talk about Usagi and his new project: 47 Ronin.









The Outhouse: Usagi Yojimbo
is one of the great success ftories of independent comics. How much do you think about its place in comic history?
Stan Sakai:
I don't view myself as one of the pioneers, I was at the beginning sure, but there were great books that paved the way.
Elfquest
,
Grendel
, there were a handful of them and actually
Teenage Mutant Ninja Turtles
really started the black and white comic revolution. Usagi and the Turtles started off about the same time and I remember the first San Diego Con we could hardly give away copies of
Albedo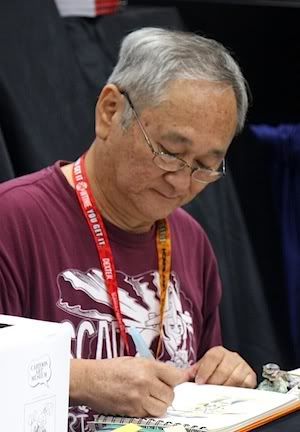 number two, Usagi's first appearance. People just didn't want black and white comics, then the Turtles became popular and interest in Usagi rose along with the Turtles.
OH:
So the Turtles have a special place in your heart?
SS:
Oh yes, and like I said, with the small community we had of independent black and whites we supported each other. We would send each other letters and became friends because of that.
OH:
Is that what brought you to do art for the movie?
SS:
Yea, out of that friendship things like that would develop. I was sitting next to Peter Laird at a San Diego Comic-Con and they had stuff going on with their tv show and he just turned to me and said "Do you want an Usagi toy?" I said, sure. He told me to have my people call his people, but I didn't have any people so he gave me some people too. That's why we had a lot of the same people and it all made the licensing for Usagi's TV and merchandising fairly easy.
OH:
You've also crossed swords with Mouse Guard and a few other things as well?
SS:
Just for fun. We are creators and we own our own creations and it's kind of like a fraternity. David Petersen called me up and said he was doing a book called
Legends of The Mouse Guard
and was asking other creators to contribute so I said, "I'm in."
OH:
Do you think that competitive spirit has taken over for the new generation of independents? Do they seem to isolate themselves instead of stepping into that fraternity?
SS:
Some do, yes. But for others it's just the opposite. Jeff Smith loves doing collaborations. I got to play in his backyard for a while and it's just fun doing crossovers like that.
OH:
How did you come up with Usagi? What were your influences?
SS:
I grew up reading comic books and watching Japanese Chanbara- sword fight movies. I wanted to do a samarai series based on real life samarai Miyamoto Musashi and one of my favorite films was a trilogy staring Toshiro Mifune where he played Musashi. One day I was just sketching in my book and drew a rabbit with his ears up into a chonmage, a samarai topknot, and I loved the design. It was unique but very simple. I named him Miyamoto Usagi instead of Musashi because Usagi means rabbit in japanese and just started working with it from there.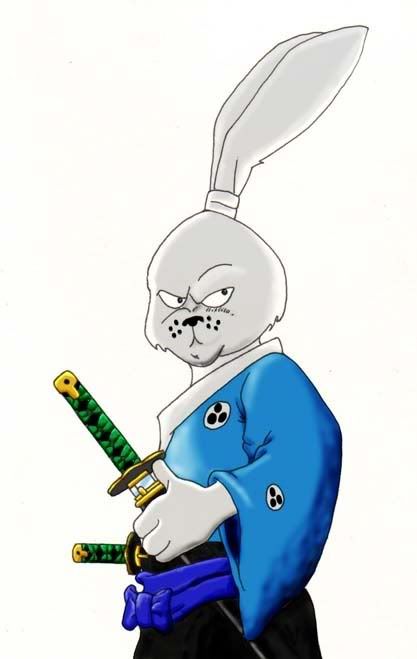 He ended up getting published because I heard through the grapevine that Steve Gallacci in Seattle wanted to do a comic book but didn't have enough material yet. So I sent him a story and he called and asked what I had for the next issue. Once Usagi got published then publishers were coming to me asking for work and it led to Usagi becoming one of the flagship characters for the
Critters
series until he started in his own series.
OH:
Did you have any other favorite characters you worked on besides Usagi?
SS:
Yes, I had a character set in 17th century Europe, where Usagi was set in 17th century Japan, called Nilson Groundthumper. At one point I had a story for a major epic where they would both meet up. That story revolved more around Nilson and talked more about why there were intelligent animals while there were still regular animals and address the rise of the humans. I had a definite beginning, middle and end for the story set up at around fifteen to twenty-five hundred pages. Usagi would appear around page one thousand. But once I drew that first Usagi story I just fell in love with that character and started concentrating on Usagi.
OH:
He's closest to your heart?
SS:
Yes, so it was hard to go on hiatus from him to start work on the
47 Ronin
story. Mike Richardson from Dark Horse has actually been working on the script for twenty five years trying to get it published, looking for the right artist and everything. He approached me about it and told him I wanted to do this. I knew the story, it's a historical incendent that takes place around the turn of 18th century Japan where Lord Asano was ordered to commit seppuku, ritual suicide, for drawing his sword in shogun's palace. His lands were confiscated, his clan disbanded and all his samarai became masterless, Ronin. They planned to get revenge upon Lord Kira and after three years the 47 seven samarai attacked Kira's mansion, beheaded him and paraded his head around Tokyo. It was an exciting story from history.
OH
: When do you think it be hitting the shelves?
SS:
It will probably come out at the beginning of 2013, we're trying to have it done by the end of this year. I'm inking the second issue now, but with Mike, he's the writer, but he's also the publisher. When I sent him the first issue he wanted to add four more pages, so I added the pages and my editor said, "normally I wouldn't allow this, but he's the publisher so what am I going to say?" (laughs) Mike's a great writer, but he welcomes input from me and he calls it more a collaboration. He's wonderful to work with and, this is one of the few times I've worked with a writer, his scripts are very clear and direction is wonderful.
I've been doing Usagi for a long time, but this takes a different approach. A lot more research in getting things historicaly accurate, crests and settings, etc. Fortunately a few years ago when I was in Japan I got to visit the temple where they are buried and the well where they washed Kira's head and other things like that. But we also have a technical advisor to this book Kazuo Koike of
Lone Wolf and Cub
so that's a big feather in our cap because he is one of the most respected figures in comics and manga in the world.
OH:
A couple of fun questions as we wrap up... What type of artwork do you collect personally?
SS:
I have all sorts of stuff, a Steve Ditko page... but a lot of it comes from trading with other artists actually.
OH:
If you lived in fuedal Japan, do you think you would make a good samarai?
SS:
(laughs) Well... First of all, my mother's side of the family is actually samurai, but my father's side were peasant, they were fishermen. My father was in the US Military and stationed there after World War II, he met my mother, they were going to marry and all that. My grandfather was against it though, not because the war had just ended and he was serving for America, but because he was a peasant. They were much more worried about the social status. So I guess I'd have ended up a peasant, the samurai were a very elite status, something like only six percent of the population were ever samurai. I have a family crest that I almost used for Usagi, but it was just too diffucult to draw being a plum blossom and ended up going with the three dots for a rabbit's footprint in the snow.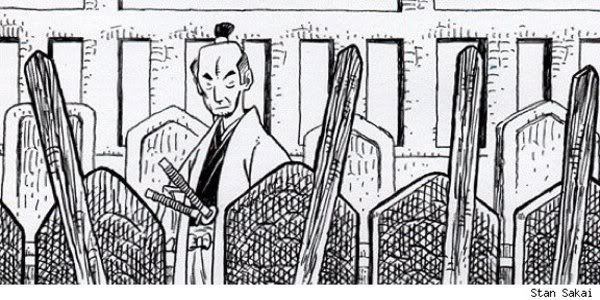 Written or Contributed by: Angela Jones & Jeremy Shane