You'll never guess who it is
---
Source: WizKids Offers...HeroClix for FCBD 2013
If you guessed Mister Sinister you'd be wrong (c'mon WizKids, where is my Sinister piece?) Nope, in a totally unpredicitble moment of clarity, WizKids announced today that thier HeroClix figure for FCBD 2013 would be...
IRON MAN 3!
Shocking, I know! In the past these FCBD offers have turned into collector's items, so grab them while you can.
If you don't know, HeroClix is some sort of comic book based RPG with a sort of Risk-esque board players compete on. I think I have no idea; I use the HeroClix figures to decorate my fish tanks and I'd really like a Mister Sinister figure in my goldfish tank.
Here's the press release from FCBD's website: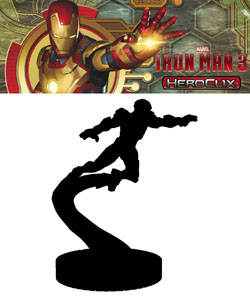 WizKids has announced that its 2013 FCBD HeroClix offering will feature Marvel's Iron Man -- perfectly timed for the much-anticipated Iron Man 3 movie.
All of the excitement of Iron Man 3 comes alive on your tabletop with thisFCBD HeroClix based on the newest Marvel movie blockbuster!
Each Marvel HeroClix: Iron Man 3 Movie FCBD Promo Figure comes labeled in its own individual "FCBD 2013" box complete with its Character Card for your convenience. This FCBD promo figure features an all-new dial designed specifically for this promotion.
In years past, demand for the FCBD HeroClix item has been great, so make sure you get to your local comic shop early on FCBD to get yours!
---
Enjoy this article? Consider supporting The Outhouse, a fan-run site, on Patreon. Click here for more info.
Comment without an Outhouse Account using Facebook
We get it. You don't feel like signing up for an Outhouse account, even though it's FREE and EASY! That's okay. You can comment with your Facebook account below and we'll take care of adding it to the stream above. But you really should consider getting a full Outhouse account, which will allow you to quote posts, choose an avatar and sig, and comment on our forums too. If that sounds good to you, sign up for an Outhouse account by
clicking here.
Note: while you are welcome to speak your mind freely on any topic, we do ask that you keep discussion civil between each other. Nasty personal attacks against other commenters is strongly discouraged. Thanks!
About the Author - GHERU
---
RU, or as he's known in the writers' room: the cute one, is relatively unappreciated in his time.  RU's YouTube show, RUviews is watched by literally multiple people every month and his Outhouse articles have helped line many a bird cage.  Before you send RU a message, he knows that there are misspelled words in this article, and probably in this bio he was asked to write.  RU wants everyone to know that after 25+ years of collecting he still loves comic books and can't believe how seriously fanboys take them.  RU lives in Akron Ohio (unfortunately) with WIFE, 'lilRuRu, and the @DogGodThor.  You can also find him on Twitter, Facebook, Tumblr, & even Google+ (if anyone still uses that).
More articles from GHERU