---
Source: Colorado Signs Marijuana Regulations Into Law
You know it, I know it, everyone knows it; the modern comic is lacking. Where it used to take 15 minutes to read an average comic due to actual dialogue, lack of splash pages, plot development, and a page count directly proportional (instead of inversely) to the price of the comic. Hell, it took me longer to read two issues of Mind MGMT than the entirety of Unforgiven 2 Old Man Logan.
All that's about to change...if you live in Colorado (or Washington) because on May 29, 2013 "Colorado Governor John Hickenlooper officially signed the state's new regulations for marijuana use into law…" This means that residents of Colorado finally have a way to make their comics last longer than a trip to the bathroom: Mary Jane.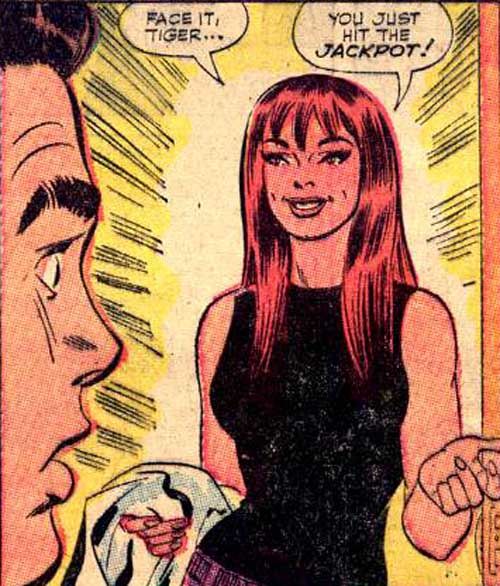 Not that I am speaking from personal or even timely experience, but, as I understand it, marijuana (pot, weed, MJ, chicken, green, chronic) makes it more difficult to understand even the most basic of plots, and that includes Age Of Ultron's laughably childish one. Marijuana (Alaska Gold, trees, snorks) is the answer to the dwindling returns on comic prices vs comic pages/content. Wake up at 3am and try to read a comic book. Not that easy, is it? Marijuana (broccoli, purple nurple, the Grimace) is just like that but you don't have to wake up at the butt crack of dawn to make reading comics worth your time.
As an old associate of mine used to say: Comics are better with weed.
Thank you Colorado, thank you for finding a way to make comics last longer than a vurp, because Lord knows Marvel and DC aren't concerned.

---
The Outhouse is sponsored by Cinema Crazed: Celebrating Film Culture & Pop Culture.
Enjoy this article? Consider supporting The Outhouse, a fan-run site, on Patreon. Click here for more info.
You Might Also Like:
Comment without an Outhouse Account using Facebook
We get it. You don't feel like signing up for an Outhouse account, even though it's FREE and EASY! That's okay. You can comment with your Facebook account below and we'll take care of adding it to the stream above. But you really should consider getting a full Outhouse account, which will allow you to quote posts, choose an avatar and sig, and comment on our forums too. If that sounds good to you, sign up for an Outhouse account by
clicking here.
Note: while you are welcome to speak your mind freely on any topic, we do ask that you keep discussion civil between each other. Nasty personal attacks against other commenters is strongly discouraged. Thanks!
About the Author - GHERU
---
RU, or as he's known in the writers' room: the cute one, is relatively unappreciated in his time.  RU's YouTube show, RUviews is watched by literally multiple people every month and his Outhouse articles have helped line many a bird cage.  Before you send RU a message, he knows that there are misspelled words in this article, and probably in this bio he was asked to write.  RU wants everyone to know that after 25+ years of collecting he still loves comic books and can't believe how seriously fanboys take them.  RU lives in Akron Ohio (unfortunately) with WIFE, 'lilRuRu, and the @DogGodThor.  You can also find him on Twitter, Facebook, Tumblr, & even Google+ (if anyone still uses that).
More articles from GHERU