---
Source: THE SIMPLE THING POPE FRANCIS DID TO A SEVERELY DISFIGURED MAN THAT HAS CAPTIVATED THE WORLD
ROME – Frank in Rome investigating story that take world by storm last week, namely who guy Pope Francis bless last week. According to www.theblaze.com:
Pope Francis took the time Wednesday to do one simple thing that has now captivated the globe: He embraced and prayed with a man covered in tumors in St. Peter's Square.
The encounter between the pontiff and the unnamed individual reportedly took place after Francis addressed his general audience, when the man approached the Catholic leader and asked to be blessed.
Frank want humans to look at picture! LOOK! Pope bless sick human who look like monster! This mean there hope for Frank's soul! But who is man Pope kiss (no homo)? Website Frank link to before say man "unnamed," but Frank think Frank know who it is!
Look again!
Pope bless human all covered in tumors wearing black and red jacket. He remind reader of anyone they know?
That right! Pope bless merc with a mouth: Wade Wilson – aka Deadpool! Look again! LOOOOK! Now look at picture of Deadpool without mask: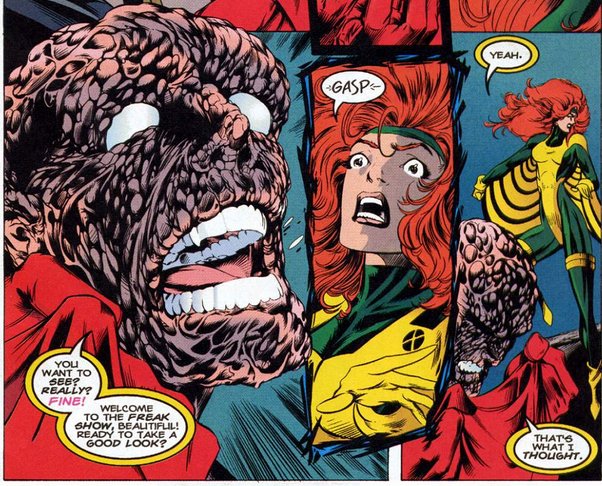 Frank no want to guess what Deadpool do in Italy; it no like Italian businessmen ever have need to hire mercenary, especially those in import / export industry (please no sue / kill Frank.) Frank feel sorry for Pope, he no know he bless remorseless Canadian killer, but maybe it help Wade find error of Wade's ways. Frank can only hope!
---
Enjoy this article? Consider supporting The Outhouse, a fan-run site, on Patreon. Click here for more info.
You Might Also Like:
Comment without an Outhouse Account using Facebook
We get it. You don't feel like signing up for an Outhouse account, even though it's FREE and EASY! That's okay. You can comment with your Facebook account below and we'll take care of adding it to the stream above. But you really should consider getting a full Outhouse account, which will allow you to quote posts, choose an avatar and sig, and comment on our forums too. If that sounds good to you, sign up for an Outhouse account by
clicking here.
Note: while you are welcome to speak your mind freely on any topic, we do ask that you keep discussion civil between each other. Nasty personal attacks against other commenters is strongly discouraged. Thanks!
About the Author - Frankenstein, Former Agent of S.H.A.D.E.
---
Frankenstein is the swordwielding monsterfighting monster formerly employed by S.H.A.D.E., a global agency dedicated to fighting weird stuff. Unfortunately, Dan Didio laid off Frankenstein due to low sales, and Frank quickly lost the bulk of his intelligence trying to piece together DC continuity while updating his resume. Luckily, the Outhouse's staff is largely made up of dumb beasts, and Frank is now working as an contributing reporter while he is between jobs.
 
More articles from Frankenstein, Former Agent of S.H.A.D.E.