---
Source: ThanosCopter Newswire
Earlier today, Rich Johnston, chief chimney sweep of Bleeding Cool, reported on a growing divide between Geoff Johns and Dan Didio at DC Comics, resulting in a number of inconsistencies between comics. Johnston claimed that DC's books were being divided into two groups, "Team Dan" and "Team Geoff". With Johns taking over Superman in a few months, Johnston suggested that there might be a shift in the power paradigm at the company.
However, the rift isn't just dividing DC's offices. Thousands of young girls have taken arbitrary sides in the debate, joining either "Team Dan" or "Team Geoff" in large numbers. "Team Geoff is, like, obviously the right choice for DC Comics," said Ashley Kennard, a thirteen year old girl from Massapequa, New York. "His hair is just so amazing, and I really love his sparkling abs." She joyfully showed off a t-shirt with the a picture of Geoff Johns standing shirtless in an appealing pose.
"No way!" rebutted thirteen year old Katie Patterson, her longtime BFF. "I don't see how anyone can be on Team Geoff when Team Dan is such a better option. Team Dan is so dreamy, and it's so clear that he cares about DC Comics in ways that Team Geoff just doesn't."
Kennard explained that Johns was the more attractive and experienced of the two, since Johns "is like a hundred years old." His aloof demeanor and his bouts of bloodthirsty violence were also cited as reasons why she supported the DC chief creative officer.
However, Patterson stated that Didio's superior musculature, cheery demeanor and red-brown fur made him the more attractive executive. "Plus, he has so much love in his heart," said Patterson. "Look at how much he loves the number 52. It's so adorbs!"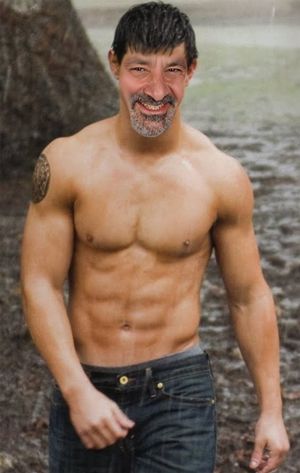 The debate has even extended into schools, where hundreds of classrooms have become fiercely divided. "Best friends aren't speaking to each other," said middle school principal Henry Craft. "Fights are breaking out in the hallways, and some girls are even putting posters of Didio topless in their lockers." Craft sighed and shook his head. "It's literally the most disgusting thing I've ever seen."
It's unclear exactly how the internal squabbling of two comic executives became a nationwide phenomenon, but experts have their theories. "It's classic team theory in action," said Thaddeus T. Puffinbottoms, professor of Pre-High School Girl Behavioral Studies at DeVry University. "If you toss the word team in front of two names, people will instantly arbitrarily choose between them and defend them to the death."
While it's uncertain how the Team Geoff/Team Dan feud will end, one possibility is that Team Geoff will wind up with the company, while Team Dan will end up lovingly laying claim to a new baby comic company, nurturing it until it comes of age and then marrying it. Regardless, it appears that "Team Geoff" and "Team Dan" are here to stay. "I'm totally obsessed with Dan," said Patterson. "I read his fanzine Didio Monthly, have posters of him on my wall, and even have tried to ask him out via Youtube. I really just want Dan to take me to the spring dance. It would, like, make my life. Oh my god, do you know how to reach him? Could you, like, ask him for me?"
"No way," said Kennard. "You are not taking Dan Didio to the spring dance if I'm not taking Geoff."
At press time, neither Didio nor Johns had agreed to accompany any pre-teen girls to school dances, but neither had explicitly denied the possibility either.
---