---
Source: WWE Network, bitches!
NEW ORLEANS – Wrestling fans all over the world were shocked last night when The Beast Incarnate, Brock Lesner defeated The Undertaker at WrestleMania XXX (30 to those of you who never made it past 4th grade) thus snapping The Phenom's 21-0 WrestleMania winning streak (otherwise known as The Streak.) WrestleMania XXX, last night's number one trending topic on twitter, just ask Michael Cole, came to a complete standstill as The Undertaker (now trending worldwide) was unable to kick out of a third F5 (Lesner's finishing move, named after a tornado.)
"I was just sitting there drinking beer and watching the WWE Network by logging into the WWE app," said Dale Petty Johnson, a lifelong wrestling fan. "As I was explaining to my son that if there are any absolutes in this world it's that The WWE will script out a way for The Undertake to prevail; its tradition." After preforming a heart wrenching rendition of every song from Fiddler On The Roof, Johnson fell into a deep depression that not even a Daniel Bryan win could drag him out of.
Noted bearded man and Wolverine fan-boy, Jason Aaron had this to say:
I don't even know what to do anymore. My entire career has built up to the moment where I could write "Marvel's Mary Sue," Wolverine, out of any situation by asking myself "What would the WWE have The Undertaker do?" Now….I don't….Oh, Logan! Why have they forsaken us?!
"I may not be all that bright," began well known moron and Outhouse poster (but I repeat myself) Unaffiliated Woodsman, "but up until last night, there were three things I was sure of; 1 – The sun rises in the east, 2 – men who can't grow beards aren't men, and 3 – The Undertaker will win at WrestleMania! . What do I do now; I can't just know two things. Who is going to take the time to learn me a new fact over and over again until I remember it?"
As fans continued to voice their shock, dismay, and loss of faith churches around the globe have reported a 666% increase in new declarations of atheism. One new atheist, who agreed to be quoted on the grounds that we not reveal her name, had this to say:
"If I can't count on a make-belief athlete to win a scripted competition, there is no G-d!"
Although there have been many extreme reactions to last night's loss by The Undertaker, some of WWE's more rational fans began to question 'Taker's strategy against Brock Lesner. Here are some examples:
I just don't understand why he didn't use his supernatural powers of turning lights on and off to secure the win.~BTA_2008
Where was the lightning? Doesn't 'Taker have lighting powers still? ~ItsRealDamnReal
He never should have given up the motorcycle. The American Badass would have whooped Brock's ass. ~360WA
Whereas, some of the more OCD fans were having aneurisms that the streak ended in a number not divisible by 10:
21-1! Who the fuck ends a streak at 21-1?! 21-1….21-1….21-1…One minute to Wapner.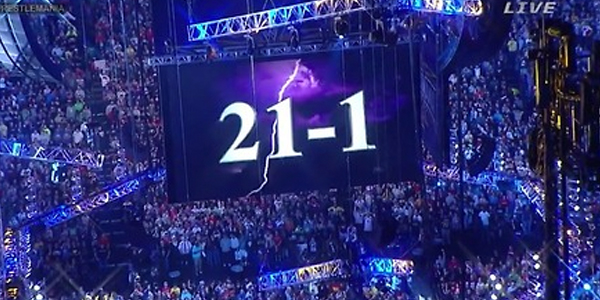 There are some WWE fans who, once over their initial shock, were pretty reasonable about the whole thing:
"He's, what, 60 years old? Dude's hurt, tired, and cranky. It was time," began WWE fan and functional member of society, Haon Raezal. "All good things and all…WHAT THE FUCK? ARE YOU KIDDING ME? You, basically, retire one of the greatest performers of all time and you follow it up with a 13 Diva "wrestling" match? Murder is our only option!" Mr. Raezal then worked the crowd into a frenzey by screeming "Attica! Attica! Attica!" A refrence most fans associate with Kevin Nash's "arrest" in 1998 after using the (then banned) powerbomb instead of the 1975 classic film Dog Day Afternoon, because, well, wrestling fans.
Only 76 suicides have been reported that could be directly traced back to last night's WrestleMania XXX, but that number is predicted to increase as more and more people wake up to a world without The Streak. Stay tuned to the Outhouse as we continue to cover out pain and misery with snark and asshole-itude.
Until then, and with all sincerity, thank you 'Taker.
---