---
Source: Rocket into the Cosmic Unknown with Cyclops #1
Beginning where The Trial Of Jean Grey left off, May's Cyclops #1 by Greg Rucka and artist Russel Dauterman looks to give past-Cyclops what real-Cyclops never had, a healthy childhood. Well, as healthy as anyone can have when it takes place in space and starts when the kid is like 15. Still, better than real-Cyclops had.
From Marvel.com:
Long thought dead, Corsair, leader of that intergalactic band of misfits the Starjammers, has returned! And he's got a new recruit in the form of his son, young Cyclops himself! Scott Summers is leaving the X-Men behind to stay in space and learn a few valuable lessons from dad: 1) How to shave, 2) How to talk to women, 3) How to steal a Badoon spaceship.
Head over to Marvel.com to see some images from Cyclops #1.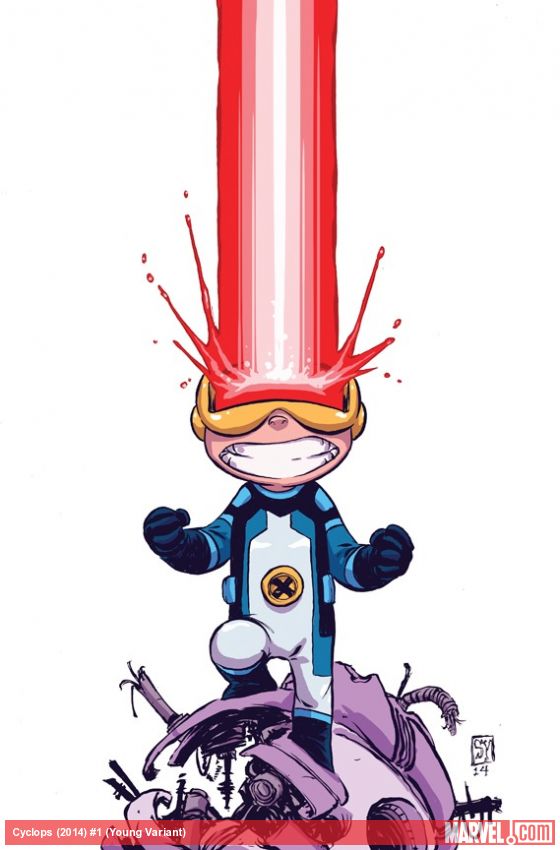 Wait, how is the beam going up if he's looking at us?

---
Enjoy this article? Consider supporting The Outhouse, a fan-run site, on Patreon. Click here for more info.
You Might Also Like:
Comment without an Outhouse Account using Facebook
We get it. You don't feel like signing up for an Outhouse account, even though it's FREE and EASY! That's okay. You can comment with your Facebook account below and we'll take care of adding it to the stream above. But you really should consider getting a full Outhouse account, which will allow you to quote posts, choose an avatar and sig, and comment on our forums too. If that sounds good to you, sign up for an Outhouse account by
clicking here.
Note: while you are welcome to speak your mind freely on any topic, we do ask that you keep discussion civil between each other. Nasty personal attacks against other commenters is strongly discouraged. Thanks!
About the Author - GHERU
---
RU, or as he's known in the writers' room: the cute one, is relatively unappreciated in his time.  RU's YouTube show, RUviews is watched by literally multiple people every month and his Outhouse articles have helped line many a bird cage.  Before you send RU a message, he knows that there are misspelled words in this article, and probably in this bio he was asked to write.  RU wants everyone to know that after 25+ years of collecting he still loves comic books and can't believe how seriously fanboys take them.  RU lives in Akron Ohio (unfortunately) with WIFE, 'lilRuRu, and the @DogGodThor.  You can also find him on Twitter, Facebook, Tumblr, & even Google+ (if anyone still uses that).
More articles from GHERU