---
Source: Diamond Comics
Diamond Comics slipped up and leaked that a new Legendary Star-Lord solo series will be beginning this July. Written by Sam Humphries with art by Paco Medina, the new series will presumably help flesh out the character in advance of the new Guardians of the Galaxy movie.
Here's the solicits and a first look at the cover:
A brand-new series from Sam Humphries and Paco Medina! In this exciting first issue, Peter Quill battles Badoon, fights to save an orphanage, and still finds time for some flirting with Kitty Pryde!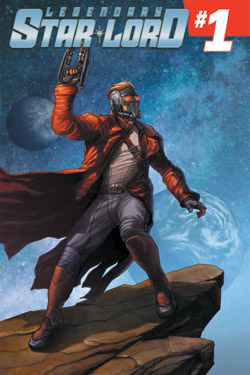 As you can see, it looks like we'll be getting more of Star-Lord's "movie costume". Expect more details to come out this weekend at C2E2.
---