---
Source: Chris Ryall's Tumblr
At last year's San Diego Comic-Con, IDW announced that it would be publishing a comics adaptation of Hunter S. Thompson's Fear and Loathing in Las Vegas. At this year's SDCC, IDW announced that cartoonist Troy Little would be writing/drawing the comic, which will be released in 2015. Little has been nominated for two Eisners for his work on Angora Napkin, and previously was working on a Powerpuff Girls comic for IDW.
While no details were available as to page count or format, IDW did release a page from the comic, as well as Little's character designs.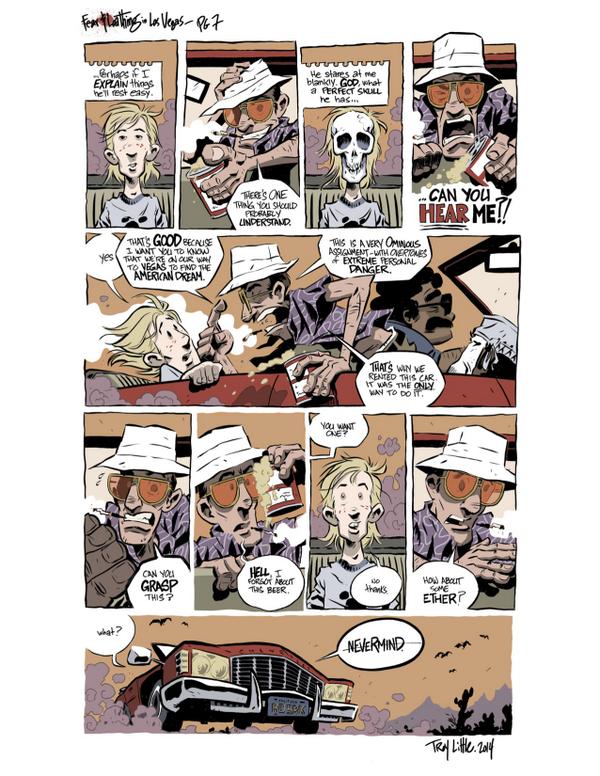 ---
Enjoy this article? Consider supporting The Outhouse, a fan-run site, on Patreon. Click here for more info.
Comment without an Outhouse Account using Facebook
We get it. You don't feel like signing up for an Outhouse account, even though it's FREE and EASY! That's okay. You can comment with your Facebook account below and we'll take care of adding it to the stream above. But you really should consider getting a full Outhouse account, which will allow you to quote posts, choose an avatar and sig, and comment on our forums too. If that sounds good to you, sign up for an Outhouse account by
clicking here.
Note: while you are welcome to speak your mind freely on any topic, we do ask that you keep discussion civil between each other. Nasty personal attacks against other commenters is strongly discouraged. Thanks!
About the Author - ThanosCopter
---
ThanosCopter is a specially designed helicopter built to transport Thanos the Mad Titan. Built by Sterling Custom Helicopters, ThanosCopter appeared in several Marvel comics, before being abandoned by its owner during the character's ascension into major villainy. ThanosCopter was discovered by the Outhouse and given a second chance at life. He now buzzes merrily around the comic book industry, spreading snark, satire and humor like candy to small children.
 
More articles from ThanosCopter