---
Source: Vulture
Marvel has announced that it will finally publish two new Miracleman stories in December's Miracleman Annual #1. The first story, written by Grant Morrison, is actually an old script written by Morrison for one of Miracleman's old publishers (presumably Eclipse Comics). However, Morrison backed off the project after he wrote a letter to Alan Moore, asking for his blessing to proceed, which Moore did not give. In an old interview with Morrison from the Talking with Gods documentary, here's how Moore responded (thanks to Padraig O Mealoid for transcribing the interview):
I didn't want to do it without Moore's permission, and I wrote to him and said, "They've asked me to do this, but obviously I really respect you work, and I wouldn't want to mess anything up. But I don't want anyone else to do it and mess it up." And he sent me back this really weird letter, and I remember the opening of it, it said, "I don't want this to sound like the softly hissed tones of a mafia hitman, but back off."
The script became "lost" until Quesada read an interview with Morrison , and asked Morrison for permission to publish the story. Morrison agreed with the condition that Quesada draw the comic himself.
The annual will also feature a story by Peter Milligan and Mike Allred. It's not believed that Alan Moore threatened either creator when making the comic.
Vulture broke the story and revealed several pages of art and covers by Gabrielle Del'Otto and Jeff Smith, which can be seen below. The comic will be released December 31, 2014: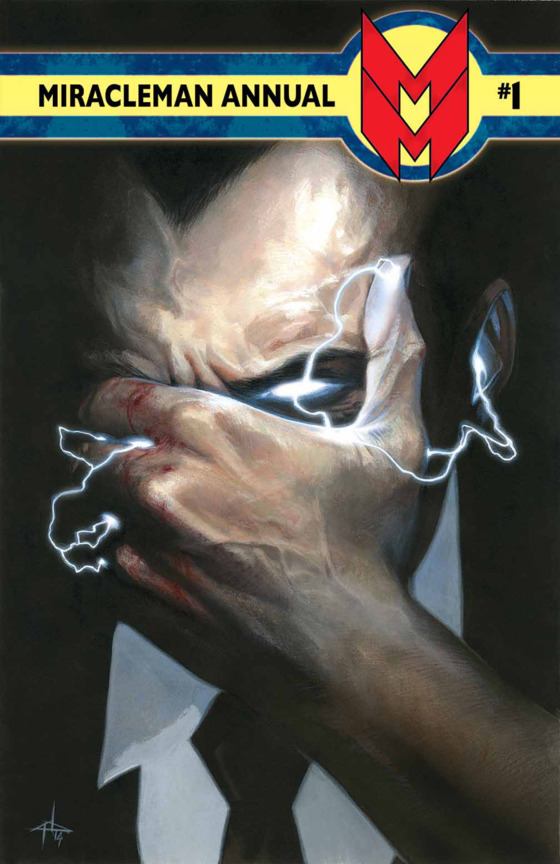 ---