---
Source: Vulture
Marvel has announced that it will finally publish two new Miracleman stories in December's Miracleman Annual #1. The first story, written by Grant Morrison, is actually an old script written by Morrison for one of Miracleman's old publishers (presumably Eclipse Comics). However, Morrison backed off the project after he wrote a letter to Alan Moore, asking for his blessing to proceed, which Moore did not give. In an old interview with Morrison from the Talking with Gods documentary, here's how Moore responded (thanks to Padraig O Mealoid for transcribing the interview):
I didn't want to do it without Moore's permission, and I wrote to him and said, "They've asked me to do this, but obviously I really respect you work, and I wouldn't want to mess anything up. But I don't want anyone else to do it and mess it up." And he sent me back this really weird letter, and I remember the opening of it, it said, "I don't want this to sound like the softly hissed tones of a mafia hitman, but back off."
The script became "lost" until Quesada read an interview with Morrison , and asked Morrison for permission to publish the story. Morrison agreed with the condition that Quesada draw the comic himself.
The annual will also feature a story by Peter Milligan and Mike Allred. It's not believed that Alan Moore threatened either creator when making the comic.
Vulture broke the story and revealed several pages of art and covers by Gabrielle Del'Otto and Jeff Smith, which can be seen below. The comic will be released December 31, 2014: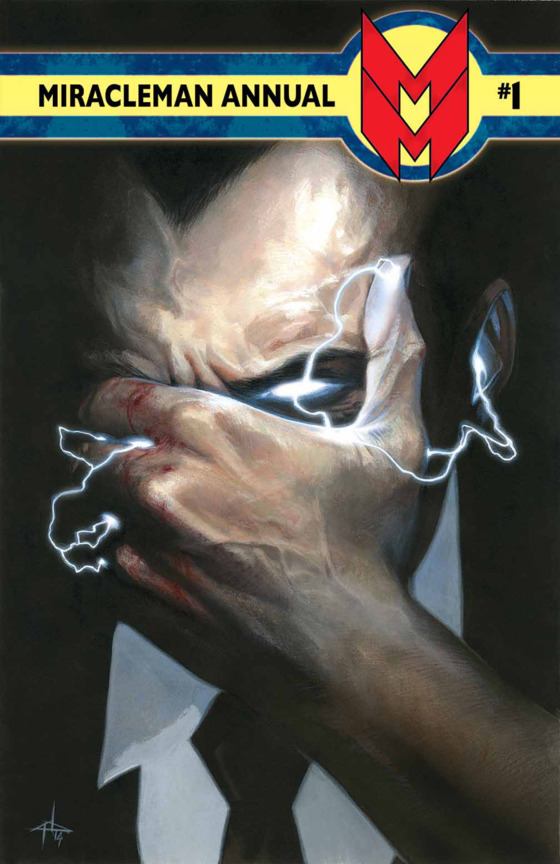 ---
The Outhouse is sponsored this week by Late Nite Draw. Recently featured on ComicsAlliances' Best Art Ever, he is a Chicago-based commissioned artist with a self-published Digital+Print one-shot coming out in October about the abominable snowman called ABOBAMANIMABBLE, and is also available for commissions. Check out some amazing art by clicking here or by clicking the banner at the top, and support the people who support The Outhouse.
Enjoy this article? Consider supporting The Outhouse, a fan-run site, on Patreon. Click here for more info.
Comment without an Outhouse Account using Facebook
We get it. You don't feel like signing up for an Outhouse account, even though it's FREE and EASY! That's okay. You can comment with your Facebook account below and we'll take care of adding it to the stream above. But you really should consider getting a full Outhouse account, which will allow you to quote posts, choose an avatar and sig, and comment on our forums too. If that sounds good to you, sign up for an Outhouse account by
clicking here.
Note: while you are welcome to speak your mind freely on any topic, we do ask that you keep discussion civil between each other. Nasty personal attacks against other commenters is strongly discouraged. Thanks!
About the Author - ThanosCopter
---
ThanosCopter is a specially designed helicopter built to transport Thanos the Mad Titan. Built by Sterling Custom Helicopters, ThanosCopter appeared in several Marvel comics, before being abandoned by its owner during the character's ascension into major villainy. ThanosCopter was discovered by the Outhouse and given a second chance at life. He now buzzes merrily around the comic book industry, spreading snark, satire and humor like candy to small children.
 
More articles from ThanosCopter