---
Source: Entertainment Weekly
With the highly anticipated release of the upcoming Showtime limited series revival of Twin Peaks just under two months away, we can expect Showtime's marketing department to dramatically increase advertisement for the series.  Facebook, Twitter, Instachats, Snapgrams, those annoying games that you purchase from the app store that require you to purchase additional add-ons for any real enjoyment or satisfaction afterward.  Soon nowhere will be safe.  Not to be outdone, Entertainment Weekly, an entertainment news periodical that still sees semi-regular weekly printed publication released it's 1459th issue this week, featuring a Twin Peaks cover story.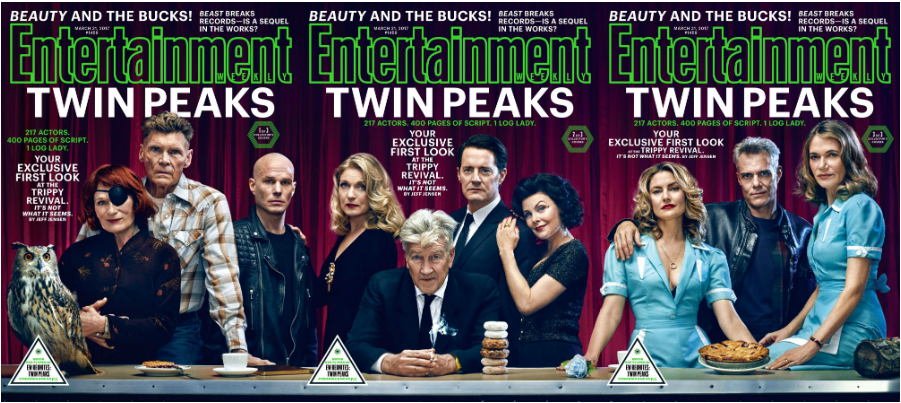 The three interlocking and presumably "collector's" covers showcase the returning (and decidedly aged) members of the returning cast.  Details of the series have been scarce, so there's no word yet on how the show plans on explaining the character's alarming age difference between new series and the previous series.  
You can pick up the March 31st issue of Entertainment Weekly now at your local Barnes & Noble, grocery store, gas station, news stand, or wherever you can still find printed media.  Twin Peaks will return to Showtime with a two-hour premiere on Sunday, May 21st. 
{if-not-empty_field_Gallery_1}{field_Gallery_1}
{/if-not-empty_field_Gallery_1}
---