The video game presser: E3 started this week and Bethesda was there to bring fans an extended preview of their new DLC for Skyrim: Dawnguard.

Last week
we posted the trailer for the new Skyrim DLC: Dawnguard.
Now that they have made their presentation at E3 we have more information, better screen shots and a release date: June 26th on Xbox 360. (PS3 and PC users won't get it for AT LEAST 30 days after this, maybe longer due to an XBox exclusive deal.) It will cost $20 and provide 10 - 20 hours of additional content to the game. Also note: the release date for xbox is tentative based on beta-testing and could get bumped.
We'll start off your feeding with a video from G4, who have been bringing us all the news from E3 as they sit down with developer Todd Howard for an interview and gameplay:
Though they have hinted that there may be more in the DLC than we've seen so far, the main portion of the add-on will be about Vampires. Whether you want to join them and become a Vampire Lord or fight them and join the Dawnguard, the choice is up to you.
The story details we have so far consist of a Vampire Lord named Harkon who wants to use the power of the Elder Scroll to shroud the sky and block the sun, giving them free reign over the world. The Dawnguard are a group of vampire hunters that intend to stop him.
In addition to details below for joining one side or the other, a player will also get perks just from making one of the two strongholds their home as well. The Vampire castle, Volkihar, will give vampire bonuses and provide blood potions to help you make it through the rough times between feedings. Fort Dawnguard gives you access to the armory and crafting abilities and can be improved through upgrades. (One thing mentioned by the developers but not shown officially was the ability to have an armored troll fighting for you.)
A player choosing the side of vampires will be able to gain the new ability to transform into a Vampire Lord similar to the way werewolf transformations were handled previously. Kills you make in this form increase your vampire skills and allow you to purchase vampire lord perks. The vampire perks will be listed below, but for fans of werewolves to keep the field even, they also will be receiving a perk tree to increase abilities and make playing a werewolf more usable at higher levels. You will not be able to be both a werewolf and vampire, you will have to choose one or the other (or neither).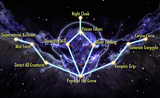 Power of the Grave - 50 point bonus to health, magicka and stamina as a Vampire Lord.
Detect All Creatures
- ?
(perhaps similiar to detect life, but adds undead)Mist Form - Turn yourself into an invulnerable cloud of mist while regenerating your health, magicka, and stamina.Supernatural Reflexes - You move quicker, while enemies move slower.Blood Healing - Killing a person with a power attack bite restores all your health.Unearthly Will - Night powers and Blood Magic cost 33% less.Poison Talons - Melee attacks deal 20 points of poison damage.Night Cloak - A shroud of bats feed on enemies within melee range.Vampiric Grip - Suspends an enemy in the air as their health is drained. Can be used to throw enemies.Summon Gargoyle - Summons a Gargoyle to fight for you.Corpse Curse - Paralyze your foes with this magical blast.
There are not many details yet out for the werewolf perk tree, though you will get a glimpse in the gameplay above of a few possible powers you can unlock.
The perk trees will not be leveled up like your other skill trees, so even if you are maxed out on level, you can still raise them. They will increase while in that particular beast form while you kill and feed in that form..
If you prefer to play the hero role, then hunting the vampires and becoming a member of the Dawnguard is for you. This will give you access to new armor and weapons. Below in the screen shots you will see a few variations of the Dawnguard armor as well as crossbows (they use the existing archery perk tree), dragonbone weapons (which do more damage than daedric) and more (additional silver weapons have been speculated).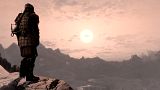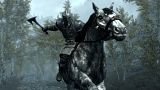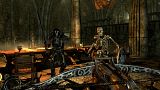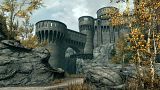 The DLC will take you to new locations: both the area around Fort Dawnguard and Castle Volkihar are rumored to be off-map. (Gamer speculation has been that Castle Dawnguard may be just outside the Rift area and Castle Volkihar just outside the northeast corner of the map toward High Rock, but we have no official word on that yet). The story will also take you to a portion of the plane of Oblivion: The Soul Carn, a realm of undead.
There will also be new creature types to battle including Legendary Dragons with new combat tactics, gargoyles, undead variants, armored trolls, death-hounds and more. A few new shouts will be part of the add-on as well. The only one mentioned as this point is: Soul Tear, which allows you to suck the soul out of someone and then raise them to fight for you.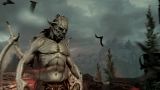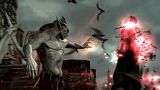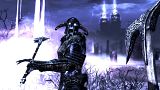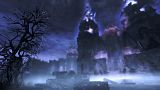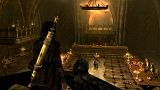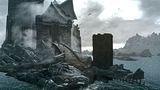 The developers have seemed tight-lipped about any other content included when asked about rumored content like snow elves. A rumor that started due to someone extracting lines of code from an update that looked like it referred to snow elves and the snow elf prince. Though it was announced that a new character will be added to the ratway in Riften that will give players (important to non-PC players) the ability to change their character's appearance. It will not let you change your race or sex, but will allow you to change everything else if you are not happy with the way your character turned out after you start play.
Also note that you will see Mounted Combat in the gameplay. This is actually being released as part of patch 1.6 and not officially part of the DLC content. So players will get this ability whether they purchase the DLC or not (and the patch is available now on Steam for PC beta testing).
Written or Contributed by: Jeremy Shane