Jimmy Palmiotti hosted a panel on Kickstarter and how it's affecting the comic book industry at SDCC. We have an overview of the discussion and the Q&A session.



Jimmy Palmiotti hosted the panel of Cindy Au (from Kickstarter), Vijaya Iver (
Bones
,
Rasl
), and Batton Lash (
Supernatural Law
) to talk about Kickstarter and its effect on the comic industry. The audience consisted of a mix of previous Kickstarter users and supporters, but was mostly filled with artists developing projects and looking to learn how to make the most of running a Kickstarter campaign.
After introductions, Jimmy starts off talking about his own Kickstarter campaigns and misteps. He jokes that bein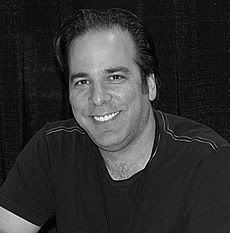 g Italian, he might have had enough family to support a project, but he still wanted to turn to Kickstarter to work on his own projects and ideas. Jimmy touches on a few things they will be covering with the panel to save others from making the mistakes he did his first time through and how he has helped coach over 75 people with their own campaigns. He hopes to help a wider audience in a Comic-Con panel and then turns it over to Cindy Au of Kickstarter to talk a little bit about the company.
Started in 2009, Cindy explains Kickstarter is a platform for funding creative projects and that comics has been an extremely popular project type so far. She says comics make a good medium for this type of fundraising because of the clear end results and what you and fans get out of the project. To give a sense of the scale of Kickstarter she offers the audience a few statistics. The overall success rate in comic fundraisers is 44%, which is the average for the entire site so comics fit right in there with everything else. So far over seven million dollars total have been pledged to comic book projects. The highest raising comic was a webcomic "Order of the Stick" raised 1.2 million dollars. The reason these projects do so well, she says, is because of the community that is built around the project. The fanbase is often not only interested in that comic, but you and your work, and more people and will be interested in your future projects as well.
Batton Lash agrees and tells the audience about his own Kickstarter success story. His wife approached him about using Kickstarter and he admits his hesitation in believing that people would give him money to produce his book, that it was his job to figure that out and how he was very touched at the generosity of his fanbase. He also drops that the moderator Jimmy Palmiotti was one of the first pledges. Batton made his goal in two weeks and he thinks that it's the shot in the arm that independent comic publishing needs. With Diamond Distribution, he says it's important not to paint them as a villain because they are just a business, but it's a dead end for independents.
It reall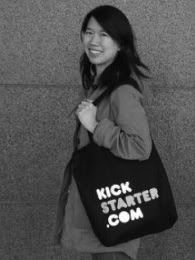 y didn't work to go up to one of the bigger companies and propose an off the wall idea, but you hear all the time a creator at something like this mention an idea that was passed up and the audience groans. The fans get it, so with Kickstarter you aren't going to a bean counter, you are going to fans that want to invest in you and your project.
The discussion turns to what sort of rewards to offer fans for different pledges. Signed copies of the book, prints, personal drawings were all top recommendations as the pledge price went up. They also added to try some fun or crazy ideas. Batton said in his comic they had pledges of a certain level as part of a jury, Palmiotti chimes in about allowing a pledge or their friend to be murdered in his story. Jimmy turns to Vijaya Iver to ask what she thought about Kickstarter. Her and her husband Jeff Smith are one of the big independent success stories and were here to talk about the options they used when starting out and how it compared to Kickstarter.
Vijaya talked about a similar reward system where at cons they were selling limited prints and signed books and more to fund their book in addition to taking out loans and more. She thinks though that Kickstarter offers an opportunity to connect directly to fans and opens up a much bigger world to creators. Jimmy asks her about drawing loans to fund the book and she stresses that you are still running a business and need to do so in the proper manner. You should be sharing risk with your fans in whatever creation you are working on and it should be treated like a real business venture with the same sort of business plan you would take to a bank for a loan.
The discussion bounces around about general stories and support for Vijaya's statements and lands on Batton, who adds that your reputation i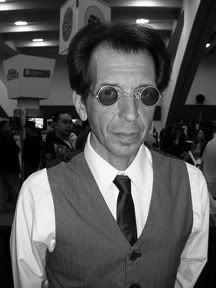 s on the line as well. It's up to you to follow through on whatever promises were made to your fans and investors. Get your rewards mailed out as soon as they are ready, have your product ready when you say you will and don't ask for more money than you need. Palmiotti chimes in to echo that and agrees that the only thing you have in life is your reputation so take care of it. He brings up an example of over raising for one of his fundraisers so he took the extra money and turned all of his books into hardcovers for his fans. Saying that if you raise more money than you intended to reward the fans and keep in mind the increased costs for making and shipping additional product as well.
He opens it up to questions from the crowd:
Q: What was your Kickstarter (to Palmiotti) ?
A: Queen Crab was the first and then Retrovirus.
Q: (clarification) What were the details?
A: I'm not sure of the exact details, I think the first one was $6,800 and it was a 58-64 page graphic novel hardcover. It was just a story about a woman whose husband tried to kill her and threw her off a boat and she washed up on Coney Island with crab claws. Happens all the time.
Q: (follow up) What did you end up raising?
A: I ended up with $2000 more than my goal with over 200 different pledges. My house looked like the back end of a post office for over a week with all the packages set to mail out to pledges. I even bought the people at the post office lunch for having to deal with me.The campaign went well and it's very interactive. (Asks Batton if fans asked him questions on the page as well and he answers 'all the time') Palmiotti then addresses something he learned the hard way after his first Kickstarter- to include postage in the bids. It can get very expensive shipping hardcover books all over the world and was an additional cost he hadn't prepared for. For Retrovirus he told pledges to include twelve additional dollars for postage because it would cover shipping it pretty much anywhere.

Again he addresses being creative with your pledge rewards, joking that if your uncle is a plumber, volunteer him to come fix your pipes.

Q: How can you use Kickstarter to leverage your marketing after the product is initially completed?
A: (Cindy Au) I think Kickstarter is the marketing. When you look at products that are successful you see the momentum and excitement they have built up and that follows you.(Batton) I also learned there are Kickstarter fans. I had a few people that commented they were not even comicbook fans, but just thought it sounded interested and pledged. My project was also highlighted on the Kickstarter front page as a project of interest so that was a big bonus as well.(Palmiotti) I also tweeted his link and hope maybe one or two people followed that link back to him. You need to use social media as much as possible, a lot of the same people that are on Kickstarter are also on Twitter and Facebook.
Q: What happens if you miss your mark?
A: (Cindy) If you don't raise the amount you set a goal for, then no one gets charged and you don't collect anything. It's an all or nothing system.
Q: Can you retry it again at a lower number?
A: (Cindy) Absolutely. Plenty of times people will gather their notes from the first try, figure out what went wrong and try again
.
Q: I'm a little confused about the reward system, can you talk more about that?
A: (Palmiotti) Yes. When you start, you promise pledges. Usually start out small, I gave a PDF of the book for one of the lowest bids, then the next level was an actual copy of the book. If you're the creator, you should probably offer it signed. When they put in their info and the project makes it's goal and everyone is charged, Kickstarter sends you a list of all the pledges, what level they are with their addresses. It's all broken down for you, but at this point you are on your own, it's your commitment, you're the one running it. So you get however many envelopes you need and start packing. You have to look at it like a relationship, every envelope there is a person, a person that likes my work and might want more from me. It is real work, don't be fooled, so if you have friends that owe you favors, be ready to put them to work when you set up your mail room
.
Q: When do you get your pledges mailed out? How soon?
A: (Palmiotti) I like to give the pledges something extra, so I try to get them out to them before it would arrive in stores. Batton, what was your timing?(Batton) Part of my pitch was that the book would be ready by San Diego Comic-Con so we made sure it was for all the pledges and everyone else it would be available to a week later.(Palmiotti then asks Vijaya about how important a satisfied customer is)(Vijaya) You're kidding right? (everyone laughs) It's everything. It's the ultimate point. They won't follow you to your next project, Kickstarter or not if you leave them unhappy
.
Q: How do you get through the doldrums of a campaign? And how would you go about finding printers once you raised the money?
A: (Cindy) Yes, every campaign seems to have that slow period in the middle. When you set up your Kickstarter, you pick a time limit between 24 hours and 60 days. I recommend about 30-35 days, anything above that you seem to be extending that slow period. That seems to be the nature of the internet, everyone is excited about something when it's new, but once you get past that period it slows down. The best thing to do is plan something for that middle period as an update, something to stir up excitement again. Ask for users to submit pictures of themselves for you to draw into the comic for example.(Batton) Those doldrums are definitely there, but make a plan to address it. We tweeted twice a day about it and also sent out notes to friends and contacts when it slowed down asking if they might be interested in blogging or Tweeting about it and it helped push through that period.(Vijaya) I wanted to address the printer question... If you were getting a small venture loan or raising capital in a traditional way, all of those things would have to be already laid out. You should treat his the same way out of respect for the people giving you money, no matter how little and plan that out ahead of time.
Q: Do the investors own any part of the product?
A: (Cindy) No, that's actually the Kickstarter model. The creator of the project retains all rights and ownership and the backers of the project are pledging commerce and patronage.
Q: Cindy, what sort of projects is Kickstarter looking for when they make their staff picks?
A: (Cindy) Pretty much anything that a wide audience would find interest in. Not only are we highlighting good projects with great videos, good rewards, but also things that represent the diversity of Kickstarter. Someone browsing the home page may not be a huge comic book fan, but they love monsters so they pledge to that (signaling toward Batton).
Q: (To Palmiotti) Did you research any other fundraising sites and what was the benefits of going with Kickstarter?
A: (Palmiotti) For me, Kickstarter was the first one I have heard of. I researched the hell out of it once I found it, I did a few pledges myself and talked to some other users. Eventually I emailed Cindy and asked her some quesetions, just wanted to make sure it was right for me.
Q: What are the best dollar amounts when setting up my rewards system?
A: (Cindy) The most popular pledge is $25. That seems to be the threshold for people on the fence and if the reward is something cool enough then it would be worth it. It varies from project to project, but from there, generally lower price pledges are the more popular because you are talking everyday people deciding to contribute. It is important though to craft interesting, more expensive tiers. Something like for $100 you get drawn into the comic. I might not go out and spend that much everyday, but for something like that I might because that's a lot of value, it's awesome and permanent. It doesn't hurt to build something in at that really high level because you never know and set up something really crazy as a reward that you aren't sure anyone would ever do because you never know. (Palmiotti chimes in) Don't offer sex though. (laughs) But let's be honest, if you are a band, offer to come play for the person. If you're an artist, offer a drawing. Try to find something that relates to what you are offering, don't offer some random thing.
Q: For my first project, would you recommend doing a single issue or a graphic novel?
A: I think a single issue is a better start because a graphic novel is a huge investment. Better to test the waters with something smaller if you are a new comodity and make that issue a complete story. You could also look at it like, if you get 600 pledges, then that is your print run and you build up to collecting them into a trade. Then when you go to a publisher you can show them your prior sales history for that book.
Q: Can you talk about what would happen if you planned to raise say, one thousand dollars and instead raised a million?
A: Well, there was a webcomic I mentioned earlier... He was looking to raise seventy thousand and ended up raising 1.2 million. You have to remember the project scales to fit the size though. He ended up with tens of thousands of people to send books to and that fullfillment ate up a lot of that extra money.
Q: (not really a question, just fan comment): I think a lot of his fans (talking about the webcomic that raised 1.2 million) just wanted to support him because he had been doing this comic for free for so long. I know I gave him money and didn't care what I got in return because he had already been giving me something for years
.
A: (Batton) I think that is why my project was successful. My readers know I'm not in anything for a quick buck and have already seen my work. If you plan on going into comics, especially self published comics you are doing it because you are passionate about it.(Cindy) You don't really need tens of thousands of pledges to have a sucessful project. The majority of projects are looking to raise between six and ten thousand dollars and that's where you see the most successful projects. The average pledge amount on site is about $70. So if you think about a project where you need to reaise $6500, then you are looking at around 80 people to have a successful project.
Q: If we are relying on our family to raise money (referring to Palmiotti's jokes about having a big family) what's the point of giving up 15% to Kickstarter, why not put it on your own website?
A: (Palmiotti) Well, do you have that many cousins? You also want to reach a broader audience than just your family. There is a chance new people will happen upon your project and take interest in what you are doing. Personally, I Kickstarter surf, I see a project that looks interesting as I browse around and I pledge to it. But initially I say start with the family, sure.(Batton): I want to add, that for my project, not one member of my family donated because they were tired of my money raising crap from the past books. I was fortunate though because I had a catalog of twenty years of material and a fanbase already. Not everyone has that if you are just starting out, so go to your family. Just remember, Eastman's uncle (of TMNT fame) lent them $2000 to get their book going and look what happened to that title.
Q: If your project is rejected by Kickstarter, can you resubmit it?
A: (Cindy) Yes. Most will only be rejected if it violates one of our few basic rules. One is charity projects. Two is no pure business funding like funding a life or vacation. That's about it really. Most comicbook projects would naturally fit for Kickstarter.
---
---
Attention: Kickstarter fans! Indy fans! Comic fans!
Please check out our weekly Kickstarter feature column:
KICKSTART MY HEART
and support independent and new creators.
We already have several creators lined up and talked to several more at SDCC. There are a ton of cool projects on that way.
Written or Contributed by: Jeremy Shane