Claflin, Shalhoub, Leo on shortlist for roles in the next Hunger Games film: Catching FIre.

---
Source: Variety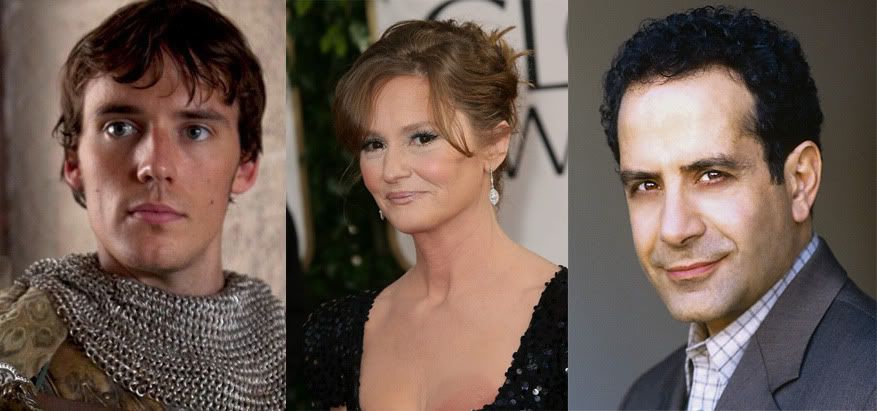 Though the casting is not final, Variety is reporting that Tony Shalhoub (Monk) up for
Beetee
, Sam Claflin (Snow White and the Huntsman) up for
Finnick Odair
, and oscar winner Melissa Leo up for
Mags
, are on the short list for roles in the next Hunger Games movie where work is already under way.
It was released earlier this week that Amanda Plummer has been officially cast for now the two films that will cover the final book and Lionsgate is looking for a new director for it due to Francis Lawrence not having time to do it because of how fast they are coming together.
Out of the roles the actors are up for,
Finnick Odair
is the most sought after. Finnick is the youngest to have won the Hunger Games at 14, he becomes a reluctant ally to Katniss in the story.
Mags
was Finnick's mentor who Katniss ends up finding a bond with and
Beetee
an inventor that plays a critical role in the rebels' actions for the film.
These roles have not been finalized yet, so nothing here is a sure thing; but the news is quite likely at this point.
Written or Contributed by: Jeremy Shane
Enjoy this article? Consider supporting The Outhouse, a fan-run site, on Patreon. Click here for more info.
Comment without an Outhouse Account using Facebook
We get it. You don't feel like signing up for an Outhouse account, even though it's FREE and EASY! That's okay. You can comment with your Facebook account below and we'll take care of adding it to the stream above. But you really should consider getting a full Outhouse account, which will allow you to quote posts, choose an avatar and sig, and comment on our forums too. If that sounds good to you, sign up for an Outhouse account by
clicking here.
Note: while you are welcome to speak your mind freely on any topic, we do ask that you keep discussion civil between each other. Nasty personal attacks against other commenters is strongly discouraged. Thanks!
About the Author - Jeremy Shane
---
Jeremy was born in a small mountain village of a strange foreign land called Weystvurginea.  Banishment for liberal views saw him spend years wondering the east coast until he decided to bike to California.  When he saw how long a trip it was, he drove instead.  Now he's living it up in a low humidity climate, sometimes working on his photography and when not, he writes for us covering books (by way of his blog: Reading Realms), gaming, tv, movies, comics, conventions in the SoCal area, and creates a weekly webcomic: A Journey Through Skyrim.  If you look for him offline, start in the L.A. area; online start at: www.jeremyshane.info for his profile and all the social networks he's on... or just follow him on twitter, he seems to be on there a lot: @jeremyshane.
More articles from Jeremy Shane