New tie-in stories set in the same world as new fantasy novel "The Unrembered" were released today for fans.
"The Unremembered" by Peter Orullian was released on April 12th and today two websites have released free tie-in stories for fans to read.  They may not be necessary to enjoy the novel, but Orullian has been throwing tons of free stories set in the same world as his novel out there for his fans.
The First is on Tor.com's site and is called
"The Battle of the Round"
In his novel The Unremembered, Peter Orullian writes about Aeshau Vaal, a world with a long history marked by a series of protracted wars of aggression pursued by the benighted creatures of the Bourne, an isolated region in which they were confined by the gods who made the world. For as long as anyone now alive can recall, these creatures have waged war against the forces of many nations across the land inhabited by mankind.Over a period of many centuries these conflicts took a great toll on the nations. But in the course of Aeshau Vaal's history there also were times when dire circumstances produced defining moments that changed the fate of the world."The Battle of the Round" is the story of one such moment...
Click here to read the story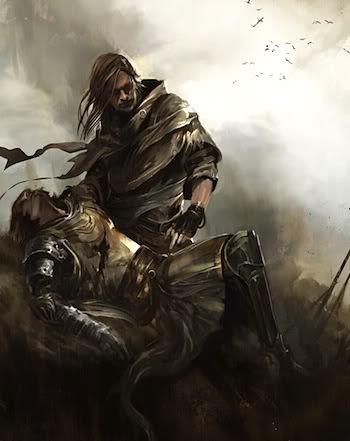 The second is out on Terry Brooks website and is called:
A Creed, a Word, and a Blade of Grass
The familiar glow of candlelight was the only companion allowed to Ja'Nene Lorashe in the private library of the League of Civility. At the canted surface of a semi-circular desk, she sat carefully examining passages from damaged texts. The words written on the old parchments proved hard to read by candlelight. The hour had grown late, but Ja'Nene worked on, believing she could finish in another week's time if she delayed taking her evening meals. Her diligence, though, hadn't only to do with meeting the self-imposed deadline. She thrilled at the assignment, which challenged her scrivener skills: weaving the several languages and disparate tracts into one treatise for the League, which had commissioned the work..
.
Click here to read the story
"The Unremembered" was released this past tuesday April 12th from Tor publishing in harcover format.
Written or Contributed by: Jeremy Shane