After weeks of hype and anticipation, New York Comic Con has finally arrived. Join The Outhouse as SilverPhoenix takes you inside the calm before the storm that was Day 0 of this event.
One of the ways you can tell that a major storm is on its way is the nearly idyllic calm that takes place beforehand. During this phenomenon, the air seemingly stands still, the natural noises of the environment are nearly silenced and even amongst ourselves there's a sense of organized chaos as we make those final preparations for the events to come. As the years have gone by, the phrase has transcended its original association with the weather and has become appropriate jargon for many different things, something that was apparent today as the final preparations for the 2011 edition of New York Comic Con took place all around those who ventured out to the Javitz Center on this dreary day. Luckily, the energy around us was anything but calm.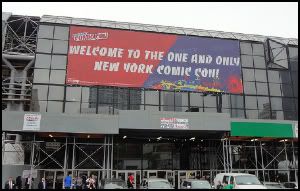 From the minute I stepped into the convention site around 11:00 AM, I could already feel the show taking shape as there was a quiet air of frantic, organized chaos that comes with any big media show that's about to open. With the show and convention center staff keeping everything under control, professional and press members were helping each other find their badge pickup locations, exhibitors were running around setting up their displays and even a few attendees had decided to hang out and wait for the show floor to open, with some even dressed up in nice costumes. After wading my way through a little bit of confusion (something that comes with the beginning of every show like this), I secured my press pass and decided to relax in the lounge set up for all of us covering the event, where a group of friends welcomed me into a conversation with open arms. The next 30 minutes were spent talking about various subjects that ranged from DC's New 52 initiative to the upcoming release of
Batman: Arkham City
along with various other subjects that were connected to the show in general. It just goes to show you that a convention like this is a great opportunity to strike up conversation with people you may not have met otherwise.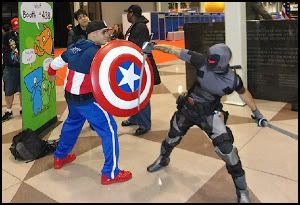 Once that conversation finished, I headed over to Midtown Comics, which was in full preparation mode for New York Comic Con. From the 30 minutes I spent in their Times Square Store, I learned that the show was pretty much sold out, giving me an indicator to the sea of humanity that one should expect over the weekend. After securing my weekly stack I made my way back to the Convention Center and took in one of the Professional Panels, where I got a refreshing reminder that today's libraries are no longer just about books. During the hour-long panel, the panelists talked about how gaming could not only be used to get people into libraries but how they could promote penetration into other mediums, which in turn helped to promote literacy. Needless to say, my 15-year-old self would've had his mouth drop to the floor if he had realized that people in the future could borrow videogames from libraries.
After the Professional Track concluded, it was time to meet up with fellow Outhouse staffers and get our first look at the exhibit room, which never ceases to impress with its massive size. During my trip there I finally got to meet up with the talented Doombug (after having met up with Royal Nonesuch the night before), who introduced us to some of the big players in the comics right now. Along with meeting Fred Van Lente (one of the nicest guys I've met) and Swifty Lang (writer/creator of
The Feeding Ground
, who is quite enlightened as to where the comic industry needs to go), the highlight definitely had to be meeting up with the creative team of the new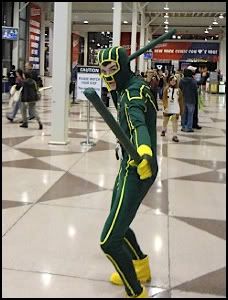 Vescell
series, who were extremely grateful for my review of the first issue, which definitely put a smile on my face. No matter what anyone tells you, there's nothing like live validation for the work you put into things and I was humbled to receive such adulation.
To close out the day, I previewed some of the latest games (where I proceeded to get my ass kicked at both
Ultimate Marvel Vs. Capcom 3
and
Street Fighter X Tekken
) and bought some advanced copies of comics that I've enjoying immensely (buy
Samurai's Blood
and
Life with Archie: The Married Life
, guys). If there's anything I can take away from the adventures and times of Day 0, it is that after being out of the press game for seven and a half years I missed it immensely and I'm glad to be back as there is very little like being able to see and report on a show for the masses. Also, if Thursday is any indication, the next three days are going to be a frickin' zoo, as I'm predicting over 100,000 people will roam the halls of the Jacob Javitz Center. Can our erstwhile and capable staff survive the oncoming onslaught? Stayed tuned to
The Outhouse
to find out.
Written or Contributed by: Linwood Earl Knight