Sweet Tooth, Jonah Hex, Heroes For Hire & more!
Happy Mothers Day! Pick Of The Week goes to Jeff Lemire for
Sweet Tooth #21
(
Vertigo
). Fast Five picks include
Avengers Academy #13
(
Marvel
),
Jonah Hex #67
(
DC
),
Gladstone's School For World Conquerors #1
(
Image
),
Axe Cop: Bad Guy Earth #3
(
Dark Horse
), and
Heroes For Hire #6
(
Marvel
).
I have yet to see
Thor
this weekend thanks to sold-out showings. I guess I should go checkout the awesome webcomic and sponsor of the show
VALKYRIE SQUADRON
instead!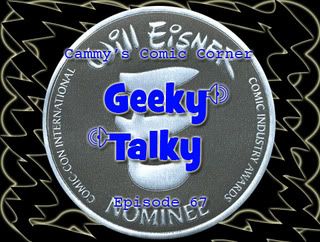 In this special episode, I'm joined by Pat Loika of the
Loikamania!
podcast to discuss the
2011 Eisner Nominations
. We discuss the nominees, who should have been nominated, and much more.
Click here to listen!
This episode has been brought to you by
Valkyrie Squadron
.
Written or Contributed by: Cameron
Enjoy this article? Consider supporting The Outhouse, a fan-run site, on Patreon. Click here for more info.
Comment without an Outhouse Account using Facebook
We get it. You don't feel like signing up for an Outhouse account, even though it's FREE and EASY! That's okay. You can comment with your Facebook account below and we'll take care of adding it to the stream above. But you really should consider getting a full Outhouse account, which will allow you to quote posts, choose an avatar and sig, and comment on our forums too. If that sounds good to you, sign up for an Outhouse account by
clicking here.
Note: while you are welcome to speak your mind freely on any topic, we do ask that you keep discussion civil between each other. Nasty personal attacks against other commenters is strongly discouraged. Thanks!