Scalped, PunisherMAX, American Vampire & more!
[fpyoutube]6WbSYpE6o08[/fpyoutube]
Quite the impressive week for comics! Pick Of The Week goes to Jason Aaron & R.M. Guera for
Scalped #49
(
Vertigo
). Fast Five picks include
Deathstroke: The Curse of the Ravager #1
(
DC
),
Journey Into Mystery #624
(
Marvel
),
American Vampire: Survival of the Fittest #1
(
Vertigo
),
PunisherMAX #14
(
Marvel
), and
Citizen Cold #1
(
DC
).
This episode of Cammy's Comic Corner has been brought to you by,
THE SQUEEG!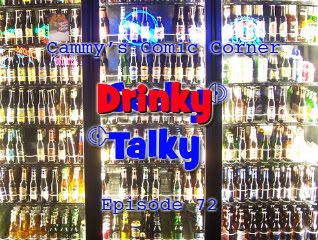 In this rambunctious episode, I'm joined by Matt (
Duke of Douche
), Darcy (
The Destroyer
), and Dommy (
The House Dwarf
) to discuss a myriad of drunken topics ranging from sailing to Comic-Con. WARNING: HIGHLY EXPLICIT CONTENT! ABANDON HOPE ALL YE WHO LISTEN!
This episode of Drinky Talky has been brought to you by,
Megaflow Graphics!
Click here to listen!
Written or Contributed by: Cameron
Enjoy this article? Consider supporting The Outhouse, a fan-run site, on Patreon. Click here for more info.
Comment without an Outhouse Account using Facebook
We get it. You don't feel like signing up for an Outhouse account, even though it's FREE and EASY! That's okay. You can comment with your Facebook account below and we'll take care of adding it to the stream above. But you really should consider getting a full Outhouse account, which will allow you to quote posts, choose an avatar and sig, and comment on our forums too. If that sounds good to you, sign up for an Outhouse account by
clicking here.
Note: while you are welcome to speak your mind freely on any topic, we do ask that you keep discussion civil between each other. Nasty personal attacks against other commenters is strongly discouraged. Thanks!