This is a heck of a way to make a debut. Peter V. Brett blew me away with The Warded Man, it was a book I could not put down.
Story Type
: Fantasy
Rating
: 4.5 smileys

Pros
: Great characters, POV's kept to minimum, interesting magic system
Cons
: none for me
Review
: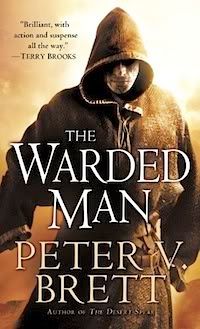 I initially made the mistake of setting this in my too read pile paying little attention to where it was in the stack. Thanks to comments by other members on the Outhouse about how much they enjoyed it and that I get to it, I well... got to it.
The Warded man mainly follows three characters, two boys and one young woman. Although I really liked all of them, it was The Warded man himself (before he was even the warded man) that I fell in love with. Even though much of the story is spent letting the young characters grow up and get together, you don't feel like you are waiting for the story to start. Everything these characters experience in their lives builds the story and character and shows you more of the world.
The magic is handled in a way that, although somewhat common and integral to the world, is very uncommon in the use most fantasy readers might think. It is done with creating runes; or
wards
as the case may be, that have specific effects. Much of the wards and magic of the past has been forgotten as society has relied mainly upon the wards that they needed day to day. This is used to create difference in societies as Brett makes the magic system a natural part of his worlds history.
The people live in a world where they are only safe during the day. At night, demons of various sorts rise from the depths and attack anything not protected. This creates even bigger seperations in societies and regions as any travel that takes more than the day is difficult and dangerous. A reader really comes to understand the way the world has come to the point it's at.
Bottom Line
:
I can't image too many fantasy lovers not enjoying this book. A reader that likes books such as
The Name of the Wind
or
A Song of Fire and Ice
would find this story right up their alley.
Comment below
:
You don't have to be a registered Outhouse member to join in the discussion, simply fill in the captcha and add your comments...
Written or Contributed by: Jeremy Shane
The Outhouse is sponsored this week by Late Nite Draw. Recently featured on ComicsAlliances' Best Art Ever, he is a Chicago-based commissioned artist with a self-published Digital+Print one-shot coming out in October about the abominable snowman called ABOBAMANIMABBLE, and is also available for commissions. Check out some amazing art by clicking here or by clicking the banner at the top, and support the people who support The Outhouse.
Enjoy this article? Consider supporting The Outhouse, a fan-run site, on Patreon. Click here for more info.
Comment without an Outhouse Account using Facebook
We get it. You don't feel like signing up for an Outhouse account, even though it's FREE and EASY! That's okay. You can comment with your Facebook account below and we'll take care of adding it to the stream above. But you really should consider getting a full Outhouse account, which will allow you to quote posts, choose an avatar and sig, and comment on our forums too. If that sounds good to you, sign up for an Outhouse account by
clicking here.
Note: while you are welcome to speak your mind freely on any topic, we do ask that you keep discussion civil between each other. Nasty personal attacks against other commenters is strongly discouraged. Thanks!
About the Author - Jeremy Shane
---
Jeremy was born in a small mountain village of a strange foreign land called Weystvurginea.  Banishment for liberal views saw him spend years wondering the east coast until he decided to bike to California.  When he saw how long a trip it was, he drove instead.  Now he's living it up in a low humidity climate, sometimes working on his photography and when not, he writes for us covering books (by way of his blog: Reading Realms), gaming, tv, movies, comics, conventions in the SoCal area, and creates a weekly webcomic: A Journey Through Skyrim.  If you look for him offline, start in the L.A. area; online start at: www.jeremyshane.info for his profile and all the social networks he's on... or just follow him on twitter, he seems to be on there a lot: @jeremyshane.
More articles from Jeremy Shane