First volume in the Kingkiller Chronicle, The Name of the Wind is a can't miss for any fantasy lover.
Story Type
: Fantasy
Rating
: 5 smileys

Pros
: Excellent characters, great story-craft, couldn't put it down.
Cons
: None for me.
Review
: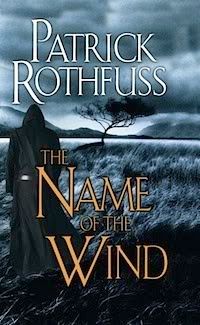 The Name of the Wind is both a 1st person and 3rd person narrative. The trilogy consists of three days, this being the first day. Each day the main character Kvothe is telling a piece of his story to a scholar that has come looking for him. The parts of the book set in the present occur in 3rd person and then the story reverts to 1st person as Kvothe tells his story.
Rothfuss creates interest and drama in the present day portion of the story that had me salivating for the next book as much as wanting to hear the rest of his story does. Like any story, he starts at the beginning when he is a young boy. We follow him from when he was part of gypsy camp (well, this worlds version of what seems like gypsies to me) to his years as a young man studying at the University. Rothfuss does an excellent job immersing the reader into Kvothe's world, we discover more and more of the world as Kvothe grows up and learns.
The magic is this story is very understated. Superstition and the supernatural play as big a part, or bigger even at this point, than any actual magic use. Readers that enjoy fantasies without heavy magic will love Rothfuss' work in this area here.
As for the plot, he doesn't follow the familiar acts and arcs some readers might be used to. Antagonists consist of students and teachers at the school and other smaller or individual challenges, though we do get a glimpse of what will probably be the main antagonists for the overall trilogy in a few places. It doesn't jump around to different points of view. The reader simply follows Kvothe's story and life as he tells how a boy became a legend.
Bottom Line
:
I can't recommend this story enough. If you like George RR Martin's work or just love good fantasy in general, do yourself a favor and get hooked on this saga.
Comment below
:
You don't have to be a registered Outhouse member to join the discussion, simply complete the captcha and post your comments...
Written or Contributed by: Jeremy Shane
Enjoy this article? Consider supporting The Outhouse, a fan-run site, on Patreon. Click here for more info.
Comment without an Outhouse Account using Facebook
We get it. You don't feel like signing up for an Outhouse account, even though it's FREE and EASY! That's okay. You can comment with your Facebook account below and we'll take care of adding it to the stream above. But you really should consider getting a full Outhouse account, which will allow you to quote posts, choose an avatar and sig, and comment on our forums too. If that sounds good to you, sign up for an Outhouse account by
clicking here.
Note: while you are welcome to speak your mind freely on any topic, we do ask that you keep discussion civil between each other. Nasty personal attacks against other commenters is strongly discouraged. Thanks!
About the Author - Jeremy Shane
---
Jeremy was born in a small mountain village of a strange foreign land called Weystvurginea.  Banishment for liberal views saw him spend years wondering the east coast until he decided to bike to California.  When he saw how long a trip it was, he drove instead.  Now he's living it up in a low humidity climate, sometimes working on his photography and when not, he writes for us covering books (by way of his blog: Reading Realms), gaming, tv, movies, comics, conventions in the SoCal area, and creates a weekly webcomic: A Journey Through Skyrim.  If you look for him offline, start in the L.A. area; online start at: www.jeremyshane.info for his profile and all the social networks he's on... or just follow him on twitter, he seems to be on there a lot: @jeremyshane.
More articles from Jeremy Shane