Reading Realms takes a look at the short story collection "Side Jobs" of Chicago's own wizard: Harry Dresden.
Genre
: Urban Fantasy
Rating
: 4.5 smileys

Cover Blurb: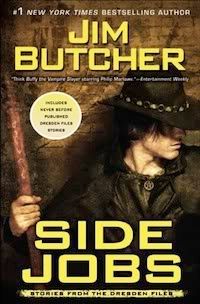 As Chicago's only professional wizard, Harry Dresden has had cases that have pitted him against insane necromancers, power-hungry faerie queens, enigmanic dark wizards, fallen angels -- pretty much a 'who's who' of hell and beyond -- with the stakes in each case ranging from a lone human soul to the entire human race.But not every adventure Harry Dresden undertakes is an epic tale of life and death in a world on the edge of annihilation.Here, together for the first time, are the shorter works of #1 New York Times bestselling author Jim Butcher -- a compendium of cases that Harry and his cadre of allies managed to close in record time. With tales ranging from the deadly serious to the absurdly hilarious -- including an all-new never-before-published story -- this is a must have collection for every devoted Harry Dresden fan.
Review:
Having only discovered Harry Dresden a couple years ago, by the time I caught up on the series and heard about other short stories out there, I had also heard this compilation would be coming out. So I wanted for "Side Jobs" and every story in it was a new one for me.
Before each story is a short forward explaining what books the story takes place between and what anthology it was part of. For me, much of Dresden's story is one blur (having read ten books within a couple months) so it often took me a moment or two to place the stories where the belong in my mind. Any fans of Dresden still catching up on the series would be greatly served to pick this up and read each short story in it's proper place between books (most take place in the later half of the series).
I really enjoyed a look into Dresden's life and work that drifted a little outside of the overall plot that the series has built up to. It's also nice to see Harry work cases that don't take 300 pages to sort out. Each story means something to Harry's character and the relationship he has with those around him, so overall plot involvement or not; that goes a long way to making them important.
Some of the strongest stories were those dealing with his greatest allies: "The Warrior" dealing with Harry and Michael, "Backup" told from the point-of-view of Thomas and of course "Aftermath" the new novella told from Karrin Murphy's point-of-view and taking place after the most recent novel.
Bottom Line:
Whether you a big Harry Dresden fan or just looking for great urban fantasy stories, this book is definitely recommended. Anyone liking that genre should check out this series.
Follow us:
Join with Reading Realms on
Twitter
or
Facebook
to keep up with the latest news about not only our column, but speculative fiction news in general.
And if you are interested in joining in our giant on-going Dreden Files thread in our forum, sign up and join in:
The Dresden Files Thread
Comments:
You don't have to be an Outhouse member to join the discussion, simply fill out the captcha and comment below...
Written or Contributed by: Jeremy Shane