Expanding his horizons, RU reads Crazy Mary by Michael Colbert and JK Woodward.
---
Crazy Mary
Published By: 01 Publishing
Written By: Michael Colbert
Art By: J. K. Woodward, Ryan Sergeant, William Blankenship, and Josh Finney
From Amazon:
Crazy Mary is a freelancer, a cybernetically enhanced bad-ass for hire, living and working the mean streets of tomorrow's New York. What sets Mary apart from the average hired gun are her visions. Mary sees an eerie haunting world that exists over top the one we know. She also has a trinity of spirit guides who speak to her, protect her, and are ultimately guiding her toward...well, it's best not to tell yet. Mary and her team do all the dirty jobs -- bounty hunting, bodyguards, and even the occasional suicide run. Also, they may possibly be unwitting soldiers in an invisible war that's heavy on the Lovecraft overtones. Or Mary could just be insane and dragging her friends along for the ride.
-----
Right off the bat let me tell you that the above description from Amazon and the back of Crazy Mary does not do this book justice. Yes, everything included in the blurb is true, but the picture it paints cannot fully encompass the complexity, depth, and sheer awesomeness that Crazy Mary contains. Mary (do not call her Crazy Mary to her face) sees things that are not there / other people cannot see due a military program called Dragonfly that left her less than sane. Mary's visions – a wise older man, young girl, and an impish looking thing – guide her in her business as she attempts to protect her city from dangers before they happen.
Wow, I see the problem now, I'm not even sure I can sum this up well.
The first thing I noticed about Michael Colbert's (Babylon 5, Crusade, Buffy The Vampire Slayer, Firefly, Torchwood) script was how British it was. I don't mean that in the early Judge Dredd comics "for the love of G-d speak English!" kind of way, but rather the new Doctor Who British style I've become accustomed to. Readers are able to "hear" the accents of each character without having to play tricks with the language like adding random v's everywhere like Marvel used to do with Nightcralwer. From the very beginning each character has a clear and unique voice that is striking in how easy Colbert makes it look.
The story itself might seem like a tired cliché, an experiment to create a super soldier goes wrong, but kick any ideas of a female Captain America out of your head and replace it with Lucifer meets Fallen Angel meets Batman. One of the more interesting aspect of Crazy Mary is that the reader gets the feeling that even Mary isn't sure if she's seeing things that aren't there, but she accepts their help because of the good they help her accomplish. Does she have guardian angels? Has she tapped into a higher level of awareness? What is the end game if these visions are real? In the grand scheme, none of these matters, all that matters is getting the job done.
According to Wikipedia, working on the webcomic Crazy Mary was one of J. K. Woodward's (fallen Angel) earliest breaks. Only really knowing Woodward from Fallen Angel, it was interesting to see the range of styles he has. Used to the dramatic nature of his paintings I had to keep checking the credits to make sure I was looking at Woodward art. Changing styles to fit the different chapters of Crazy Mary, Woodward shows off his cartoony, action comic, and (what would become) his traditional style with impressive results.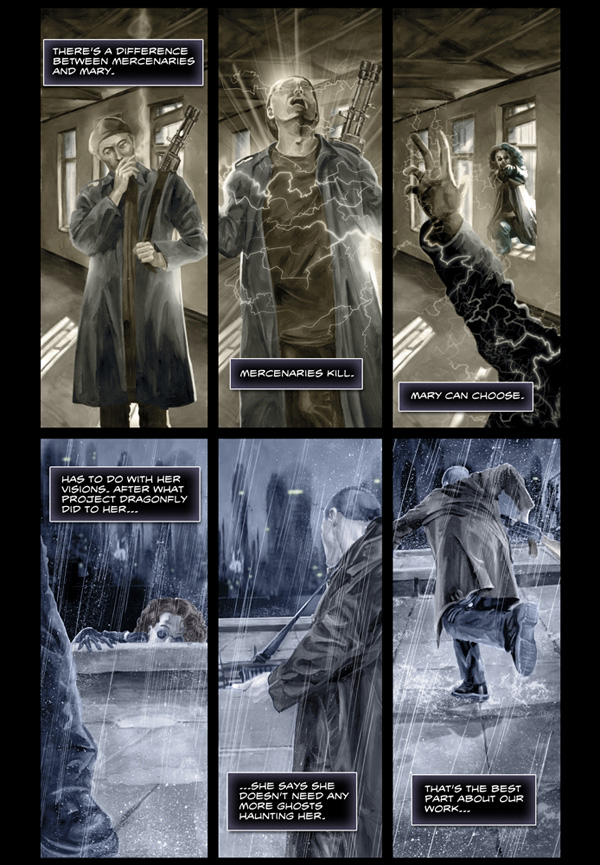 That being said, part of the problem with such drastic changes in style is losing track of what each character is supposed to look like from chapter to chapter. The cast of Crazy Mary is relatively small, but brief confusions like this threatened to take me out of the story. Luckily enough Woodward and Colbert are talented enough that these tiny imperfections are not permitted to ruin an otherwise great read.
Overall, Crazy Mary is a solid read with great potential, and I want more now.
learn more at 01Publishing.com
---