---
Week #399 is here, and you get your choice of two brand spanking new #1s.
TO THE REVIEWS
Grindhouse Doors Open At Midnight #1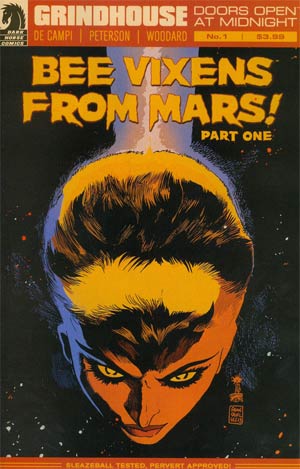 Literature: overrated. Morality: expendable. Tonight is right for some over-the-top sex and violence! Bringing the flavor of midnight exploitation flicks to comics, Grindhouse delivers four two-issue gore operas, starting with 'Bee Vixens from Mars,' pitting a one-eyed southern Latina deputy against lusty alien chicks bent on laying eggs in the entire male population!
Writer: Alex De Campi • Artist: Chris Peterson
digital copy availible here
Captain America Living Legend #1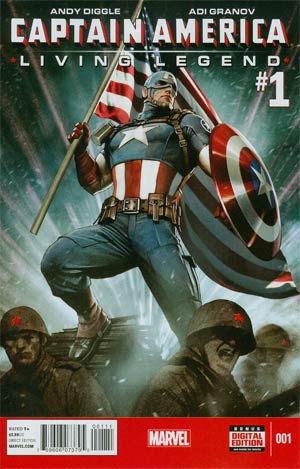 When a top-secret orbital research station is dragged from the sky by an unknown alien force, army-of-one Steve Rogers finds himself caught between two global superpowers on the brink of war!
But how does it involve Volkov - a decorated Russian officer he last crossed paths with during the closing days of World War II, who disappeared on an ill-fated lunar mission over forty years ago?
Andy Diggle and Adi Granov send living legend Captain America on a one-man mission into the heart of darkness-in search of another!
Writer: Andy Diggle • Artist: Adi Granov
digital copy availible here
______________________
Ze rules:
Post your review in the forum thread or in the comments section here on the front page.
Review as often or as little as you like. Once you've posted 5 reviews, you will be awarded 1 pick. You can post 5 reviews, right? That's a totally achievable goal and with day and date digital releases becoming the standard, it shouldn't matter if your shop ordered enough copies of this weeks comic or not.
When multiple Review Groupers have posted 5 (or more) qualifying reviews, they will be awarded their pick in the order that they qualified. What constitutes a qualifying review? Any review posted (with a score on a scale from 0-10, that's right 0!) within 1 calendar month of the thread going live. Reviews are to be at least 5 sentences long. It shows that a) you have at least read this week's pick and b) you have some unique insight into the comic.
Reviews posted while waiting in line for your pick will be applied to your next pick.
I'll be keeping track of everyone's progress with the newly christened Spreadsheet of Fantastic (RIP, Spreadsheet of Doom) and reporting the results in the Current Members list in the weekly OP. When it's your turn to make a pick, I will PM you. If you do not respond to me by Midnight EST the following Sunday, you will lose your pick and I will start a poll to determine that week's selection.
Any week in which we do not have a Review Grouper with 5 qualifying picks, we will determine the week's comic via poll.
If it's your week to pick, remember to keep it under $3.99.
Current Members List
5 Reviews
4 Reviews
3 Reviews
2 Reviews
1 Review
GHERU
PhoenixEquinox

@dace1314
bkthompson

Amoebas
Eli Katz
ElijahSnowFan
GiveWarAChance
Jude Terror
Ntikrst
thefourthman
Victorian Squid
doombug
Grayson
guitarsmashley
Punchy
SilverPhoenix
Stephen Day
Sunless
TimDrake'sDumbWings

Amlah
BlueStreak
concreatjungle
GLX
HNutz
jeremy
john lewis hawk
Jubilee
legoroni
Keb
Midas
nietoperz

---