---
This pick really shoudln't come as a surprise.
TO THE REVIEWS!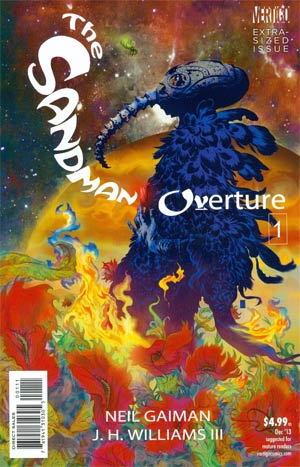 Writer: Neil Gaiman • Artist: J. H. Williams
Twenty-five years since THE SANDMAN changed the landscape of modern comics, Neil Gaiman's legendary series is back! THE SANDMAN: OVERTURE heralds New York Times best-selling writer Neil Gaiman's return to the art form that made him famous, ably abetted by artistic luminary JH Williams III (BATWOMAN, PROMETHEA), whose lush, widescreen images provide an epic scope to The Sandman's origin story. From the birth of a galaxy to the moment that Morpheus is captured, THE SANDMAN: OVERTURE will feature cameo appearances by fan-favorite characters such as The Corinthian, Merv Pumpkinhead and, of course, the Dream King's siblings: Death, Desire, Despair, Delirium, Destruction and Destiny. 'People have often asked me what happened to Morpheus to make it possible for him to be captured in THE SANDMAN #1,' Gaiman said. 'And now they get to find out. And finding out, they get to learn secrets of the Endless that I've kept to myself for 25 years. Family secrets. And I should warn you: one of the Endless dies on page five.' The first issue of this 6-issue, bimonthly miniseries features a stunning double-page interior foldout.
digital copy availible here
Ze rules:
Post your review in the forum thread or in the comments section here on the front page.
Review as often or as little as you like. Once you've posted 5 reviews, you will be awarded 1 pick. You can post 5 reviews, right? That's a totally achievable goal and with day and date digital releases becoming the standard, it shouldn't matter if your shop ordered enough copies of this weeks comic or not.
When multiple Review Groupers have posted 5 (or more) qualifying reviews, they will be awarded their pick in the order that they qualified. What constitutes a qualifying review? Any review posted (with a score on a scale from 0-10, that's right 0!) within 1 calendar month of the thread going live. Reviews are to be at least 5 sentences long. It shows that a) you have at least read this week's pick and b) you have some unique insight into the comic.
Reviews posted while waiting in line for your pick will be applied to your next pick.
I'll be keeping track of everyone's progress with the newly christened Spreadsheet of Fantastic (RIP, Spreadsheet of Doom) and reporting the results in the Current Members list in the weekly OP. When it's your turn to make a pick, I will PM you. If you do not respond to me by Midnight EST the following Sunday, you will lose your pick and I will start a poll to determine that week's selection.
Any week in which we do not have a Review Grouper with 5 qualifying picks, we will determine the week's comic via poll.
If it's your week to pick, remember to keep it under $3.99.
Current Members List
5 Reviews
4 Reviews
3 Reviews
2 Reviews
1 Review

PhoenixEquinox




bkthompson


Stephen Day



ElijahSnowFan




Jude Terror


Ntikrst
Punchy


thefourthman


Victorian Squid
doombug
GHERU
GLX
Grayson


SilverPhoenix




TimDrake'sDumbWings




BlueStreak


GiveWarAChance


guitarsmashley


HNutz
jeremy
john lewis hawk
Jubilee


Keb




nietoperz



RU's note - yes the members list has been culled some, if you feel your name was removed in error - REVIEW A COMIC!
---