---
Is it me?
TO THE REVIEWS!!
Terminator Salvation Final Battle #1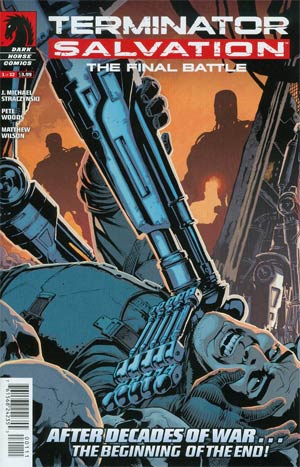 Manufacturer/Publisher: Dark Horse (Release Date: 12/4/2013)
Writer: J. Michael Straczynski • Artist: Pete Woods
A-listers J. Michael Straczynski and Pete Woods unite for the biggest Terminator story ever! Hopping between the future and the past, this sweeping, twelve-issue epic counts down the end of the Machine War-but not the one fans expect! Everything's at stake, and the fates of Skynet and John Connor will be told!
digital cpoy availible here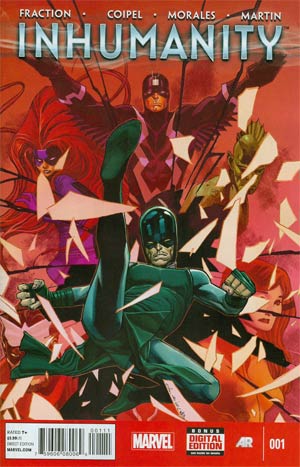 Manufacturer/Publisher: Marvel (Release Date: 12/4/2013)
Writer: Matt Fraction • Artist: Olivier Coipel
After INFINITY, the Marvel Universe has changed.
The Avengers find themselves face to face with Karnak who has discovered the secret of the Inhumans that will shake the Marvel U to its core.
digital copy availible here
Ze rules:
Post your review in the forum thread or in the comments section here on the front page.
Review as often or as little as you like. Once you've posted 5 reviews, you will be awarded 1 pick. You can post 5 reviews, right? That's a totally achievable goal and with day and date digital releases becoming the standard, it shouldn't matter if your shop ordered enough copies of this weeks comic or not.
When multiple Review Groupers have posted 5 (or more) qualifying reviews, they will be awarded their pick in the order that they qualified. What constitutes a qualifying review? Any review posted (with a score on a scale from 0-10, that's right 0!) within 1 calendar month of the thread going live. Reviews are to be at least 5 sentences long. It shows that a) you have at least read this week's pick and b) you have some unique insight into the comic.
Reviews posted while waiting in line for your pick will be applied to your next pick.
I'll be keeping track of everyone's progress with the newly christened Spreadsheet of Fantastic (RIP, Spreadsheet of Doom) and reporting the results in the Current Members list in the weekly OP. When it's your turn to make a pick, I will PM you. If you do not respond to me by Midnight EST the following Sunday, you will lose your pick and I will start a poll to determine that week's selection.
Any week in which we do not have a Review Grouper with 5 qualifying picks, we will determine the week's comic via poll.
If it's your week to pick, remember to keep it under $3.99.
Current Members List
5 Reviews
4 Reviews
3 Reviews
2 Reviews
1 Review
PhoenixEquinox
bkthompson
Punchy
GHERU
Jude Terror
thefourthman
Stephen Day
Victorian Squid
guitarsmashley
SilverPhoenix
David Bird (10/30)
RU's note - yes the members list has been culled some, if you feel your name was removed in error - REVIEW A COMIC!
---