New Novels to watch out for this month, either just released or coming in the next few weeks.
Please share any books you might be watching out for next month or just picked up in the comments.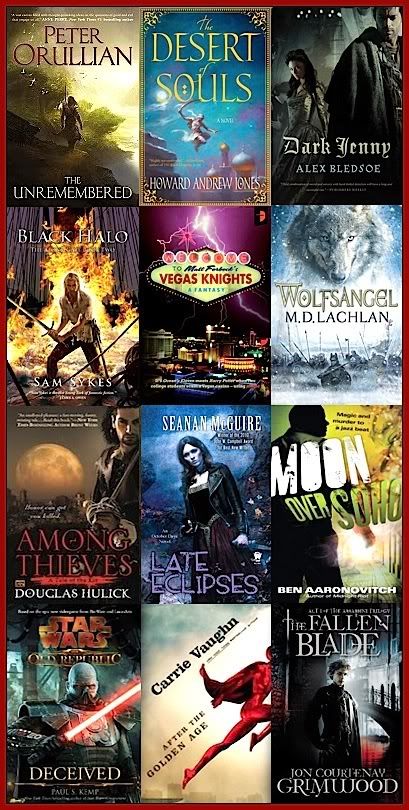 THE UNREMEMBERED
by Peter Oruliian -- There has been a big promotional push (in fantasy book terms) for new author Peter Orullian and his new series, you can see some of the material:
here
. I like what I've seen so far and this one will probably be at the top of my too read pile when it comes out April 12th.
THE DESERT OF SOULS
by Howard Andrew Jones -- A fantasy adventure set in a "middle-eastern" style setting instead of the traditional fantasy world and told in first person. This book wasn't even on my radar (as it is already on shelves), I just started seeing glowing reviews for it by various reviewers. I picked up a copy, if a different sort of fantasy story appeals to you, you might want to give it a try as well.
DARK JENNY
by Alex Bledsoe -- We just posted a promo last week for the first book in this series "The Sword Edged Blonde" when it went on the cheap on amazon.com in preperation for this book. This is the third in an mystery-adventure fantasy that has been hailed as being a very fun read. Each can be read as stand alones if you don't want to play catch up. Fans of Dresden should dig this, though it is not as magic heavy. Dark Jenny is out now in trade or digital.
BLACK HALO
by Sam Sykes -- If you follow author Sam Sykes on twitter, you know he can be a little out there and his band of adventurers are not quite so typical either. Black Halo is the follow-up to "Tome of the Undergates". Some have said the series brings back memories of their own RPG games from their youth - I'll assume that's a good thing. Black Halo is out now (released March 22nd) in trade paperback.
VEGAS KNIGHTS
by Matt Forbeck -- I reviewed "Amortals" by Forbeck a couple months ago and thought his novel was a great break from all the typical sci-fi and fantasy I normally run into. "Vegas Knights" sounds like more of the same fun. A stand alone novel set in our modern day world combined with magic it follows a couple teens attemtping to scam a Vegas Casino, magic of course putting some twists into the story.
WOLFSANGEL
by M.D. Lachlan -- Lachlan puts his own twist on the werewolf (and it doesn't involve romance) in this first volume to his 'Claw Trilogy'. The trilogy itself is supposed to follow the werewolf mythos through his worlds history. This book was already released in the UK to rave reviews and just hit the shelves here in the US.
AMONG THIEVES
by Douglas Hulick -- Another book from our upcoming novels thread. "Among Theives" sounds like something that fans of Night Angel and similar "lovable rogue" books will like. It follows character Drothe as he gets his hands on an artifact during his thieving work that all the underworld wants their hands on as well. Among Thieves is due out April 5th.
LATE ECLIPSES
by Seanan McGuire -- Out now in paperback, this is "Toby" Daye's fourth adventure in this urban fantasy series. Fans of the Dresden Files and similar magical modern mysteries will enjoy this series, though you may want to try and start with the first volume if want to dig your teeth in here.
MOON OVER SOHO
by Ben Aaronovitch -- Though the cover has taken a little heat for the "white washing" of it's character (the black character was changed to appear only as a silhouette) the series itself has gotten good reviews. This is the second book out and is another urban fantasy series, this one set in the UK; following a magical detective as he investigates the death of some musicians.
STAR WARS, OLD REPUBLIC: DECEIVED
by Paul S. Kemp -- Set in the same period as the new MMORPG out from Bioware. Star wars novels are hit and miss for me, like most licensed books; but Paul Kemp has always been a hit when he has been the author. Star Wars fans might want to check this out, it just hit the shelves on March 22nd.
AFTER THE GOLDEN AGE
by Carri Vaughan -- Superhero novels always catch my eye. This one seems like it will be a bit different than what I usually encounter though. Supposedly this is a homage to golden age comics and starts off with the daughter of some heroes going after a villain for tax evasion. Where it goes from there I'm curious to see. "After the Golden Age" is due out April 12th.
THE FALLEN BLADE
by Jon Grimwood -- Set in alternate reality Venice, "The Fallen Blade" focuses on the Assassini (and order of secret assassins) and is packed with werewolves, vampires and plenty of corruption. It follows Atilo, an assassin that takes a young vampire apprentice as they set off to rescue the kidnapped daughter of the duke. Another book that sounds like one fans of "The Night Angel" trilogy will enjoy. It is out now in paperback and digital.
It pains me that I can't include the latest Dresden Files novel: Ghost Story to this list, but it was delayed and should be coming to us soon.
If you have any books you just picked up or that are coming out soon, please share them in the comments.
Written or Contributed by: Jeremy Shane