Review for UFC's "The Ultimate FIghter" season 13, Lesnar vs. Dos Santos on SpikeTV wednesday nights.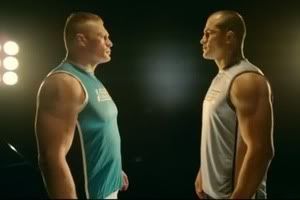 Airing Wednesday Nights at 9 P.M. on SpikeTV
, season 13 of the The Ultimate Fighter started last night to mixed reviews from it's fans. Though the jury is still out on whether or not Brock Lesnar can help the show top the ratings high it received from featuring Kimbo Slice a couple seasons ago.
The show once again packs a house with 14 testosteroned filled men trained to fight at elite levels with no outside contact, no tv, no internet, nothing... for several weeks while they train and fight each other in the octogon to see who will become the winner of the six figure contract at the end of the season. This season features welterweights (156-170lbs) and where the show often is filled with drama from all those fighters packed into that house together, the last few seasons it has pushed attention to the coaches.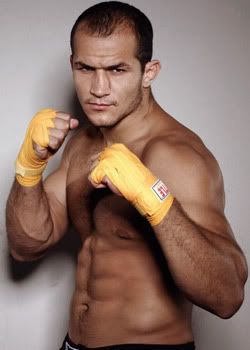 The fighters are broken down into two teams to train together and fight against until the finals and this season the coaches are heavyweights: Brock Lesnar and Junio Dos Santos. I think fans expecting Brock Lesnar to play heel and instigate drama this season will be sorely disappointed however. Interviews with Dos Santos have him saying Brock was very professional and respectful. Likewise interviews with Lesnar have said there wasn't much interaction with Dos Santos in the show and that he had nothing personal against Dos Santos. At the end of the season the two will face off on pay-per-view, the winner of that match-up fighting HW Champion Cain Valesquez for the title.
Last nights show opened up with a glance-over of the 14 fighters for this season and the two coaches putting them through a series of tests to help them pick their teams. Brock won the coin toss and got to pick fighters first, but there was little showed to us other than that as Dana was the one that just walked out and tossed jersey's to the guys that were chosen. From there the first fight was decided, picked by Dos Santos since Brock got the first fighter pick and Dos Santos put his #1 pick against Brock's last pick. This is the basic formula for the show: we get to know the fighters a bit, hear from the two star coaches, they show some training for the fight and then the show ends with the fight.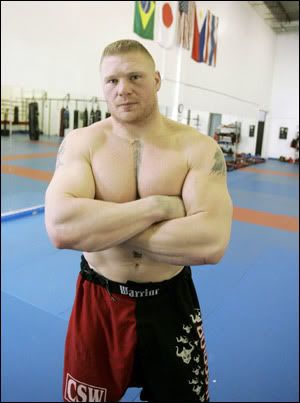 Although the ratings for last night haven't yet come in, the reaction to the show has been mixed. Some fans are expecting Lesnar to play the part of the bad guy and be a bit of an ass, but since his surgery last year he has proved to be a much more mellow guy. Not to mention the fight at the end of the show was fairly boring with one fighter dominating the other with his wrestling and grinding out a decision win, leaving Dana White to proclaim "Not the most exciting fight you'll ever see in Ultimate FIghter history". The best thing I think the show will do this season is introduce Junior Dos Santos to a wider audience. Lesnar is already well known and quite a draw, Dos Santos has racked up some great finishes going 12-1 in his career so far, but is not as well known and the brazliian has trouble self promoting in the states due to his broken English.
The fighters this season seem to be more experienced as well. Only four of the fourteen fighters have less than six fights on their records and most are heavy on finishes. The welterweights tend to be in better shape than we see in some of the heavy and light-heavyweight Ultimate FIghter seasons, not to mention Brock has a huge focus on cardio. I'm hoping we don't see too many more lay and pray fights this season or fighters gassing out half way through the first round. They are also keeping the wild card fight open (an option to have two losing fighters fight for one spot) and this season is down to ten episodes instead of the usual fourteen, so I would expect the pace to pick up a bit.
Discuss your own view of the show, fighters or coaches below and let us know what you think...
For those that caught the show, SpikeTV also has a web show called "The Aftermath" that takes place after every show. Here is the first:
Written or Contributed by: Jeremy Shane
Enjoy this article? Consider supporting The Outhouse, a fan-run site, on Patreon. Click here for more info.
Comment without an Outhouse Account using Facebook
We get it. You don't feel like signing up for an Outhouse account, even though it's FREE and EASY! That's okay. You can comment with your Facebook account below and we'll take care of adding it to the stream above. But you really should consider getting a full Outhouse account, which will allow you to quote posts, choose an avatar and sig, and comment on our forums too. If that sounds good to you, sign up for an Outhouse account by
clicking here.
Note: while you are welcome to speak your mind freely on any topic, we do ask that you keep discussion civil between each other. Nasty personal attacks against other commenters is strongly discouraged. Thanks!
About the Author - Jeremy Shane
---
Jeremy was born in a small mountain village of a strange foreign land called Weystvurginea.  Banishment for liberal views saw him spend years wondering the east coast until he decided to bike to California.  When he saw how long a trip it was, he drove instead.  Now he's living it up in a low humidity climate, sometimes working on his photography and when not, he writes for us covering books (by way of his blog: Reading Realms), gaming, tv, movies, comics, conventions in the SoCal area, and creates a weekly webcomic: A Journey Through Skyrim.  If you look for him offline, start in the L.A. area; online start at: www.jeremyshane.info for his profile and all the social networks he's on... or just follow him on twitter, he seems to be on there a lot: @jeremyshane.
More articles from Jeremy Shane