Reading Realms takes a look at some of the titles to keep an eye out for that are hitting shelves now or within the next few weeks.

If you have any books you want to share that are coming out soon or you just picked up, please add them in the comments.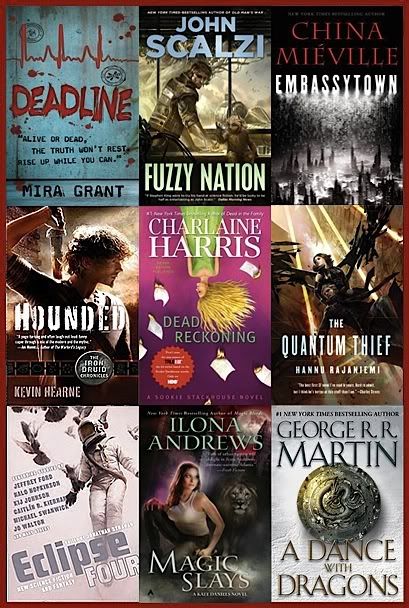 DEADLINE
by Mira Grant -- Through the pen name of Mira Grant, Seanan McGuire started this zombie trilogy last year with 'Feed'. It follows a group of bloggers (this world's most trusted type of newscaster) as they deal with living in a world after the zombie outbreak occurred and to a degree- leveled out. Zombies are a very real part of the story, but not the only part. This is one of the books I've looked most forward to picking up this year and probably my favorite zombie story outside of World War Z.
FUZZY NATION
by John Scalzi - The newest Sci-Fi book from Scalzi and a stand-alone novel for those that don't want to get into a series. It is a retelling of H. Beam Piper's 'Little Fuzzy' and follows a surveyor working for a mega-corp that must declare no sentiant life exists on a planet for them to begin work. Unfortunately he discovers cute little fuzzy creatures that throw a kink into that plan.
EMBASSYTOWN
by China Mieville - I'm sure any fan of Mieville's is well aware of this release. It deals with a very alien world and follows a translator that has to work with this world. It's pretty high concept and hard to describe in a short blurb, but should show the impact such an alien civilization has on humanity.
HOUNDED
by Kevin Hearne - Featured on our 'Books to look forward to in 2011' thread earlier this year. Hounded combines a little highlander with vampire and werewolves in a new urban fantasy series 'The Iron Druid Chronicles'. It follows two thousand year old Atticus as he has to deal with a vengeful Celtic God that has come looking for his stolen sword.
DEAD RECKONING
by Charlaine Harris - The latest Sookie Stackhouse novel. Fans of this series are no doubt aware of it's release. For those that don't follow, it may be better to start with the first novel in the vampire romance series that is often pretty high on the humor.
THE QUANTUM THIEF
by Hannu Rajaniemi - This sci-fi debut has been getting rave reviews all over the internet. It's supposed to be packed with concepts and story elements enough to fill mutliple books though it boils down to being a far-future detective novel dealing with a powerful thief.
ECLIPSE FOUR
, Anthology -- Always great to have a popular and good quality anthology hitting the shelves to explore new authors you might want to get into. There is no overall theme for the book, just good stories.
MAGIC SLAYS
by Ilona Andrews - Book five in the Kate Daniels urban fantasy series. Another series a reader would be better served to start at the beggining with. The protagonist Kate Daniels is getting desperate to get her new business running in Atlanta and jumps at the chance when her first paying gig comes along. This of course never turns out as easy as the protagonist hoped.
A DANCE WITH DRAGONS
by George R.R. Martin - Yea... I know this doesn't come out until July. I'm just super stoked. I watched the interview he did with Joe Abercrombie the other day and Joe was actually holding the book in his hands!
Written or Contributed by: Jeremy Shane
Enjoy this article? Consider supporting The Outhouse, a fan-run site, on Patreon. Click here for more info.
Comment without an Outhouse Account using Facebook
We get it. You don't feel like signing up for an Outhouse account, even though it's FREE and EASY! That's okay. You can comment with your Facebook account below and we'll take care of adding it to the stream above. But you really should consider getting a full Outhouse account, which will allow you to quote posts, choose an avatar and sig, and comment on our forums too. If that sounds good to you, sign up for an Outhouse account by
clicking here.
Note: while you are welcome to speak your mind freely on any topic, we do ask that you keep discussion civil between each other. Nasty personal attacks against other commenters is strongly discouraged. Thanks!
About the Author - Jeremy Shane
---
Jeremy was born in a small mountain village of a strange foreign land called Weystvurginea.  Banishment for liberal views saw him spend years wondering the east coast until he decided to bike to California.  When he saw how long a trip it was, he drove instead.  Now he's living it up in a low humidity climate, sometimes working on his photography and when not, he writes for us covering books (by way of his blog: Reading Realms), gaming, tv, movies, comics, conventions in the SoCal area, and creates a weekly webcomic: A Journey Through Skyrim.  If you look for him offline, start in the L.A. area; online start at: www.jeremyshane.info for his profile and all the social networks he's on... or just follow him on twitter, he seems to be on there a lot: @jeremyshane.
More articles from Jeremy Shane