A review of NEEDTOBREATHE's fourth and newest release: The Reckoning.
Yes, that name is supposed to be in caps and run together as one word. That's just how they roll...
Even though NEEDTOBREATHE is up to their fourth release with
The Reckoning
, I only just recently discovered this band when I found their last album
The Outsiders
about a month ago. They had me at the title track to that album and soon I had all three of their albums and was anxiously awaiting the release of this newest one.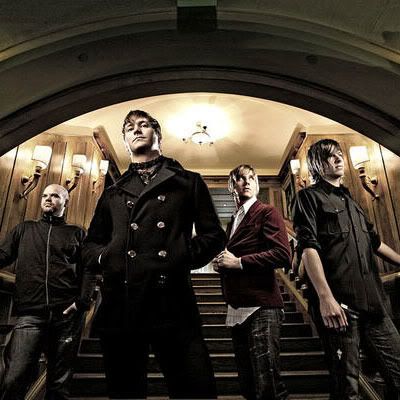 The easy clasification for the music is rock. Not heavy rock, not pop rock; but probably nestled somewhere in that comfortable middle area of rock with bands like 3 Doors Down. Unlike a lot of bands that I could list trying to find a comparison, they have a slightly different sound. Maybe mix a lttle southern rock, a little folk, a touch of country in there and the soulful voice of the singer gives this band a sound that's not easy to compare. Layer on some haunting melodies and a little banjo and it's a good recipe for me.
The first song featured by the band on their youtube channel-
Drive All Night
:
As much as I like that track there were probably a few others I loved even more:
Oohs and Aahs
and
Devil's Been Talkin'
are two that come to mind easily. All in all though, the album is great. I sincerely hope this band starts to gain some major success with this one, they certainly deserve it. It's probably my favorite album this year so far.
You can find previews of the rest of the album on the usual iTunes, Spotify and Amazon.
Written or Contributed by: Jeremy Shane
Enjoy this article? Consider supporting The Outhouse, a fan-run site, on Patreon. Click here for more info.
Comment without an Outhouse Account using Facebook
We get it. You don't feel like signing up for an Outhouse account, even though it's FREE and EASY! That's okay. You can comment with your Facebook account below and we'll take care of adding it to the stream above. But you really should consider getting a full Outhouse account, which will allow you to quote posts, choose an avatar and sig, and comment on our forums too. If that sounds good to you, sign up for an Outhouse account by
clicking here.
Note: while you are welcome to speak your mind freely on any topic, we do ask that you keep discussion civil between each other. Nasty personal attacks against other commenters is strongly discouraged. Thanks!
About the Author - Jeremy Shane
---
Jeremy was born in a small mountain village of a strange foreign land called Weystvurginea.  Banishment for liberal views saw him spend years wondering the east coast until he decided to bike to California.  When he saw how long a trip it was, he drove instead.  Now he's living it up in a low humidity climate, sometimes working on his photography and when not, he writes for us covering books (by way of his blog: Reading Realms), gaming, tv, movies, comics, conventions in the SoCal area, and creates a weekly webcomic: A Journey Through Skyrim.  If you look for him offline, start in the L.A. area; online start at: www.jeremyshane.info for his profile and all the social networks he's on... or just follow him on twitter, he seems to be on there a lot: @jeremyshane.
More articles from Jeremy Shane