Don't like the formal reviews? Want to know what fellow readers think about the comics hitting the stands? Find out here! What Outhousers are saying about comics from 9/28/11.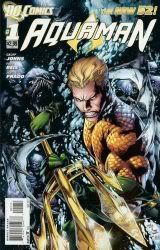 Aquaman #1
"This issue was so fanfiction-y." --
Holland Oats
"...the entire damn issue outside of those piranha people was structured around people treating Aquaman like a joke while he constantly uses Ben Stiller's Blue Steel look." --
fieldy snuts
"This was the most excellent beginning to the all new, all different but still kindda the same, Aquaman!!" --
Starlord
"This issue is outstanding. Johns takes years of mockery and gives it the middle finger." --
Mammon, Fool Breaker
"This was not very good. 90% of this comic is people telling Aquaman how much he sucks." --
Kerny
-----------------------------------
The Fury of Firestorm #1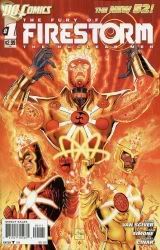 "If this were a film, it would be a B-movie that escaped from the 80s." --
David Dean
"This book was awful." --
Mike Mercury
"this was awful" --
Chap22
"This book was awful" --
Amoebas
"I was a little hesitant going into this comic book, but it proved itself to be interesting and engaging." -- Katie Hutchison
-----------------------------------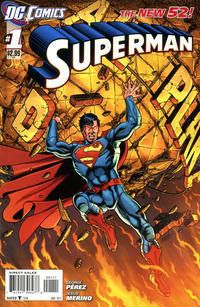 Superman #1
"This was a surprisingly good book. And hey look! Superman actually did stuff!" --
Flynn the Pirate
"So Barry Allen has the ability to change people's race via time travel now?" --
The Nacireman
"I loved that this book has more words in it that any ten other books combined. It felt like I was READING a comic again (which was awesome). Thumps up to Perez." --
Ameobas
"My main problem with the story is that Superman is back to the same old mopey putz that instantly causes readers to lose interest instantly." --
Sakie
-----------------------------------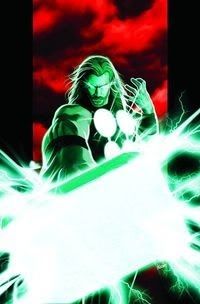 Ultimates #2
"I really liked this issue, so much moreso than the first issue." --
Flynn the Pirate
"Only Hickman would use the same characters as Heroes in one book, and Villains in the other, and get away with it." --
The Bass
"I'm really enjoying it myself, reminds me of the Authority, Planetary and early Ultimates stuff so it's right up my alley." --
xaraan
"This issue more then made up for last issue. Damn that was brutal." --
avengingtitan
-----------------------------------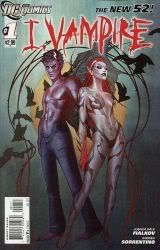 I, Vampire #1
"Here's another very different, excellent book on the fringes of the new DCU that those endlessly proclaiming there is nothing novel or interesting about the relaunch should shut up and check out." --
Mike Mercury
"I was put off by the cover too, it looked like Twilight. ...when we see the covers 3 months in advance and have to pre-order, they're all we have to go on." --
Punchy
"I, Vampire was without a doubt the biggest surprise of the new 52 for me. Just fantastic." --
Chap22
"I expected to be 'meh' about this book. Instead I loved it." --
Amoebas
"I thought it was fantastic. I really hope that we see more books like this in Wave 2." --
BlueStreak
"I was going to skip it based on the very Twilight looking cover until I was convinced by some of the OHG group to give it a shot. I'm glad I did. Easily one of the best NuDCU books I've read so far" --
rdrsfn82
"This was an excellent book." --
Royal Nonesuch
-----------------------------------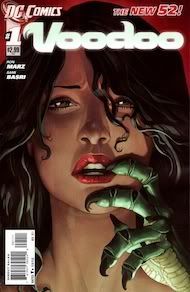 Voodoo #1
"This was a damn solid read. Damn good pacing, well written characters, and gorgeous art. I'm on for next issue!" --
Greg
"Solid first issue, beautiful artwork." --
Mike Mercury
"This was probably the best comic I read this week." --
Flynn the Pirate
"That shape change was definitely a nega-boner scene." --
xaraan
"It was very cheesecake-y and thats just not for me." --
avengingtitan
"Samir Nasri's art was very good." --
fieldy snuts
Written or Contributed by: Jeremy Shane
The Outhouse is sponsored by Cinema Crazed: Celebrating Film Culture & Pop Culture.
Enjoy this article? Consider supporting The Outhouse, a fan-run site, on Patreon. Click here for more info.
Comment without an Outhouse Account using Facebook
We get it. You don't feel like signing up for an Outhouse account, even though it's FREE and EASY! That's okay. You can comment with your Facebook account below and we'll take care of adding it to the stream above. But you really should consider getting a full Outhouse account, which will allow you to quote posts, choose an avatar and sig, and comment on our forums too. If that sounds good to you, sign up for an Outhouse account by
clicking here.
Note: while you are welcome to speak your mind freely on any topic, we do ask that you keep discussion civil between each other. Nasty personal attacks against other commenters is strongly discouraged. Thanks!
About the Author - Jeremy Shane
---
Jeremy was born in a small mountain village of a strange foreign land called Weystvurginea.  Banishment for liberal views saw him spend years wondering the east coast until he decided to bike to California.  When he saw how long a trip it was, he drove instead.  Now he's living it up in a low humidity climate, sometimes working on his photography and when not, he writes for us covering books (by way of his blog: Reading Realms), gaming, tv, movies, comics, conventions in the SoCal area, and creates a weekly webcomic: A Journey Through Skyrim.  If you look for him offline, start in the L.A. area; online start at: www.jeremyshane.info for his profile and all the social networks he's on... or just follow him on twitter, he seems to be on there a lot: @jeremyshane.
More articles from Jeremy Shane