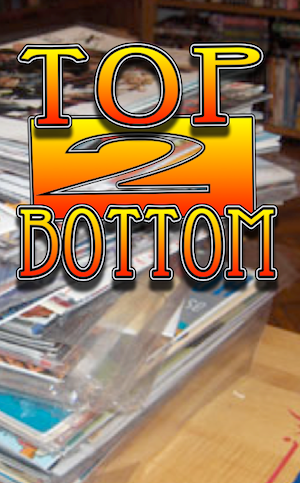 What a great week it was for comics. Thanks to Oogy I had an excellent selection with nary a week one in the bunch.
1. X-Men: Schisms #5
Though any of the first three could have taken the top spot this week, I've got to give it to one of the most entertaining X-periences I've had with an X-event in an X-tra long time. Even if the first four weren't entertaining (and they were), this final installment on its own shows us that an "event" comic can be both massive in scope but maintain its focus to the very end; giving the reader a real sense of completion. This was the most satisfying X-Men story outside of X-Force that I've read in years. It flowed naturally with Jason Aaron keeping every character true to itself. Adam Kubert's pencils were more than strong enough to carry the story. I'm more excited about the X-Men books now then I have been for many years. Between Aaron and Gillian, I can't wait to see what happens to our mutants next.
My Score: A2. Penguin: Pain and Prejudice #1
Being a big fan of Oswald Cobblepot I was anxious to see how this mini-series would open as well as play out. I'm tickled to say that Gregg Hurwitz seems to have matters well in hand for our persnickety perpetrator of Gotham's underworld. The first issue is basically a recap of Penguin's origin, but thanks to the mood setting pencils of Szymon Kudranski and colors of John Kalisz they give us just the right tone of noir bending fun. If written correctly, Penguin is a terrifying study of the ultimate freak suffering from "short man's syndrome" along with major daddy issues. What I really liked on this new take of Oswald is that his mother is still alive, though wheel chair bound; giving Cobblepot just the right shade of gray to make him just this side of a true monster. This could have easily been in my number one spot and had it not been for such a satisfying ending to Schisms... it would have taken first hands down. Though I will add that if you are not a fan of The Penguin, I'm thinking this book isn't really going to change your mind.
My Score: A3. Animal Man #2
What a f%*ked up world Buddy Baker lives in. Residing in the DC Universe proper, Buddy and his family, with the help of Jeff Lemire, is bringing the weird with them. Bloody tattoos that appear on Animal Man's body - blood pouring from his eyes, nose, and ears in a macabre design that would send a shiver down Stephen King's spine gives us the wonderful feeling that in this part of the DC Universe, anything could happen... and will! In fact the stakes already feel so bizarrely high that the fact that Buddy's daughter is so deeply involved worries me. Great art that works well with the story caps off issue number two with a near perfect score.
My Score: A-4. Justice League International #2
I'll be the first to admit that I miss the well timed humor that Giffen has always given to this book. The banter in the second issue is a bit more hit or miss and I'm still not sold on General September Morning When We Danced the Night Away, but Godiva is going to be a great fit for this team. I hope they keep both Batman and Guy as well and if DC was really smart they'd pull Canary from the book she's in now and put her right back here. The art is absolutely gorgeous! I mean talk about some beautiful old time comic book looking goodness, this has got it in spades. There is still some tweaking to do but I'm really glad the gang is back.
My Score: B +5. Hulk #42
My love for The Hulk ran late in life – like two years ago. Since then I've discovered that not only do I really love this cast, but especially for the old General. Turning him into the Red Hulk was probably the most brilliant move this book could have done. Who knew! Bringing in the Secret Avengers at the end was a great twist and with only three pages of dialogue it is obvious that Marvel made a huge mistake. Jeff Parker is the far superior writer for an Avengers book and I hope someday he gets the chance to write Secret Avengers – I'll be buying THAT book again.
My Score: B+6. Huntress #1
If you were to ask me which DC Heroine comes to mind first, I'll always say Helena Bertinelli. I got hooked on Earth 2's Huntress and thanks to Gail Simone I was able to do feel the same about Ms. Bertinelli. Paul Levitz and Marcus To make a perfect partnership of old school comics feeling shiny and new. It's unfortunate that they have to take her back into the solo world again but this is a perfect issue to get to know Huntress if you've never read anything about her. Classy dame, managed by a Legend in the Industry - really can't ask for anything better than that.
My Score: B+7. Thunderbolts #164
This book is another wonderful read month after month. I'm beginning to become a big fan of Jeff Parker. In fact did I mention that the guy would be perfect for Secret Avengers? My problem with this book is the art. I'm usually a fan of Kev Walker's work but there is something really off for me here. It really took me out of the story, unfortunately.
My Score: B-