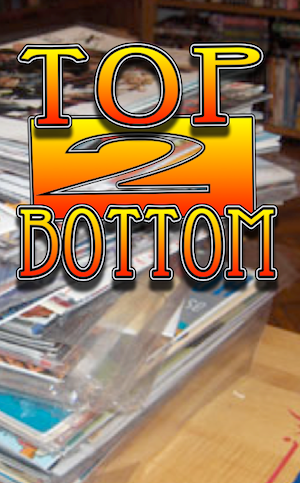 It's a great time to be a comic book fan, isn't it! Even the average ones have been fun to read.



1. Green Lantern #2
Wow what a change a month can make! Last month this book was good, this month it shot out into space with a flash of green light. Somehow he was able to click his heals together and came home. I have also come to the conclusion that if you ask Geoff which of the Green Lanterns is his favorite he'd skip the four and proclaim Sinestro to be the best of them all. If this issue is any indication he's also bound and determined to make it so. Sinestro is in great form here, once again walking that edge of what he believes to be the way to use the power of the ring and how The Guardians expect him to be. What could really be his crowning achievement is his gift to Hal, a ring that Sinestro can control. If you're not a fan of Hal Jordan as Green Lantern you might want to start reading this because the idiot is about to get schooled again from his greatest enemy.
My Score: A-2. The Shade #1
And speaking of coming home again, hello Mr. Robinson and I welcome you back with wide open arms to a character that you really did make your own. Shade was probably the best character that came out of James Robinson's Starman run for Vertigo and deservedly so. Just like his code name, this is a character that is so dense with shades of gray that it's hard to ever really know what side he is truly on. What has always been true is that The Shade has his own code and it is one that he follows religiously. James and crew remind us of that with an ease that can only come from someone who knows the character inside and out.
My Score: A-3. X-Men: Regenesis #1
This is a must read for X-fans and those who want to jump on the X-wagon now as well. The teams are announced in a primal battle allegory that works well for the story. Gillen has brought his A Game, that's for sure, and for once I wasn't too put off by Tan's art. Personally I think Scott's team looks a bit more interesting but since both Rogue and Kitty will be heading with Logan it looks like I'm on board for both books.
My Score: B+4. Batman and Robin #2
This could end up being my favorite Batman book in the new 52. Why you ask? Because Peter Tomasi is finally focusing on the one story nobody else has done: Bruce Wayne and Damien Wayne. This very well could be a great story of Batman's redemption as not only a father to Damien but possibly even put some closure on his feelings of failure with Jason Todd. I hope Peter keeps this story going in that direction but I also hope he keeps true to Damien's character and doesn't reform him too much. Also keep Patrick Gleason on this title for a long while too, DC! He is an excellent choice. What I'm already looking forward to is the appearances by Talia and her father.
My Score: B+5. Resurrection Man #2
Issue two, not as awesome as issue one for me, but still a strong book. We learn a little more about our protagonist's past and meet a couple of new villains. This is a solid book with solid art. It feels as though it's rolling right along the way it should be and I'm just as excited about it as I was with the first issue. Wasn't the best of the bunch but it was a solid second issue.
My Score: B6. X-Men Legacy #257
Mike Carey's final story comes to its penultimate chapter with a strong showing. Still this is nowhere near as strong as the arcs that have come before it. Another X-Men in space adventure should have a bit more oomph in it than this one does. It all seems very by the book but does that really matter if we are finally getting to see Alex, Lorna and Rachel finally come home? I say thee, no!
My Score: B-7. Mister Terrific #2
I have so many questions about this book that I don't think will ever get answered to my satisfaction. This is a character that has survived the new universe without the team that helped make him great. I can't help but finish each page and asking myself if this character can really pull off his own book without even a few supporting cast members of the JSA hanging around. I don't see a big difference in this millionaire and intellectual genius than say Tony Stark, Reed Richards, Bruce Wayne or any of the others. This is a book that I'm still not sure needs to be. Next issue will probably be my keep it or drop it issue.
My Score: C-