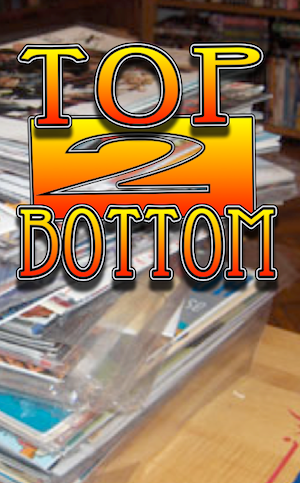 A random seven were drawn and I'm happy to say there were better than not this week. Also keep reading these reviews for your chance to win a little extra cash for the holidays!
1. Batman #2
Second issue, better than the first. After a rather average start to this series, Scott Snyder has proven himself once again with issue two. Opening with Bruce Wayne being tossed out the window of Wayne Tower, unable to grab a hold of anything to break his fall, we are then taken back twenty-four hours to discover exactly how he got to that point. This is Snyder back at his best and proving that he is THE Batman writer to beat right now. The Court of Owls has great potential to become a nice addition to the Batman Mythos and the art is more than solid enough to support the quality of the writing. What I really love about Snyder's writing of Batman is how easily he brings the city of Gotham, itself, alive. I could not be any happier to be collecting this title.
My Score: A2. The Avengers #18
This was a totally enjoyable issue and a great jumping on point for anyone wanting to check out this book. With Fear itself now over and the obligatory "dead" Avengers being "dead", it is time to regroup and choose a new line-up. Stark Tower has been destroyed in the battle so all the Avengers teams have once again come together at the old Mansion (which is fine with me). This is one of those issues where the normally snarky writing style of Bendis' actually works throughout the book. I'm starting to worry about Steve Rogers though, who between this book and Secret Avengers has suddenly become somewhat of a bully. The best part of this book though? The ending. Probably the best thing Bendis had done for the Avengers is making Norman Osborne such a grandiose threat to Earth's Mightiest Heroes.
My Score: A-3. Uncanny X-Men #544
I'm so not happy with this book, no matter how good it is right now. I've collected every issue of this series since number ninety-eight and it has been the pride of my collection – the 90's notwithstanding. Now this book comes to an end with a well written epilogue to the Schisms event. Gillen wisely brings the focus of the split down to mostly three of the original X-Men: Scott, Bobby and Hank. It's unfortunate that they haven't brought Jean back yet but that's a different discussion for a different day. Cyclops is probably the most evolved character Marvel has and this latest X-Crisis has propelled the mutant leader further into a much darker role. Many people don't care for Land's art and though I find it okay at best, the two page picture of the original team and the surrounding history of the group were impressive to me. Marvel's longest running continuing series ended almost picture perfect – but I'm still not happy.
My Score: B+4. Catwoman #2
Let's make this review short and sweet, shall we. Likes: Selina has returned to her bad sexy self. The stakes are extremely high and entertaining. Catwoman got to polish Batman's batarang again. Dislikes: Guillem March's art does nothing for me in this book. Another DC issue that had to have some pretty graphically bloody scenes. Hates: Selina doesn't know who Batman really is... AGAIN!
My Score: B5. X-Factor #226
Solid, solid, solid, that's all I can say about this book – but I can't say it enough. If there is one book that really gives me the feel of a classic X-book, this one is it. A good solid story that is entertaining while Peter David still keeps the personal lives of each member front and center as well; needing only a couple of panels for each to pull it off. Bringing in Hangman and Bloodbath is ingeniously well written while the developing relationship between Rictor and Shatterstar continues to be enjoyable. Very strong art by Kirk and Milla make this book a must read every month.
My Score: B
6. Fear Itself #7
And so the big Marvel "event" of the year ends. *Yawn*. Next! (Props for one good moment in the whole story as Steve Rogers is able to pick up Thor's hammer for battle) My Score: D+
7. Justice League #2
There is really nothing right about this book in my opinion. A new origin for Cyborg, a lot of silly and meaningless fighting between Superman, Batman, Flash and Green Lantern, one or two hints of the upcoming villain which isn't going to be a surprise for anyone with half a brain, makes this not only the least favorite book I read of the random seven I am reviewing this week, but the second worst of all the books I read this week. Geoff Johns would be smart to keep it coming out the same week as The Red Hood book; it's the only thing keeping it from being the ultimate bomb.
My Score: D-