Deogratias: A Tale of Rwanda Written and illustrated by J.P. Stassen Introduction written and story translated to English by Alexis Siegel :01 (First Second Books) Review by L'Indépendant Deogratias does what a piece of art, from any genre, is supposed to do: it brings about feelings you didn't even know you had. Good literature should elicit a certain feeling unique [...]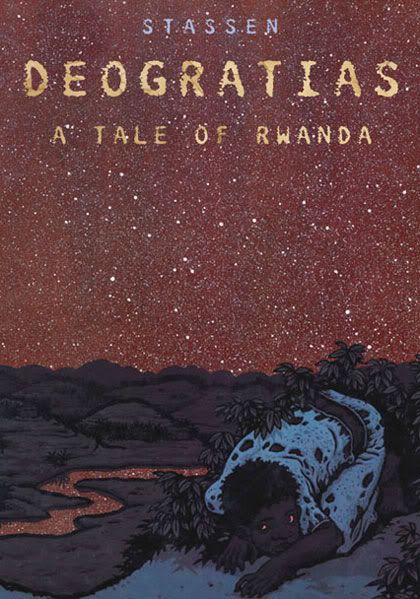 Deogratias: A Tale of Rwanda
Written and illustrated by J.P. Stassen
Introduction written and story translated to English by Alexis Siegel
:01 (First Second Books)
Review by L'Indépendant

Deogratias does what a piece of art, from any genre, is supposed to do: it brings about feelings you didn't even know you had. Good literature should elicit a certain feeling unique from all others, and at the risk of sounding redundant and beating the point home, specific to that particular art piece. More…You may not be able to label that, you may not be able to even describe it in any words, but the feeling is that starting point. It's hard to say that reading a weekly comic book or watching a weekly TV showor even reading the news every day will do that to you. You get numbed to it. But every once in a while, an event or a piece of art comes along shaking you to your core and reminding you the reasons why you enjoy art in the first place. For me, that was Deogratias.
I found it tucked there on the indie comic shelf, inconspicuous. It was a good thing I was browsing, looking for nothing, so that I could find this something with the subtitle "A Tale of Rwanda" on the jacket. I was sold. I've studied Rwanda backwards and forwards, trying to understand the 1994 genocide, and the history leading up to that, and the efforts in the country to cope with those 100 days.
J.P. Stassen writes a tale about his adoptive home of Rwanda that tells the story of one boy who lived through it. The boy ended up being forced to fall in with the Interhamwe (the genocidaires – extremists within the government and trained by the government leading up to 6 April 1994), and committing selfish acts while in that role (not mentioned, for fear of giving away plot points). He's now wandering around Rwanda in his old haunts, manically seeking out Urwagwa (banana beer), and running into people from his past. They ask him if he still believes he's a dog, and he has nightmares at night of this. The denouement – the revelation of just what he's doing wandering around – ties all the question the reader has together completely, and really jars at your emotions.
Mind you…before you read the story, there is something the introduction (while adequate in setting up a framework for understanding the characters in the story for the uninitiated) doesn't tell the reader that is important for understanding dogs in Rwanda. Stassen does a beautiful job telling the reader it, but if the point can be missed by the reader if this book is not examined slowly. The Rwandan Patriotic Front, led by now-President Paul Kagame, shot all the dogs in Rwanda when they forced the genocidaires into Congo and stopped the genocide in 1994. Why? They were eating the bodies of the dead.
The story itself is shocking. Once the full plot is revealed, one feels almost disgusted to have read such a tale. That such a story could be created out of any reality is almost inconceivable, but there it is, and entirely plausible. But then it hits you – it was a genocide, the worst humans can do to one another. This story is nothing compared to that reality, but it transports you there. It's beautiful. It does what Hotel Rwanda doesn't do – it makes you want to visit the art again. Deogratias is a dog – he's lost that much humanity because of the genocide.
Stassen's art is incredible. The colors really bring the story to life. The characters are very expressive, and their depictions haunting. Stassen now lives in Rwanda, and it shows in his landscapes and in his depictions of the buildings there – as real as a New Yorker drawing the Empire State Building. What really comes through is that he must love living there on the whole, because it's really attractive. He brings in all the things about Rwanda – the hills, the savannahs, the forests, the weather, the banana beer, the gorillas, the French, and the missionaries, and weaves them into the story seamlessly. The art really shows the change in Deogratias' psyche pre-genocide to post-genocide, without being too obvious about it. Stassen's depictions of Deogratias remind the reader why comics and graphic novels are a medium worth spending time on and why it's unique – there are just some things film can't do that can be done here.
Lastly, the jacket has a great design, and reflects the work and care and meticulousness that went into the story. This was not a work produced lightly, and to achieve any sort of deadline. It does, however, come at the best of times, as reminded in the introduction, and that is to remind us to pressure our leaders to live up to the promise of 'never again' when there is a genocide…the same promise we're failing to keep currently in Darfur, Sudan, and in the refugee camps of eastern Chad.
This goes on the shelf right next to Maus I and II. Order it today, and check out what else First Second has to offer…looks promising.
Posted originally: 2006-06-05 01:49:40
Enjoy this article? Consider supporting The Outhouse, a fan-run site, on Patreon. Click here for more info.
Comment without an Outhouse Account using Facebook
We get it. You don't feel like signing up for an Outhouse account, even though it's FREE and EASY! That's okay. You can comment with your Facebook account below and we'll take care of adding it to the stream above. But you really should consider getting a full Outhouse account, which will allow you to quote posts, choose an avatar and sig, and comment on our forums too. If that sounds good to you, sign up for an Outhouse account by
clicking here.
Note: while you are welcome to speak your mind freely on any topic, we do ask that you keep discussion civil between each other. Nasty personal attacks against other commenters is strongly discouraged. Thanks!