De: Tales - Stories from Urban Brazil Written and Illustrated by Fábio Mason and Gabriel Bá Published by Dark Horse US$14.95 Review by L'Indépendant This is a wonderful little book from twin brothers from Brazil. Moon and Bá weave together short stories set in the streets of Brazil with striking imagery and clever writing. Each tells a different story, most [...]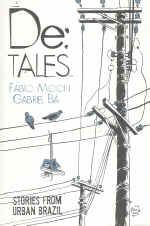 De: Tales - Stories from Urban Brazil
Written and Illustrated by Fábio Mason and Gabriel Bá
Published by Dark Horse
US$14.95
Review by L'Indépendant
This is a wonderful little book from twin brothers from Brazil. Moon and Bá weave together short stories set in the streets of Brazil with striking imagery and clever writing. Each tells a different story, most starring different characters than the last, and each with a different intent and setting. Altogether, the reader feels like they've just witnessed a day in Brazil as some sort of bystander. Some stories are fantastic (note: operating on the root word "fantasy"), where Moon and Bá have put themselves in the story, or where a friend comes back from the dead for a party. Others explore relationships between two people, and can either be playful or mysterious, or a little of both.More…
The imagery in the story is amazing. There is a definite difference in the styles of the two brothers, and even from story to story. None of this gets in the way of their storytelling, as each style complements the story really well – much like Teddy Kristiansen's various styles in "It's a Bird." The brothers capture Brazil beautifully, and must have a love for their home country – or if they hate it, it's too beautiful a country to render ugly.
Fans of Brian Wood's Demo or Local will love this. Fans of clever little love tales will also love this, as there are a few of those in this book. I'd love to take the opportunity to explore each story, but that would annoy me, and possibly you, because I'd end up spoiling it for you. I hope you read it and enjoy it.
Posted originally: 2006-07-05 02:53:33
~OR~
Comment without an Outhouse Account using Facebook
We get it. You don't feel like signing up for an Outhouse account, even though it's FREE and EASY! That's okay. You can comment with your Facebook, Yahoo, AOL, or Hotmail account below and still interact with the greatest comic book community on the internet! But if you change your mind, sign up for an Outhouse account by
clicking here.
Note: while you are welcome to speak your mind freely on any topic, we do ask that you keep discussion civil between each other. Nasty personal attacks against other commenters are not welcome here. Thanks!