Johnny Repeat Vol. 1: The End of the Way that Was Written by Jason James Illustrated by Paul Azaceta, Fabio Cobiaco, Bruno D'Angelo, Mark Dos Santos, Geof Isherwood and Noel Tuazon Published by Citizen Press US$12.95 Reviewed by john lewis I was at a comic book store this past weekend and wanted to get something rare, indie, or by Vertigo. As [...]
Johnny Repeat Vol. 1: The End of the Way that Was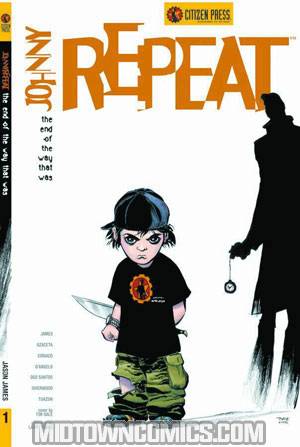 Written by Jason James
Illustrated by Paul Azaceta, Fabio Cobiaco, Bruno D'Angelo, Mark Dos Santos, Geof Isherwood and Noel Tuazon
Published by Citizen Press
US$12.95
Reviewed by john lewis
I was at a comic book store this past weekend and wanted to get something rare, indie, or by Vertigo. As I look around, I saw a comic book titled Johnny Repeat with cover art by Tim Sale, one of my favorite artists. I find out that the writer, Jason James, used to work on Gotham Girls, a web cartoon produced by Noodle Soup Productions (the people behind Venture Bros.) and that the company was from Glendale, California (about forty minutes from here)More… and then I knew I had to pick it up. Now enough down Memory Lane, Johnny Repeat is the story of a group of individuals led by an eight year old know-it-all prophet named Johnny Repeat. The End of the Way that Was is the first part in a seven part series sold only as graphic novels. Johnny's goal is stop the world from ending yet not everything is going to plan and as the old saying goes, hilarity ensues!! (Okay, not really…)
Johnny Repeat opens up with an introduction to each team member: Nathaniel, a sexaholic who has more than that as a problem; the Woman with No Name, an assassin who's lived since the 17th century; Jerenious Stormcrow, a Viking/ hobo who only knows how to say "fuck" in English and is a coward; and of course Johnny Repeat. Johnny gets them to stop three groups of assassins from merging into one group, as his prophecy predicts, which will signal the end of the world. As Johnny sends each of them on their missions (and visits a girl named Celeste, the most powerful being ever), Nathaniel messes things up by saving a girl who shouldn't have been where she was and Jerenious doesn't return.
The book is interesting as it sets up a story that's a bit weird (more like borderline psycho) story but one that is easy to read as it doesn't require you to do "homework". In a way, it's similar to 100 Bullets or Sleeper if the creator was on acid or LSD. As I finished the book, I was upset that the second volume isn't out yet but happy as someone sneaked into my brain and made a story that's psycho but not messing anything story-wise. The art's also very nice and with six artists on it, it doesn't get stale. Johnny Repeat is cool, sexy, and psycho like that Charles Manson in a corset and singing a song from the Beatles' White Album (what? Nobody else has this fantasy? Weirdos).
Posted originally: 2006-09-20 01:54:50
Enjoy this article? Consider supporting The Outhouse, a fan-run site, on Patreon. Click here for more info.
Comment without an Outhouse Account using Facebook
We get it. You don't feel like signing up for an Outhouse account, even though it's FREE and EASY! That's okay. You can comment with your Facebook account below and we'll take care of adding it to the stream above. But you really should consider getting a full Outhouse account, which will allow you to quote posts, choose an avatar and sig, and comment on our forums too. If that sounds good to you, sign up for an Outhouse account by
clicking here.
Note: while you are welcome to speak your mind freely on any topic, we do ask that you keep discussion civil between each other. Nasty personal attacks against other commenters is strongly discouraged. Thanks!