The Surrogates Written by Robert Venditti Illustrated by Brett Weldele Published by Top Shelf US$19.99 Reviewed by john lewis I think the word "must-read" is thrown around too often. There might be a story out there that's a "must-read" solely based on it being different than normal. With that said, The Surrogates is a must-read. It is a story that is [...]
The Surrogates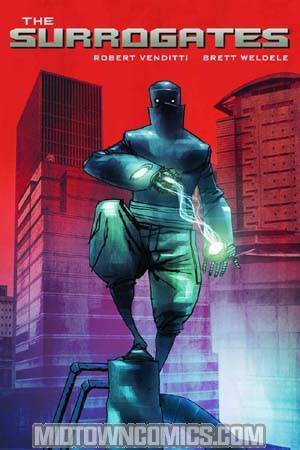 Written by Robert Venditti
Illustrated by Brett Weldele
Published by Top Shelf
US$19.99
Reviewed by john lewis
I think the word "must-read" is thrown around too often. There might be a story out there that's a "must-read" solely based on it being different than normal. With that said, The Surrogates is a must-read. It is a story that is (dare I use another too often used word?) thought-provoking. It is set in the future where you can have a surrogate live out your fantasy. Wished you were thirty pounds lighter? Check.Wished you were taller? Check. Always felt like you should've been a woman? Check. Your fantasy is now a reality. However, as the protagonist, Det. Harvey Greer, going to find out, fantasy never doesn't have consequences.
SPOILERS: The story starts as detectives Harvey Greer and his partner Pete Ford are investigating two surrogates being destroyed in an electric storm. As they check the last moments of surrogates, they notice a man going to them and saying "Live" and shocking them into disrepair. Later on, Greer has a face-to-face with this man, Stepplejack, who destroys him (showing that "Greer" was really a surrogate). The real Greer decides to take on this case instead of using a surrogate and meets up with the Prophet, a well-known enemy of surrogates, thinking he has a connection. Unfortunately, nothing. As Greer gets more information on Stepplejack, he realizes that the surrogates are doing more good than bad (due to his wife's surrogate and his conversations) and finds out that Stepplejack is really an early surrogate. After Stepplejack destroys the Prophet (who's also a surrogate), the Prophet's people riot against the city and an all-surrogates police force. Stepplejack's master puts in his master plan and destroys all of the city's surrogates. Right after that, Greer finds out that Stepplejack's puppet master is the man who invented surrogates in the first place and that his wife committed suicide after her surrogate was destroyed. END SPOILERS
What I really enjoyed about The Surrogates was how it was set in a dystopia that people willingly put in place and could be seen as a utopia. In The Surrogates' world, people weren't at risk of being killed and could look however they want but it also took away what made them special as they were reduced to laying on a bed or sofa and being linked to a machine as that machine lived their life for them. Also, there was hardly any evidence of a corrupted government which was nice for a change. Plus, the story seems very plausible too with the success of how the internet and places to chat on it (MySpace, message boards, etc.) are (ironic I know).
The art is very nice and fits with the story. It is similar to Ben Templesmith's art except with less creepiness. Also, the coloring is very nice. What the colorist, Weldele, did was have a panel be filled with similar colors. If a person who is supposed to be really white is standing in front of a dark blue wall, he would be a lighter side of that dark blue. The art reminded me of some African art I've seen which I've always liked.
The Surrogates is an amazing read as it shows what happens when people give up their freedoms for pleasure in a non-preachy and intelligent way. Venditti creates a story that you just know in your gut is a future that we may be heading towards passing all red lights as we go flying by as the evidence is already piling up. It's not political at all but still is an important read.
Posted originally: 2006-09-20 02:07:58