American Born Chinese Written and Illustrated by Gene Luen Yang :01 (First Second Books) Review by L'Indépendant American Born Chinese (ABC) is a 3-part tale. The first tale is a Chinese fable of a monkey king who yearns to hang around with the gods. He masters the kung-fu arts, and enters into the heavens. At a party of the [...]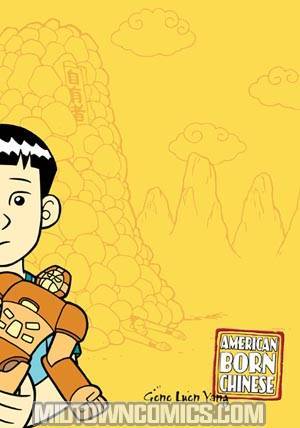 American Born Chinese
Written and Illustrated by Gene Luen Yang
:01 (First Second Books)

Review by L'Indépendant

American Born Chinese (ABC) is a 3-part tale. The first tale is a Chinese fable of a monkey king who yearns to hang around with the gods. He masters the kung-fu arts, and enters into the heavens. At a party of the gods, he is turned away, since he himself is not a god, and takes out his frustration over this on everybody in attendance. This is the beginning of his troubles.
Jin Wang moves to a new town. He's the first Chinese-American student there, and has a hard time making friends. He befriends a Taiwanese-American student who, like himself, likes to play with transforming toy robots. He falls in love with an white girl, and can't bring himself to tell her. He's also being bullied by the 'cool kids' and can't avoid their taunts and teases over his ethnicity.
Chin-Kee is a the ultimate in stereotypes of Chinese people. His cousin, Dan, is trying to make it through school, and struggling with his crush on his friend. He's the best at everything, and is growing in popularity, leaving Dan behind. But there's more to Chin-Kee than meets the eye.
These three stories are told in a way that leads one to wonder how they even connect at all, but it all concludes nicely and leaves one completely satisfied while providing a moral. ABC is a modern-day graphic fable, and is a wonderful read for people of all ages. The art is crisp and consistent, and Wang does a wonderful job using the art to further the story. Overall, this is a great read, and a wonderful addition to the medium.
Posted originally: 2006-09-30 02:02:25