Title: Wolverine #47 Writer: Marc Guggenheim Artist: Humberto Ramos Publisher: Marvel DeadFett: Trachman and I will be reviewing Wolverine #47. This is the final part of Wolverine's tie in with Civil War. How did you feel about the way Guggenhiem and wrapped it up, Trachman? Trachman: I liked the way everything was wrapped up. The Sentry battle and dialogue gave [...]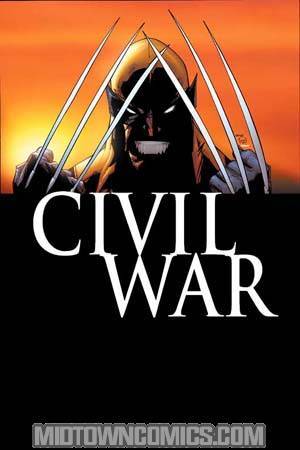 Title: Wolverine #47
Writer: Marc Guggenheim
Artist: Humberto Ramos
Publisher: Marvel
DeadFett: Trachman and I will be reviewing Wolverine #47. This is the final part of Wolverine's tie in with Civil War. How did you feel about the way Guggenhiem and wrapped it up, Trachman?
Trachman: I liked the way everything was wrapped up. The Sentry battle and dialogue gave me goose bumps and nothing is more evil than a business man jacked up on mutant growth hormone. That put a grin of my face. I love Ramos's exaggerated cartoony style, and I'm looking forward to his fill-in X-Men arc with Mike Carey. What ya think?
DeadFett: I've enjoyed this arc a lot. Guggenheim has written a very good Wolverine story for the most part. The entire issue had some good action from the fight with the Sentry to the fight with Declun. I really liked the fight with Declun. It was cool to see Wolverine actually pop his claws through his head at the end. This was the best Wolverine story in a while in my opinion. Guggenheim can come back and write Wolverine any time as far as I'm concerned.
As for the art, I've always enjoyed Ramos's work. It's different from most of what is out there.His style isn't for everyone but I like it. Much like you, Trachman, I'm looking forward to his arc on X-Men. Anything else you'd like to add?
Trachman: Yes, definitely up there with the best, and Ramos made it a unique experience.
Posted originally: 2006-10-25 12:36:55
Enjoy this article? Consider supporting The Outhouse, a fan-run site, on Patreon. Click here for more info.
Comment without an Outhouse Account using Facebook
We get it. You don't feel like signing up for an Outhouse account, even though it's FREE and EASY! That's okay. You can comment with your Facebook account below and we'll take care of adding it to the stream above. But you really should consider getting a full Outhouse account, which will allow you to quote posts, choose an avatar and sig, and comment on our forums too. If that sounds good to you, sign up for an Outhouse account by
clicking here.
Note: while you are welcome to speak your mind freely on any topic, we do ask that you keep discussion civil between each other. Nasty personal attacks against other commenters is strongly discouraged. Thanks!