Title: Union Jack #3 Writer: Christos Gage Artist: Mike Perkins Publisher: Marvel Reviewed by Trachman and john lewis john lewis: Union Jack defeats the Corrupter, the nekkid Ecstasy, and his Corrupter-controlled partners Sabra, Valentina DeFontaine, and the new Arabian Knight while making it look incredibly easy as him and his partners jump out of the frying pan and into the [...]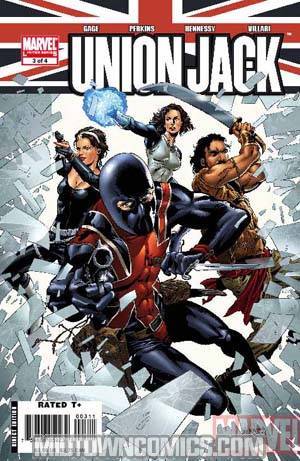 Title: Union Jack #3
Writer: Christos Gage
Artist: Mike Perkins
Publisher: Marvel
Reviewed by Trachman and john lewis
john lewis: Union Jack defeats the Corrupter, the nekkid Ecstasy, and his Corrupter-controlled partners Sabra, Valentina DeFontaine, and the new Arabian Knight while making it look incredibly easy as him and his partners jump out of the frying pan and into the fire that is a giant Dreadnought.
Personally, I like how this issue, and the past issues, was nothing more than a simple action-y superhero story and how it was battle, battle, calming time, then on to the next battle. What did you think, Trach?
Trachman: I agree it was a straight-up action comic, but Jack was very crafty, and it was very entertaining to watch Jack manipluate his Corrupter-controlled partners into fighting each other with witty insults. He's the insult master! Gage is really doing a great job of restablishing Union Jack's new role in the Marvel Universe. Which is fighting supervilains and it works. Mike Perkins did a couple of fill-in issues of Captain America and I was really impressed. So, I had to get these books once I found out Perkins was involed. And I'm not disappointed, he did a fantastic job. What'd you think the creative team, Hawk?
john: I think they're great for the book. I got into Gage's work because of his Deadshot mini and, like you, enjoyed Perkins's art on Captain America. I am a bit disappointed there hasn't been any vampires given Jack's history but this story makes up for it. Any last thoughts?
Trachman: Go back to the first issue and there's a good vampire brawl with a helicopter. (wink)
john: I think I remember that. That should've been longer dammit!!!
Trachman: I think it was gory enough so it didn't need to be so long. (laughs)
Posted originally: 2006-11-20 16:18:30
Enjoy this article? Consider supporting The Outhouse, a fan-run site, on Patreon. Click here for more info.
Comment without an Outhouse Account using Facebook
We get it. You don't feel like signing up for an Outhouse account, even though it's FREE and EASY! That's okay. You can comment with your Facebook account below and we'll take care of adding it to the stream above. But you really should consider getting a full Outhouse account, which will allow you to quote posts, choose an avatar and sig, and comment on our forums too. If that sounds good to you, sign up for an Outhouse account by
clicking here.
Note: while you are welcome to speak your mind freely on any topic, we do ask that you keep discussion civil between each other. Nasty personal attacks against other commenters is strongly discouraged. Thanks!