Title: Justice Society of America #3 Writer: Geoff Johns Artist: Dale Eaglesham Publisher: DC Review by Kent Horton You know, I don't care what anyone says, I like Cyclone's costume. And no, it's not because she appears to be pantiless on the cover. So in this issue we get gory, bloody, flesh rending fight scenes, the costumed debut of two [...]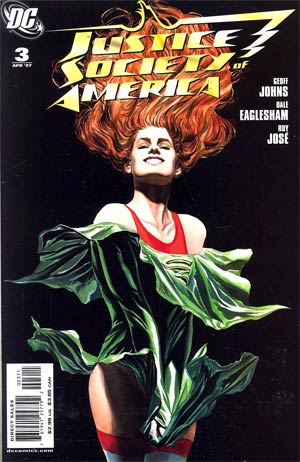 Title: Justice Society of America #3
Writer: Geoff Johns
Artist: Dale Eaglesham
Publisher: DC
Review by Kent Horton
You know, I don't care what anyone says, I like Cyclone's costume. And no, it's not because she appears to be pantiless on the cover. So in this issue we get gory, bloody, flesh rending fight scenes, the costumed debut of two heroes and the further progression of a third's origin, and the return of Sandman. And, man, what an entrance. The various Nazi villains make for great adversaries, especially Captain Nazi, who I've had a soft spot for since reading the Shazam Family Archives. 
But honestly, the best scene is the climax with perhaps one of the best drawn Vandal Savages I have ever seen. With his spiel of orchestrator of human conflict helping any new readers get a grasp for the character, as well as Tommy's little remark about Vandal's old smell, and we have a great reintroduction of the character. Also nice was Dr. Mid-Nite discovering the arrowhead in Mr. America's lung, providing not only a brief foreshadowing to the JSoA familiar, but also pointing out that as a doctor he's a fair detective in his own right. Of course the reveal that lil' Tommy is a were-panther of sorts, furhter tying in the increasing Kingdom Come vibe of the series is intriguing as well.
The art by Eaglesham is great once again, though I feel he needs to work a little more on the details of characters in the background. And in the scene where Sandman reveals the attacks on the families, Courtney and Jesse's faces look rather similar to my eye. Just one noticable instance, but it happens with a few characters here and there. But overall stunning work, especially the new and redesigned characters' looks.
Posted originally: 2007-02-19 16:06:20
~OR~
Comment without an Outhouse Account using Facebook
We get it. You don't feel like signing up for an Outhouse account, even though it's FREE and EASY! That's okay. You can comment with your Facebook, Yahoo, AOL, or Hotmail account below and still interact with the greatest comic book community on the internet! But if you change your mind, sign up for an Outhouse account by
clicking here.
Note: while you are welcome to speak your mind freely on any topic, we do ask that you keep discussion civil between each other. Nasty personal attacks against other commenters are not welcome here. Thanks!