Now, as part of this week' smorgasbord of reviews, as promised…lo and behold, a Marvel review! On to the goodies… Appetizer: Nightwing 147 — I really am running out of ways to describe how much joy this book is bringing me right now; Kramer's art is superb (I may even like it better than Rags'), and Tomasi [...]
Now, as part of this week' smorgasbord of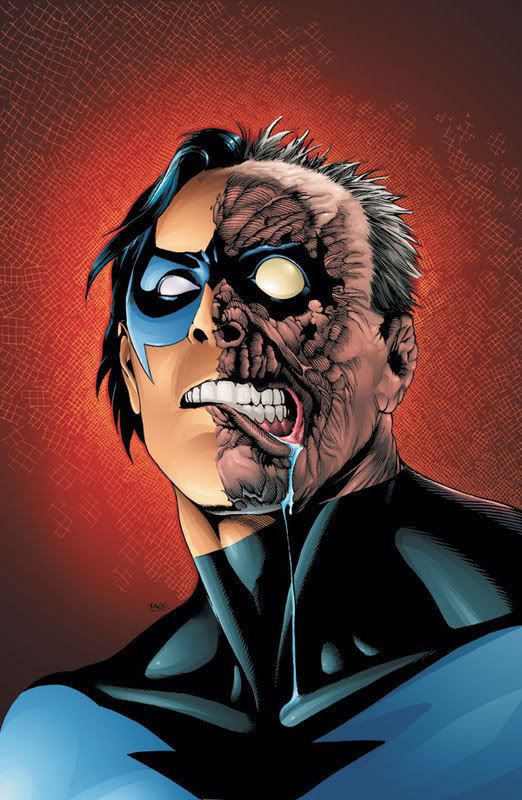 reviews, as promised…lo and behold, a Marvel review! On to the goodies…
Appetizer:
Nightwing 147 — I really am running out of ways to describe how much joy this book is bringing me right now; Kramer's art is superb (I may even like it better than Rags'), and Tomasi is writing easily the best Dick Grayson these eyes have seen in many, many years (with the exception of Waid's one-issue masterpiece in last week's B&B). In this issue we begin Dick's R.I.P. tie-in arc, entitled "The Great Leap" (which, if Rich Johnston's rumor mill is on-target, could be referring to a LOT more than just Dick's new sky-diving habit), we get a peek at the Wing-signal as envisioned by Harvey Dent; a great confrontation between the two that informs the reader of Dick's special history with Harv without using a single word of needless exposition; a mission for Dick to save an old "friend" of Harvey's; a couple of quick-hitting but well-crafted action scenes; a (fairly obvious) mystery assassin at play; and a fine cliffhanger ending which should set us up for some more nice action through the next couple issues; art, pacing, dialogue, characterization…all just perfect; loved it
Entree:
Final Crisis 3 — hrm. I wish I could say I enjoyed this even half as much…but I can't. I just can't. Grant's got so many balls in the air here that I just can't make myself care about most of it. We see brief scenes of Shilo and Sonny Sumo and the Super Young team (that for the life of me I can't figure out why what happened happened…); Frankenstein working for SHADE investigating a murder scene and crossing paths with the Question (who gets recruited by Checkmate via SHADE, sorta…); Hal getting carted off by the Alpha Lanterns; Supes sitting at Lois's bedside keeping her alive with his heat vision (explain that one to me, G-Moz…) and getting recruited to go hang out in Superman Beyond; Alan Scott drafting all the Earth's heroes into what is essentially a new All-Star Squadron; Libra infecting Human Flame with the Anti-Life Equation and telling Luthor his days are numbered; Jay telling Iris that Barry's alive; Wonder Woman getting her ass kicked by Mary Marvel, and swearing she's not a murderer even though she just ripped an Atomic Knight in half; Mokkari of Apokolips infecting the whole world with the ALE via internet spam; and Wally and Barry running two weeks into the future and into the new Female Furies: Wonder Woman, Giganta, Catwoman, and somebody I can't recognize due to generic new badass Apokoliptian dress, who say "Superhumans. KILL."
All of this stuff is cool in theory. It sounds cool. Some of it even brings that to the page. But it's so character-light and terse that for the life of me I feel more like I'm reading the Cliff Notes or illustrated spoilers to a story than I am actually reading a story. The dialogue is GODAWFUL through most of it; stuff just happens without being explained why or sometimes even what it is; Jones's art (IMO anyway) is already showing serious decline from issue 1); and it's just too goddamn much. Didn't like it.
Dessert:
Amazing Spider-Man Family 1 — There were 5 stories in here, but I only had time to scarf down 2 of 'em; the first was "48 Hours", a return of my favorite comics writer ever, J.M. DeMatteis, to Spidey, and he didn't disappoint at all. The tale of Spidey's first 48 hours post-Burglar was touching, funny, sad, and gave a nice little overview of just who Peter and Aunt May are, and always were, at their cores. The art was nice as well, showing seams in Sidey's eyepieces (and other little touches) to give a nice rendering f just what a sewn-by-a-16-year-old-science-geek's costume might look like; loved it
The second tale I read was "Mr. & Mrs. Spider-Man" by DeFalco, Frenz, & Buscema. I wasn't quite as wild about this one, although I love the creative team and the setting (Pete & MJ still married, baby May alive and well and a future Spider-Girl). Just a pretty generic Spidey-Lizard tale, with the best parts going to MJ. Pretty imple and straightforward, and fun for Spider-Girl fans (like me) but nothing special; liked it
Posted originally: 2008-08-06 15:23:43
Enjoy this article? Consider supporting The Outhouse, a fan-run site, on Patreon. Click here for more info.
Comment without an Outhouse Account using Facebook
We get it. You don't feel like signing up for an Outhouse account, even though it's FREE and EASY! That's okay. You can comment with your Facebook account below and we'll take care of adding it to the stream above. But you really should consider getting a full Outhouse account, which will allow you to quote posts, choose an avatar and sig, and comment on our forums too. If that sounds good to you, sign up for an Outhouse account by
clicking here.
Note: while you are welcome to speak your mind freely on any topic, we do ask that you keep discussion civil between each other. Nasty personal attacks against other commenters is strongly discouraged. Thanks!