The Corps Are Assembling. Â  The newest wave of Green Lantern figures, Series 3 is out and are the latest bunch of figures from DC Direct. The figures included in this set cover pretty much the biggest highlights of the past two years of GL stories GL Batman (from Hal and Bruce's team up in GL #9), [...]
The Corps Are Assembling.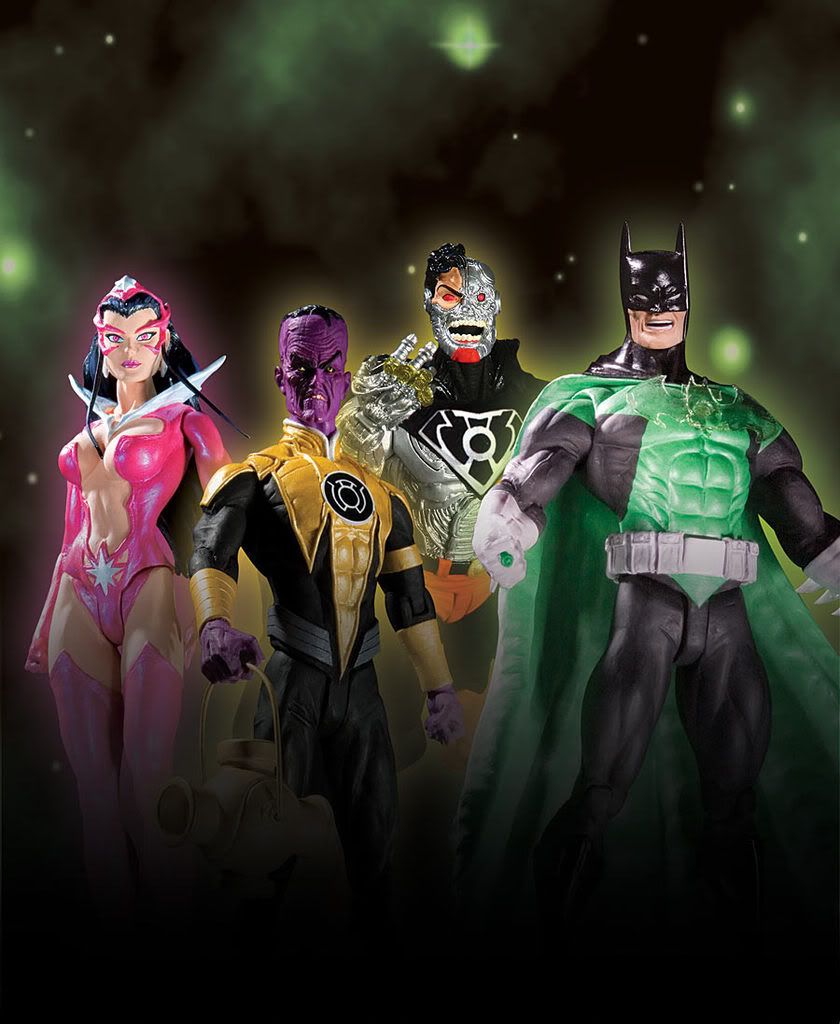 The newest wave of Green Lantern figures, Series 3 is out and are the latest bunch of figures from DC Direct. The figures included in this set cover pretty much the biggest highlights of the past two years of GL stories GL Batman (from Hal and Bruce's team up in GL #9), Star Sapphire (from GL #18-20), Sinestro, and the Cyborg Superman (both in their respective costumes from the GL event "The Sinestro Corps War").
Each figure come's with their own Green Lantern symbol base. It's a nice transparent green and the figures hold up pretty good (compared to say figures in the First Appearance line). As for the figures themselves, well best to list the best first and the worst if you can call it that last.
And with that I look at Sinestro, who looks ripped from the Sinestro Corps Special #1, thus perfectly capturing the design Ethan Van Sciver created in it. It's kind of mind boggling that this is the best figure of the set when it also was a last minute addition (originally a Hal Jordan figure with flight suit construct thankfully taken out). Sinestro's sculpt is surprisingly posable (he can do his chant pose or "I bleed fear" pose) and detailed (the creepy yellow pupils in his eyes). He even come's with a yellow lantern so you can envision him saying his infamous oath when you have him strike it and has fellow Sinestro Corps member, Despotellis (the sentient virus who screwed GL Kyle Rayner's life horribly) to tag along with him. All this adds to the level of must buy.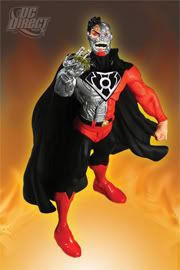 The Cyborg Superman on the other hand is something onto itself. Now I know one of the outcries of this set early on was the fact that there are two alternate versions of two top DC Characters, but those truly seeped in GL lore know why the Cyborg Superman had to be put into this GL wave eventually. And once one can get over that, you can get onto how awesomely designed it is. The figure itself is highly detailed (his yellow rings are all various designs and have a nice distinct yellowish tone to them. If you have the figure, look even closer at his robotic parts. The lines and where the circuitry stops and goes is just astonishing. Finally to go into even more detailed, when comparing him to DC Direct Justice League of America's Superman they're the exact same size and proportions. So the Cyborg Superman truly is a twisted copy figure wise to his heroic fleshy namesake.
As with Sinestro, Henshaw is very posable as well. Curiously, his main one (from the cover of GL #12 ) was way before the SCW. It is this fact that that make's me wonder if it was a last minute decision from DC Direct to switch the character's design a little from that to SCW costume. The reasons for this thought are because Henshaw only has rings on one hand (while he wields both) and originally the figure was to have a black cape (changed to red). If this is true, then it's quite sad DC Direct just didn't give us a Henshaw variant. With the costume he wore in GL#12 and his Sinestro Corps one. Instead rushing this modified figure out.
Regardless, the figure is still awesome and a must buy as well. The only real problems on the figure is that the cybernetic hand (only goes two ways) and Henshaw's human eye is red (which you could allude to it being heat vision or the fact this dude is EVIL). Still, both problems are minor nitpicks and those who truly hunger for a Cyborg Superman figure (given how rare his original Reign figures are) then buy it.
Next we come to the other big DC hero included in this set, GL Batman. Only shown for
one panel in GL #9, it's a nice addition. The figure perfectly captures the single moment when Bruce put on the ring (as shown in the figure with the Bat symbol bursting from the GL one). Like the other two, he's as posable as them. However, I would say there's very little use for the figure, other than being put on a desk and kept to one pose. The reason being the combined Bat GL symbol while a cool looking thing is also a curse given it could easily come off from playing with the figure (and come on I know some people and kids will try). So if you're getting this figure you might want to keep it in a place where wee hands can't get to it and break it.
Still I would say this figure isn't high on the must buy list compared to the other two given he's only truly for the hardcore Batman fans and those who want to envision him from the Elseworld tale Batman became GL. So alas I would say GL Batman is a pass, unless your a fan.
Finally there's Carol Ferris aka Star Sapphire in her new design. Alas to say compared to the men, Star has the least poseablity (so those looking to mimic her stance from GL #18 cover sorry to say you can't). Other than her alluring features, that's the best I can say and I'm somewhat disappointed in the figure. You think DC Direct could have included a movable head thus you can switch Sapphire's identity from Carol to Cowgirl. Or given her a Sapphire gem that started this whole mess. But nope you just get the figure and that's it. Also, unlike the other three, she doesn't really look like her comic counterpart (it feels more generic). But if you're in need of a female rogue in your Legion of Doom or add to the GL Rogues. Then buy Star. If not avoid and wait, because no doubt there might be another figure of the Corps she represents (Pink/Lust) carried over in another DC Direct GL wave.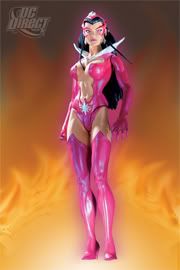 Overall, this wave is pretty good. For those craving some GL villains and alternate GLs you won't be disappointed with this set. On the other hand, the GL series is still lacking a few characters that deserve to be in figure form (Kyle as Ion, John Stewart, Bzzd, Soranik Natu, Sodam Yat, Mongul, Laira as a Red Lantern, Alpha Lanterns, more Sinestro Corps Members, and more various colored corps).
So in retrospect:
Sinestro- BUY IT!
Cyborg Superman- BUY IT!
GL Batman- Maybe, for the hardcore fan.
Star Sapphire- Pass.
Posted originally: 2008-08-13 15:33:12