Smartest Man in the Outhouse Eli Katz reviews Batman #679!
By Eli Katz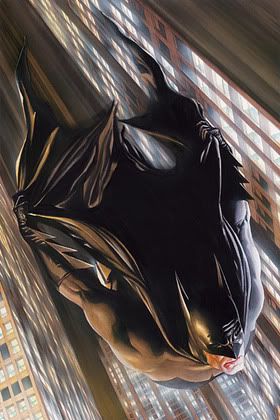 Writer: Grant Morrison
Artist: Tony Daniel
I imagine if David Lynch wrote a Batman story, he would produce something like R.I.P.: a hallucinogenic nightmare where ghosts and gargoyles and dwarf-like bat creatures talk with greater coherence than the hero himself. Of course, representations of madness are nothing new in Batman books. Ever since the Joker made his first appearance back in 1940, the Dark Knight has had to deal with a steady stream of lunatics.
But R.I.P. takes this familiar theme and pumps it up to a freaky new level — a David Lynch level, where you expect to see Dennis Hopper sucking on an oxygen mask and saying, "Mommy, Mommy, Mommy ... Baby wants to fuck." Yeah, Batman #679 — the fourth chapter of R.I.P. — is that good.
And that weird.
Bruce Wayne is still amnesic and down and out, pushing around a shopping cart along skid row and washing up in Gotham's filthiest men's rooms. But when he isn't busy picking through the trash, he's donning a multicolored Bat suit and torturing bad guys with a big, satisfied grin. It's the kind of grin you'd expect to see on the Joker's face. And while Tony Daniel's art has been uneven throughout this series, he does a great job in this issue of depicting the physical signs of Bruce's depravity and dementia.
So what exactly is going on? Bat-Mite, who could double as the dwarf in Twin Peaks, offers an explanation. "Batman thinks of everything," he tells Bruce. "Batman is even prepared for psychological attack with a backup identity, remember? He made a secret self to save him. The Batman of Zur-en-arrh."
Meanwhile, the League of Villains continues its reign of terror on Bruce's allies and loved ones. Dr. Hurt brutalizes Alfred beyond human limits; Commissioner Gordon is lured into a booby-trapped Wayne Manor; and Jezebel finds herself in Arkham Asylum, surrounded by demented surgeons who discuss the merits of "radical lobotomies."
With R.I.P., Grant Morrison is constructing a horror story that relies as much on sadism as it does on surrealism. And if it were nothing more than a jarring psychological thriller, it would be an excellent read. But in addition to these nightmarish elements, Morrison is constructing a mystery in which Thomas Wayne could still be alive and not be Bruce's biological father. The possibility of such revelations adds even more suspense to an already heart-pounding, over-the-top page-tuner.
So far, Morrison has done a superb job in telling this ghoulish story, and no doubt the frenzied momentum will continue for the remaining chapters of R.I.P. The only concern now is that Morrison will take the madness too far and rewrite a significant portion of the Batman mythos. At this point, after nearly 70 years of Batman stories, do fans really want to learn that Martha Wayne conceived Bruce in an orgy involving Alfred? That would probably go down as the worst retcon in comic-book history.
But my guess is that like any good mystery — and especially one that's David Lynch weird — R.I.P. will upend expectations several times before reaching a satisfying conclusion. I really hope so because R.I.P. is shaping up to be one of the best Batman stories in years. It would be a crying shame to see it ruined by an unnecessary retcon.
STORY: 9/10
ART: 8/10
Posted originally: 2008-08-13 17:48:16